The new Turkey
Esra Solin Dal.

Mezopotamya News Agency journalist
06-Jan-2019 16:04
5 January 2019:
Mezopotamya news agency (MA) reporter Esra Solin Dal is facing up to 15 years in prison on the charge of "membership in a terrorist group" in a recently issued indictment.
 
The indictment, accepted by the 10th High Criminal Court of Diyarbakır, comes on the heels of an investigation into the journalist on the allegation of "membership in the KCK/TM." Dal was taken into custody in October during a sweeping operation targeting journalists and politicians across nine provinces as part of the investigation.
 
The indictment alleges that Dal "works for the Press Committee of the KCK" and accuses Dal of "anti-government journalism" and "making harsh accusations against the Turkish Armed Forces," seeking up to 15 years in prison for the journalist.

---
4 January 2019:
Turkey blames a journalist for 'doing journalism against state'
Turkish authorities filed a lawsuit against journalist Esra Solin Dal over charges of "being a member of a terrorist organisation" and "doing journalism against the state", pro-Kurdish Mezopotamya Agency reported on Friday. 
Turkish police on Oct. 9 arrested Esra Solin Dal, a reporter of the pro-Kurdish Mezopotamya Agency, along with 141 people in the southeastern city of Diyarbakır. She was released later but the authorities started an investigation against the detainees after the mass arrest. A court in Diyarbakır accepted the indictment prepared immediately after the investigation. 
The indictment said Dal's asking for an appointment from her news sources was "activity for a terrorist organisation". During Turkey's military operation in northern Syria's Afrin last year, Dal asked appointment from the human rights organisations to get information on the child and women deaths in the conflicts. It was called "a gross slander against the Turkish Armed Forces" in the indictment. 
She also asked for an appointment from Armenian musician Yervant Bostancı to speak on the Armenian Genocide and the indictment described it as "doing journalism against the state", according to Mezopotamya Agency. 
The indictment concluded that Dal was working for Kurdistan Communities Union (KCK), which Turkey declares it as a component of the armed Kurdistan Workers' Party (PKK) that waged a decades-long insurgency in the country. 
Some of Dal's photographs from meetings, while she was reporting on the ground, used as an "evidence of she was attending illegal protests" in the case, the news agency said. 
A Turkish prosecutor demanded a prison term between 7.5 and 15 years for the journalist.
Dal denied any links to the terrorist organisations. Speaking to Artı TV, Dal said Turkish police raided her home four times in the last two years. 
"I was taken into custody several times. They charged me with different allegations every time. But after the Oct. 9 arrest, the prosecutor prepared a scandal and tragicomic indictment against me " Dal told Artı TV. "This time, they blame me for allegedly working in the press committee of the KCK, I must say, this is completely tragicomic," she added. Source



15 October 2018:

5 Journalists Detained in Diyarbakır Released.
Journalists Abdurrahman Gök, Lezgin Akdeniz, Cihan Ölmez, Esra Solin Dal and Semiha Alankuş, who were taken into custody in Diyarbakır on October 9 and referred to courthouse, have been released.

Journalists Abdurrahman Gök, Lezgin Akdeniz, Cihan Ölmez, Esra Solin Dal and Semiha Alankuş, who were detained in house raids conducted as part of a Diyarbakır-based operation launched in eight provinces on October 9, have been released after giving their depositions at the courthouse.

---

10 October 2018

Police took at least six journalists and two newspaper distributors into custody, alongside 90 politicians, as part of a large crackdown in Diyarbakır on October 9, according to a report by Mezopotamya News Agency (MA). 
Mezopotamya News Agency journalists Abdurrahman Gök, Lezgin Akdeniz, and Esra Solin Dal were detained at Diyarbakır Police headquarters alongside Semiha Alankuş, from the pro-Kurdish Yeni Yaşam, Kibriye Evren, from the Jin News Agency, freelancer Cihan Ölmez, and Yeni Yaşam distributors Hayat Özmez and Savaş Aslan, according to the report. Evren was arrested alongside three politicians, MA reported. 

According to an October 11 report, the agency said that the journalists were asked questions such as, "What is your connection to the PKK/KCK?" "What is your code name in the organization?" "Who are the organization members you take your orders from?" and "How many times you exit the country illegally.?" Yeni Yaşam chief editor Kaplan tweeted on October 9 that the police broke the doors of their office in the city and confiscated the computers. As of late October 11, the journalists were still in custody.
---
9 October 2018: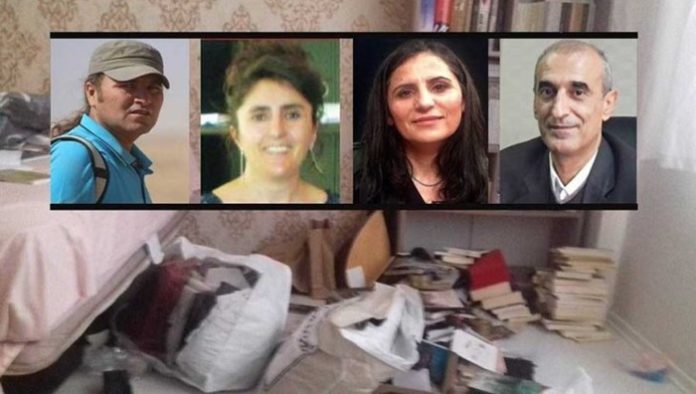 The Diyarbakır Chief Public Prosecutor's Office on Tuesday issued detention warrants for 151 people including journalists in operations targeting the outlawed Kurdistan Workers' Party (PKK) and its umbrella organization, the Kurdistan Communities Union (KCK), news website Gazete Duvar reported.

According to the report, 90 people including journalists Abdurrahman Gök, Esra Solin Dal, Kibriye Evren, Semiha Alankuş and pro-Kurdish Peoples' Democratic Party (HDP) and Democratic Regions Party (DBP) members in early morning operations in 9 provinces across Turkey. Over 300 HDP members have been detained in a week, report said.
The Turkish Interior Ministry on Friday announced that 88 people have been detained in operations targeting the PKK and KCK.
New operations came two days after Turkish President Recep Tayyip Erdoğan said he would appoint trusties to municipalities in which anyone linked with the PKK is elected as mayor in local elections in March 2019.