The new Turkey
Ayla Albayrak
24-Jan-2019 9:20
14 November 2019: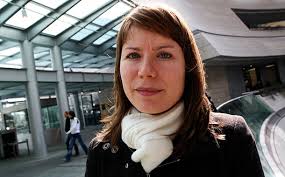 A Turkish court on Tuesday overturned a verdict against Wall Street Journal reporter Ayla Albayrak that sentenced her to two years, one month in prison on charges of engaging in terrorist propaganda in support of the Kurdistan Workers' Party (PKK).
Albayrak was sentenced last year for a story dating back to 2015 on clashes in Turkey's Southeast.
Commenting on the latest verdict on her Twitter account, Albayrak wrote that "the black comedy part of my life called 'a trial' finally ended. It's been exactly 3 years since the investigation started in Nov 2015 over a WSJ story." She underlined the overall grim picture of media freedoms in Turkey as well. Read more..........

---
13 November 2018:

Appeals court overturns Wall Street Journal reporter's sentence
An appeals court on November 13 threw out a 25-month prison sentence handed to Ayla Albayrak, a former reporter for the Wall Street Journal, her previous employer reported.

A court in October 2017 found Albayrak guilty in absentia of "making propaganda for a [terrorist] organization," according to reports. The appeals court overturned the guilty verdict "on procedural grounds, citing statute of limitations, but didn't rule on the substance of the charges" the Wall Street Journal reported.

---

11 October 2017:
Turkish authorities convict Wall Street Journal reporter in absentia
A Turkish court yesterday convicted Wall Street Journal reporter Ayla Albayrak in absentia of terrorism, and sentenced her to two years and one month in prison in retaliation for her reporting on clashes between Turkish security forces and Kurdish separatists in the country's southeast, the Journal reported.
Albayrak, who is currently in the U.S., will appeal the verdict, according to her employer.
CPJ issued a statement yesterday condemning the court's decision.*

---
11 October 2017:

Wall Street Journal Reporter Sentenced to Prison by Turkish Court
Updated Oct. 11, 2017 4:39 p.m. ET
A Turkish court sentenced Wall Street Journal reporter Ayla Albayrak to two years and one month in prison Tuesday, declaring her guilty of engaging in terrorist propaganda in support of a banned Kurdish separatist organization through one of her Journal articles.
The conviction of Ms. Albayrak, who is currently in New York, highlights the increasing targeting of journalists in Turkey, where President Recep Tayyip Erdogan's government has gained attention for deteriorating media freedoms.
"This was an unfounded criminal charge and wildly inappropriate conviction that wrongly singled out a balanced Wall Street Journal report," said Wall Street Journal Editor in Chief Gerard Baker. "The sole purpose of the article was to provide objective and independent reporting on events in Turkey, and it succeeded."
Ms. Albayrak plans to appeal the decision. "Given the current climate in Turkey, this appalling decision shouldn't have come as a surprise to me, but it did," she said.
The New York-based Committee to Protect Journalists said it condemned the Turkish court decision.
"The conviction of Ayla in Turkey is a very worrying sign and an escalation of the crackdown on the press," said Nina Ognianova, the CPJ's Europe and Central Asia program coordinator, calling Turkey the world's top jailer of journalists. "We call on the Turkish authorities to overturn this decision immediately," she said.
Turkish legal actions against Ms. Albayrak began after the publication on Aug. 19, 2015, on the Journal's website of her article "Urban Warfare Escalates in Turkey's Kurdish-Majority Southeast." The article and accompanying video reported on the state of a conflict in Silopi, Turkey, between Turkish security forces and the outlawed Kurdistan Workers' Party, or PKK. It included interviews with the local mayor and residents, a Turkish government official, as well as a representative of an organization Turkey says is the youth unit of the PKK.
Turkey, the U.S. and the European Union consider the PKK a terrorist organization.
In November of the same year, Ms. Albayrak, who has dual Finnish and Turkish citizenship, received a written order on her door to visit her local police station in Istanbul where she was notified she was under investigation for spreading terrorist propaganda.
At the police station, she gave a statement saying the article accurately reflected the state of the conflict between the PKK and the Turkish government. In April 2016, a prosecutor in southeastern Turkey filed an indictment against Ms. Albayrak alleging that she violated antiterror laws.
Ms. Albayrak testified from the Istanbul court house to the Cizre court via video-link in January 2017.
William Lewis, Dow Jones's chief executive officer and publisher of The Wall Street Journal, said: "This ruling against a professional and respected journalist is an affront to all who are committed to furthering a free and robust press. We call on those who share this commitment to make their voices heard.
"The notion that our reporter's commendable and insightful work led to a criminal prosecution that has resulted in this wrongful conviction is intolerable," Mr. Lewis said. "We have stood by Ms. Albayrak's side for nearly two years as we have robustly pursued all available options to defend this baseless prosecution, and we will continue to stand with her as we seek to overturn this conviction."
As part of the article she was convicted for, Ms. Albayrak interviewed a person who described herself as a member of the Patriotic Revolutionary Youth Movement, or YDG-H, which the Turkish government says is the youth unit of the PKK.
Ms. Albayrak said in a statement included in the court documents that the original article didn't include any praise for the group, but rather provided a balanced and objective view of urban warfare that had gripped areas of Turkey's predominantly Kurdish southeast at the time.
"The decision shows the extent to which the authorities did not want the operations that were going on in Turkey's southeast to be reported on," said Ms. Albayrak. "It also shows yet again, that the international media is not immune to the ongoing press crackdown in Turkey."
The court decision comes amid an escalating diplomatic spat between Washington and Ankara that has seen the U.S. suspend nearly all types of visa services for Turks. The row erupted after a U.S. consulate employee was arrested on suspicion of having ties to U.S.-based Turkish cleric Fethullah Gulen, whom Ankara blames for last year's failed coup. Turkey in response said it was suspending U.S. visa applications. Mr. Gulen denies the accusation.
Court documents filed against Ms. Albayrak say the Journal article and accompanying video, which included images of men and women bearing PKK emblems, provided fodder for 24 Turkish-language websites that translated parts of the article. Turkish officials sent a list of the websites' articles in late August to the country's Telecommunication Directorate to have them blocked.
Ms. Albayrak and the Journal have said they have no relationship with any of the Turkish-language websites that published only parts of her article. The Journal said excerpts published by the websites were distorted.
Ms. Albayrak said she was charged around the same time that the Turkish government had begun a crackdown on Kurdish-majority cities in the country's southeast, where many members of the ethnic minority live.
Mr. Baker said Ms. Albayrak embodies The Wall Street Journal tradition, "spending years as an intrepid journalist producing insightful, fair and impartial coverage from Turkey. We will work tirelessly to overturn this preposterous conviction."
The case is a rare instance of terrorism charges brought against a reporter working for a Western media outlet. Deniz Yücel, a prominent German-Turkish journalist for newspaper Die Welt, was arrested in Istanbul in February under terrorism suspicions and remains in pretrial detention without official charges despite repeated protests from the German government. Mr. Yücel has denied any wrongdoing.
In the wake of last year's failed coup against Mr. Erdogan's government, authorities have increased focus on journalists they suspect harbor sympathies for Mr. Gulen, as well as those who report on Kurdish separatism.
Mesale Tolu, a Turkish-German citizen who worked as a translator for the leftist-leaning Etkin Haber Ajansi, was detained earlier this year on suspicion of spreading terrorist propaganda and belonging to a leftist organization considered a terrorist group in Turkey, CPJ said. She is scheduled to go on trial on Wednesday.
Amnesty International and other rights groups say Turkey has more journalists jailed than any other country in the world. Authorities have closed more than 150 media outlets under the state of emergency's executive orders, according to Human Rights Watch and Freedom House.
Turkey ranked 155 on Reporters Without Borders Press Freedom Index this year, worse than Russia or Pakistan. The index is based on statistics of violence against journalists, along with evaluations of pluralism, media independence, self-censorship and legislation.
"Media freedom and pluralism has largely been crushed," said Johann Bihr, who analyzes Turkey for Reporters Without Borders.
Under the state of emergency in place since the coup, authorities have applied antiterrorism laws in some cases to restrict access to legal counsel and increase the duration of pretrial detention.
The government "aggressively used the penal code, criminal defamation legislation and the country's anti-terrorism law to punish critical reporting, and journalists faced growing violence," said democracy advocacy group Freedom House last year.
The PKK picked up arms in 1984 to fight for an independent Kurdish homeland within Turkey's borders.
Since the PKK's first insurrection, the group has been responsible for numerous bombings of civilian and military targets in Ankara, Istanbul and numerous cities throughout the southeast. Source