The new Turkey
Lezgin Akdeniz.

Mezopotamya News Agency journalist
19-Apr-2019 10:28
27 March 2019:

Pro-Kurdish journalist sentenced to 15 months in prison on terror charges
Pro-Kurdish Mezopotamya news agency reporter Lezgin Akdeniz was sentenced to one year and 3 months in jail on charge of terrorist propaganda.
Media reported that Akdeniz was convicted of the above-mentioned charge and was given 15 months of sentence.

The court, later, suspended the sentence on the condition that Akdeniz does not commit the specified crime within the next 5 years.

........................................................
Reporter Lezgin Akdeniz sentenced in first hearing
 
Lezgin Akdeniz, a reporter for Mezopotamya news agency (MA) who was among 142 individuals taken into custody and later released in October as part of a sweeping operation launched in Diyarbakır, appeared in court on 27 March for the first hearing of his trial on terrorism-related charges.
 
The 9th High Criminal Court of Diyarbakır rendered its decision at the end of the first hearing of the case, convicting Akdeniz of the "propaganda" charge against him while acquitting the journalist of the "terrorist group membership" charge. The court gave Akdeniz a prison sentence of 1 year and 3 months. The court deferred the sentence by five years.


---
27 January 2019:

A Diyarbakır court on January 27 accepted an indictment that accuses Lezgin Akdeniz, a Mezopotamya News Agency reporter, of "making continuous propaganda for a [terrorist] organization," the Mezopotamya News Agency reported. Evidence cited in the indictment includes testimony from a witness and two Facebook posts that the journalist liked. Akdeniz, who is free pending the outcome of the case, finds the situation "absurd," according to the report.


---

15 October 2018:

5 Journalists Detained in Diyarbakır Released.
Journalists Abdurrahman Gök, Lezgin Akdeniz, Cihan Ölmez, Esra Solin Dal and Semiha Alankuş, who were taken into custody in Diyarbakır on October 9 and referred to courthouse, have been released.

Journalists Abdurrahman Gök, Lezgin Akdeniz, Cihan Ölmez, Esra Solin Dal and Semiha Alankuş, who were detained in house raids conducted as part of a Diyarbakır-based operation launched in eight provinces on October 9, have been released after giving their depositions at the courthouse.

---
10 October 2018

Police took at least six journalists and two newspaper distributors into custody, alongside 90 politicians, as part of a large crackdown in Diyarbakır on October 9, according to a report by Mezopotamya News Agency (MA). 
Mezopotamya News Agency journalists Abdurrahman Gök, Lezgin Akdeniz, and Esra Solin Dal were detained at Diyarbakır Police headquarters alongside Semiha Alankuş, from the pro-Kurdish Yeni Yaşam, Kibriye Evren, from the Jin News Agency, freelancer Cihan Ölmez, and Yeni Yaşam distributors Hayat Özmez and Savaş Aslan, according to the report. Evren was arrested alongside three politicians, MA reported. 

According to an October 11 report, the agency said that the journalists were asked questions such as, "What is your connection to the PKK/KCK?" "What is your code name in the organization?" "Who are the organization members you take your orders from?" and "How many times you exit the country illegally.?" Yeni Yaşam chief editor Kaplan tweeted on October 9 that the police broke the doors of their office in the city and confiscated the computers. As of late October 11, the journalists were still in custody.
---
9 October 2018: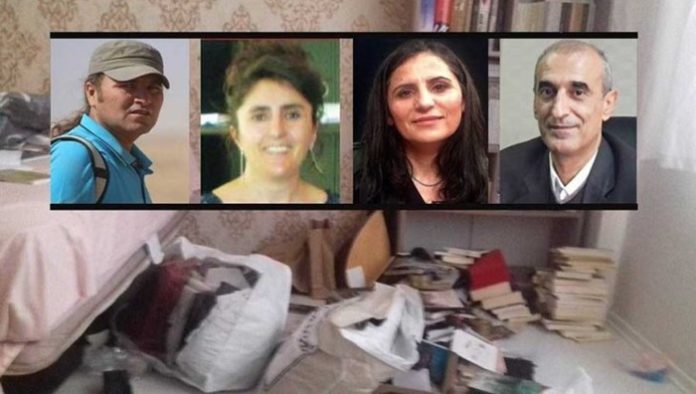 The Diyarbakır Chief Public Prosecutor's Office on Tuesday issued detention warrants for 151 people including journalists in operations targeting the outlawed Kurdistan Workers' Party (PKK) and its umbrella organization, the Kurdistan Communities Union (KCK), news website Gazete Duvar reported.

According to the report, 90 people including journalists Abdurrahman Gök, Esra Solin Dal, Kibriye Evren, Semiha Alankuş and pro-Kurdish Peoples' Democratic Party (HDP) and Democratic Regions Party (DBP) members in early morning operations in 9 provinces across Turkey. Over 300 HDP members have been detained in a week, report said.
The Turkish Interior Ministry on Friday announced that 88 people have been detained in operations targeting the PKK and KCK.
New operations came two days after Turkish President Recep Tayyip Erdoğan said he would appoint trusties to municipalities in which anyone linked with the PKK is elected as mayor in local elections in March 2019.