Media in Turkey
11-Oct-2019
Turkey's New Internet Regulations Spark Fears of New Wave of Censorship
 In Turkey, new controls regulating internet use have come into force. The government says all broadcasters, who are already restricted, need to abide by the same rules on the internet, but critics claim the new measures are an attempt to silence the last platform for independent journalism.
"This measure burns us," said Onur Oncu, explaining his reaction to the new internet controls. Oncu works as a reporter for Ozguruz, an internet news portal. Every day, Oncu sends news reports from his bedroom to Berlin, where Ozguruz is based. The website claims to provide independent news outside the control of Turkey's state regulatory authority. But according to new regulations, internet broadcasting now falls under government control.
"There are so many internet portals in Turkey. News sites, web TV, even by phone, people can do citizen journalism via Periscope," said Oncu. "And the government saw this, and it became a troublesome issue for them because they couldn't prevent it. The new broadcasting law has become a way to prevent it."
Media watchdogs
According to media watchdogs, as much as 90% of mainstream media is pro-government-owned, while state regulations impose strict controls on reporting. With the government's tightening grip on the mainstream media, the number of TV and radio internet news sources grew exponentially. Many well-known traditional journalists, who had been fired for critical reporting, now work on the internet.
Government attempts to regulate such webcasters are seen as just the latest attempt to control the internet. "For obtaining crucial political information, you have to go to social media," said Yaman Akdeniz of the Istanbul-based Freedom of Expression Society.

"That's why the Turkish authorities are targeting the internet," he added. "Whether through working practices or whether through now regulating or trying to regulate the radio-television services. But also the high number of criminal investigations and prosecutions."
Turkish authorities have blocked over 245,000 websites, according to the Istanbul Freedom of Expression association, making Turkey one of the world's most restrictive countries for the internet. Twitter and YouTube have been temporarily blocked, while Wikipedia has been banned since 2017. The government says the latest internet control measures are aimed at harmonizing broadcasting regulations so that all broadcasters follow the same rules. Under the new law, broadcasters that are refused a license or don't apply can be blocked or face hefty fines.
Court fight
In Istanbul's Kadikoy district, lawyers pack a seminar to the bursting point to attend a legal briefing on the new regulations. The organizers, the Freedom of Expression Association, say the event was oversubscribed several times.
"The law should protect individuals' right to voice their thoughts," said attending lawyer Selmin Sahin. "The [Turkish] lawmakers should remember this. We are at the beginning of this road, but I believe we can improve."
The past few months have seen the judiciary rule against the government in high-profile cases on freedom of expression.
In September, Turkey's top appeals court ruled for the release of five journalists from jail. They were among 14 other former employees of the Cumhuriyet newspaper convicted on terrorism charges. The case was widely seen as pivotal to media freedom, with the Cumhuriyet one of few remaining independent publications.
Turkey's Constitutional court in July decided in favor of hundreds of academics convicted on terrorism charges. The court ruled their freedom of expression was infringed for being convicted for signing a petition calling for an end to fighting between the Turkish government and Kurdish insurgents.
But a crackdown on pro-Kurdish internet media appears to be intensifying.
"Kurdish media and news broadcasting on the internet is constantly targeted, and every new web site they open is subject to a blocking order [by authorities]," Akdeniz said .
"It takes many years to take blocking decisions to the constitutional court and get a decision," he added. "Some of the applications we made in 2015 are yet to be heard. That's why the news providers, rather than giving up, constantly adapt and find new ways, like [video streaming service] Periscope. Some news providers now use Instagram."
For Oncu, with a colleague having fled the country and his editor living in Berlin, his faith is relying on the power of the internet to resist control.
"They are attempting to block, but there is an alternative. When they shut down our website, we started broadcasting by phones," Oncu said. "Unless they cut the cord for the internet, there could always be alternatives: YouTube, for example. It could be VINE or Facebook. I mean, there are many alternatives available, so I don't think they can cope with this."


10 October 2019:

Turkey launches investigation into social media posts against Syria offensive
Turkey's police department announced on Tuesday that it had launched investigations into 78 people over social media posts criticising Turkey' military offensive in northern Syria, BBC Turkish reported. "Legal proceedings have started as of Oct. 9, 2019, for 78 persons who provoked hatred and enmity among people by engaging in black propaganda against our country over Operation Peace Spring, who shared ungrounded and false posts to damage the credibility of our security forces, and who were observed to be engaged in terror propaganda," it said in a written statement.
Turkish police also detained two journalists from opposition news outlets on Thursday morning. Hakan Demir, the internet editor of the leftist Birgün newspaper, was taken into custody after the police raided his house early morning, Birgün said. Gökhan Diler, the managing editor of independent news site Diken, is also under detention over provoking hatred and enmity, Birgün said.
Some 21 people have been detained over their social media posts denouncing Turkey's military operation in the southeastern province of Marding, pro-government TGRT hater reported on Thursday.

---

20 September 2019:

Turkish media watchdog ignores court order to end broadcast ban on corruption - official
Turkey's state media watchdog is ignoring a ruling by the country's highest legal body against a broadcast ban on reports about corruption by former ministers of the ruling party, Turkish news site İleri Haber reported on Friday.
Turkey's Constitutional Court ruled this week that a broadcast ban placed on reports on a December 2013 corruption probe that implicated four ministers of the ruling Justice and Development Party (AKP) breached press freedom and freedom of expression laws. The ruling related to a parliamentary commission set up to investigate the claims that high-ranking AKP officials had received bribes and were involved in other corrupt activities.
Four AKP ministers resigned as a result of the investigation. Yet the AKP says the investigations were a "coup attempt" launched by police and prosecutors who were members of the Gülen movement, a now-banned religious group that had been allied to the AKP before the investigations. Despite the court's decision Turkey's Radio and Television Supreme Council (RTÜK) is yet to remove the ban on reports on the investigation, according to Faruk Bildirici, an opposition member of the RTÜK board.
"The RTÜK must remove the (broadcast ban) decision from its website. I have still not received a positive response to my application," İleri Haber quoted Bildirici as saying.
---
Court "erroneously" orders access bianet's website to be blocked
The Ankara court rules to block access to 135 web sources, including Gazete Fersude, ETHA and website monitoring Gezi trial, upon complaint from Gendarmerie Command
The Ankara 3rd Criminal Judgeship of Peace has ruled for access to a total of 136 websites, web pages and social media accounts, including the entire website of independent news portal bianet to be blocked. Details pertaining to the court decision that were obtained by bianet's lawyer later revealed that bianet.org was erroneously included in the list of URLs to be blocked although decision remains in effect for 135 other web addresses.
Among the websites blocked by the decision are those of news portal Gazete Fersude and Etkin News Agency (ETHA). The website geziyisavunuyoruz.org, which follows the trial of Osman Kavala and 15 others facing the charge of "attempting the overthrow the government" for their involvement in the Gezi protests, is also among those that were blocked for allegedly violating Turkey's Internet law. Read the full article


Regulation bringing online broadcasting under RTÜK control goes into effect
A regulation that gives Turkey's radio and television watchdog RTÜK to supervise content streamed online formally went into effect on 1 August 2019, upon its publication in the Official Gazette.
The regulation, which raised concerns over possible censorship, makes it mandatory for online media content providers to obtain broadcasting licenses and permits from RTÜK, in return for significant sums. It also allows RTÜK to supervise content provided by them and introduce sanctions in case of non-compliance with broadcasting principles.
Streaming platforms like Netflix, local streaming platforms PuhuTV and BluTV will now be subject to RTÜK supervision and potential fines or loss of their license.
In addition to subscription services like Netflix, free online news outlets will also be subject to the same measures. Providers will be required to pay TL 10,000 to get a license to provide radio services while TV and subscription-based service providers will need to pay TL 100,000.

1 July 2019:

Turkish courts handed down sentences to 41 journalists in the first half of 2019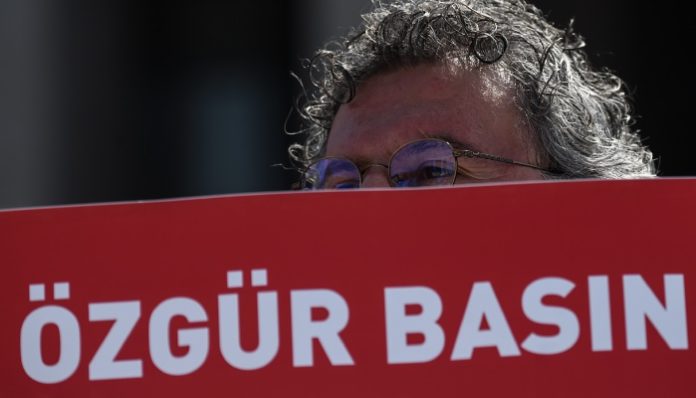 The Free Journalists Initiative (ÖGİ) has announced that the first six months of the year saw the trial of 287 journalists, 41 of whom were sentenced to a total of 119 years, three months in prison, the Artı Gerçek news website reporter.
The group released a report titled "Violations against journalists" for the first half of the year, focusing on the judicial pressures Turkish journalists are faced with while trying to perform their duty of informing the public.
The report said a total of 154 journalists were held in pre-trial detention during the period in question. 29 new investigations were launched and eight investigations turned into prosecutions. One media outlet was raided by the police. 34 journalists were detained and 11 were arrested, while 22 journalists were released and two were deported.

Turkish presidency takes control of national Anadolu Agency
Management of Turkey's state-run Anadolu Agency has been transferred to the Presidency's Directorate of Communications, the Turkish government's official gazette announced on Friday.
The decree signed by President Recep Tayyip Erdoğan means power to audit the national news agency, appoint administrators and manage its activities, budget, and human resources will now lie with the presidency's communications directorate.
The latest move is likely to make Fahrettin Altun, the Presidency Communications Director, one of the most influential figures at the agency.
An academic known for his work at government friendly think tank SETA and regular columns for pro-government newspapers, Altun was named as the communications director last July.
Altun has spoken of his desire to encourage a "native and national" culture in Turkey in line with the Justice and Development Party (AKP)'s vision of Turkish nationalism and free from the influence of "Westernist ideologies".
The Presidency Directorate of Communications also oversees Turkey's national broadcaster, TRT, and the media regulatory body, the Radio and Television Supreme Council.
Anadolu Agency is the main source for results on election nights in Turkey, a status that led to controversy on the night of the March 31 local elections when the agency abruptly stopped updating results as the opposition candidate was poised to take the lead in Istanbul.
The next morning the Supreme Election Council chairman told reporters Anadolu Agency had not received data on the count from the council, raising suspicions that it received its data directly from AKP officials at polling stations.
Source: https://ahvalnews.com/anadolu
-agency/ turkish-presidency-takes-
control-national-
anadolu-agency

74 journalists sentenced in Turkey last year, union says
The Journalists' Union of Turkey (TGS) has reported that 74 journalists were sentenced to a total of 256 years in prison in 12 months alone, news website Artı Gerçek reported. Three of the journalists received life sentences, the union said.
Four out of five journalists who faced trial in the country received prison sentences and journalists were fined a total of 170 million Turkish liras ($28,5 million) over their work, the union said in a statement on Friday, which marked World Press Freedom Day.
"In recent years, the increasing pressure on journalists, the government's taking control over the media and the imprisonment of 142 journalists have ended press freedom in the country," the TGS said. The group also said the Turkish authorities had cancelled 1954 press cards in the last three years.
---

Turkey Ranks 157th in Freedom of Press


In 2018 World Press Freedom Index announced by Reporters Without Borders, Turkey has ranked the 157th among 180 countries. The organization has commented, "The witch hunt has come to a head since July 2016."

Reporters Without Borders (RSF) has announced its 2018 World Press Freedom Index, where Turkey has ranked the 157th among 180 countries. Turkey ranked the 155th in last year's index.
"Turkey is again the world's biggest prison for professional journalists"
In the index published today (April 25), the freedom of press in Turkey was evaluated as follows:
"The witch hunt waged by President Recep Tayyip Erdogan's government against its media critics has come to a head since an abortive coup in July 2016. A state of emergency has allowed the authorities to eliminate dozens of media outlets with the stroke of a pen, reducing pluralism to a handful of low-circulated and targeted publications. Turkey is again the world's biggest prison for professional journalists, with members of the press spending more than a year in prison before trial and long jail sentences becoming the new norm—in some cases, journalists are sentenced to life imprisonment without the possibility of a pardon.

Detained journalists and closed media outlets are denied any effective legal recourse. The rule of law is a fading memory under the now all-powerful president. Even constitutional court rulings are no longer automatically implemented. Censorship of websites and online social media has also reached unprecedented levels."