The new Turkey
Patreon blocks accounts of exiled journalists
over threat by Turkish gov't
24-Jan-2019 8:51
28 September 2018: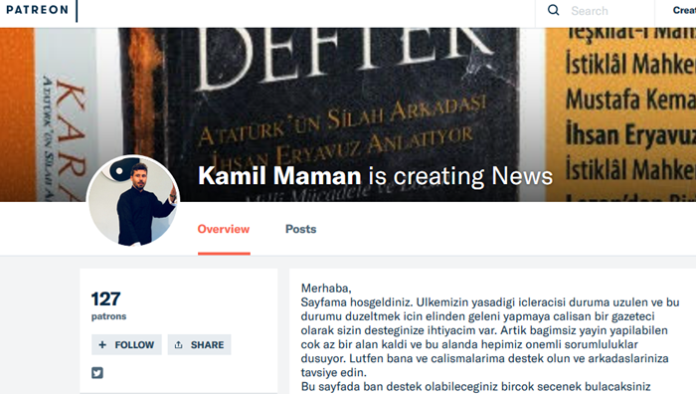 Patreon has blocked access from Turkey to the accounts of exiled Turkish journalists over the Turkish government's threats to close down the website entirely in the country.
"We are being asked to block access to your Patreon page in Turkey or risk having access to the entirety of Patreon blocked by the Turkish Information and Communication Technologies Authority," said Weston Dombroski, a copyright specialist at Patreon, in an email sent to inform one of the journalists, Kamil Maman, who now lives in Canada.
"In order to allow other Turkish creators to maintain their presence/accessibility in Turkey, we have complied with this request and have blocked access to your page," added Dombroski.
"This was not an easy decision for Patreon, as we are huge proponents of free speech, but it was a decision we made in order to best protect access to Turkish creators."
Patreon also informed Maman that he could continue to use his account in other countries.
According to the e-mail, the Turkish Information and Communication Technologies Authority claimed that Maman had violated Turkish Law no. 5651, which deals with "regulation of publications on the Internet and combating crimes committed by means of such publications."
Washington-based Turkish journalist Adem Yavuz Arslan's Patreon account has been also blocked in Turkey as well as that of the tr724 news website.
"In difficult conditions, I wanted to resume journalism via the Internet or YouTube. First, my Twitter account was blocked in Turkey. I didn't give up and opened new accounts. My Patreon account was opened just a month ago. But the Erdoğan regime demanded that access be blocked on accusations of 'terrorist activity'," Arslan tweeted.
Patreon, a crowdsource funding website for individual creators who seek financial support from followers, has been an important platform that allows exiled Turkish journalists and academics to continue their activities through online contributions.
"Dictator [Recep Tayyip] Erdoğan has caused my Patreon account to be blocked in Turkey. I condemn Patreon for giving in to the pressure," Maman tweeted on Thursday.
"I think they [the Turkish government] are not happy with our publications."
Maman was a reporter for the Bugün daily, which was seized by the Turkish government in 2015 and closed following a failed coup attempt on July 15, 2016. He is on a list of journalists who are being sought by Turkish judiciary.
Turkey is ranked 157th among 180 countries in the 2018 World Press Freedom Index released by Reporters Without Borders (RSF). If Turkey falls two more places, it will make it to the list of countries on the blacklist, which have the poorest record in press freedom.
Turkey is the biggest jailer of journalists in the world. The most recent figures documented by SCF show that 236 journalists and media workers were in jail as of September 20, 2018, most in pretrial detention. Of those in prison 168 were under arrest pending trial while only 68 journalists have been convicted and are serving their time. Detention warrants are outstanding for 147 journalists who are living in exile or remain at large in Turkey.*