The purge on Gulen movement
20-Jul-2018 11:23


Turkey remands 8 suspects over FETO links
Eight suspects, including former police chiefs, have been remanded in custody over their links to Fetullah Terrorist Organization (FETO), the group behind the 2016 defeated coup in Turkey, a Turkish court said on late Thursday. The suspects were remanded in custody over a FETO plot related to calling MIT head Hakan Fidan and other MIT officials to bear testimony in 2012.
Among the suspects are former deputy Istanbul police commissioner Ali Fuat Yilmazer and ex-police chiefs Erol Demirhan, Yurt Atayun and Kazim Aksoy, according to the Istanbul court. The suspects are accused of being members of a terrorist organization and trying to overthrow the government. Today's court order brought the number of suspects remanded in custody over the 2012 MIT incident to 14. Source


FETO suspect brought to Turkey from Ukraine remanded
A key suspect in the 2016 defeated coup in Turkey who was just brought back from Ukraine has now been remanded in custody, judicial sources said on Thursday. Yusuf Inan, a Fetullah Terrorist Organization (FETO)-linked social media expert, had fled to Ukraine after the 2016 defeated coup attempt, and was brought back to Turkey on Sunday in an operation by the Turkish National Intelligence Organization (MIT).
Inan was brought before a court in the Aegean province of Izmir and remanded in custody on charges of being a member of an armed terror organization, said the sources, who asked not to be named due to restrictions on speaking to the media.
He allegedly had an active role in FETO's influence operations on social media. Inan was already wanted in Izmir for being a member of an armed terror organization.
---------------------

Separately, six suspects arrested in Istanbul were remanded in custody on Thursday over a FETO plot related to calling MIT Undersecretary Hakan Fidan and other MIT officials to bear testimony in 2012. A court in the capital Ankara also sentenced 28 former military judges and prosecutors whose names were found in a "martial law courts assignment list" seized during FETO's coup attempt.
The 28 received prison sentences ranging from over six years to nearly nine for being members of an armed terrorist group. Source

16 active duty soldiers, 1 former police chief arrested over Gülen links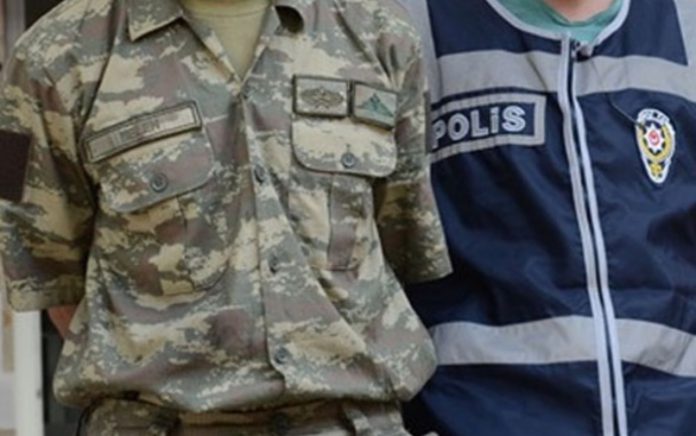 Thirteen active duty soldiers in Mardin, two in Elazığ, one in Samsun and a former police chief in Karaman were arrested on Wednesday over alleged links to the Gülen movement, the Gazeteduvar news website reported. Five active duty soldiers were also detained by local police in Balıkesir.
The Elazığ Pubic Prosecutor's Office issued detention warrants for 19 active duty soldiers on accusations of secretly communicating with members of the Gülen movement by pay phone. Seventeen of them were released on probation, while two were arrested.
In Mardin the prosecutor's office issued detention warrants for 22 military personnel. Four of them were released after a brief detention by police and five were released after a court hearing, while 13 were put in pretrial detention. Karaman Chief of Police Sadık Keskin was recently dismissed from his job for alleged membership in the Gülen movement before a detention warrant was issued for him. Source

---
467 people detained over Gülen links in past week: gov't
At least 467 people were detained as part of investigations into the Gülen movement over the past week, according to government data.
In a written statement on Monday, the Interior Ministry said 467 people were rounded up in operations targeting the Gülen movement between July 9-16. Source

---
Detention warrants issued for 30 military personnel on anniversary of coup attempt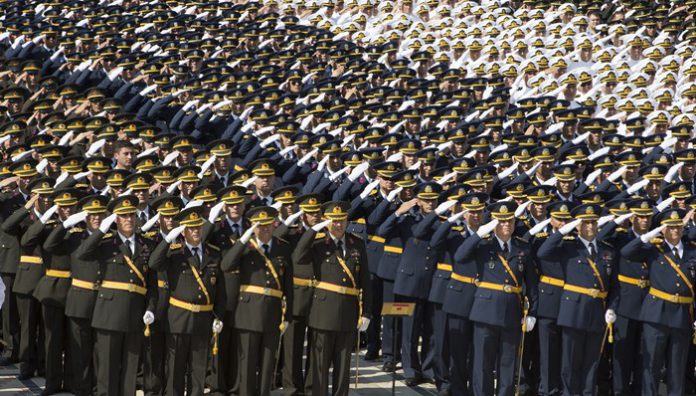 The Ankara Chief Public Prosecutor's Office on Sunday issued detention warrants for 30 military members who were recently dismissed by a government decree as part of an investigation into the faith-based Gülen movement, the state-run Anadolu news agency reported.
According to the report, police have launched operations in 13 provinces across Turkey to detain the former military officers on the second anniversary of a failed coup attempt on July 15, 2016. A total of 3,077 personnel from the Land Forces Command, 1,126 from the Naval Forces, 1,949 from the Air Forces Command and 649 from the Gendarmerie Command were dismissed with the last state of emergency decree on June 8.
Detention warrants have been issued in July for a total of 462 active duty and former military members over alleged Gülen movement links. Turkish authorities in June had ordered the detention of at least 312 military personnel in operations targeting suspected supporters of the movement. Source

Over 100 FETO members brought back to Turkey: Cavusoglu
More than 100 members of Fetullah Terrorist Organization, the group behind the July 15, 2016 defeated coup, have been brought back to Turkey, the country's Foreign Minister Mevlut Cavusoglu said.
"We have been watching these traitors for two years and have brought the leading figures of FETO to our country. Some of these were covered by press while some others weren't at the request of some countries. I could frankly say that more than 100 of FETO affiliates have been brought to Turkey," Cavusoglu said in an interview with the CNN Turk on Sunday evening. Source

Man, wanted over Gulen links, detained while visiting hospital to see doctor

A former police officer who was earlier dismissed from the post over his alleged ties to the Gulen movement has been detained while visiting a hospital to see a doctor in Ankara.
State-run Anadolu news agency said Friday that the purged police officer, identified as Sadik K., was detained at Dışkapı Hospital in Ankara as he had an outstanding arrest warrant over use of ByLock mobile app.
ByLock is a smartphone application, which Turkish authorities believe is a communication tool among supporters of the Gulen movement, accused of masterminding the July 15, 2016 coup attempt. The movement denies involvement. Tens of thousands of people, including civil servants, police officers, soldiers, businessmen and homemakers, have either been dismissed or arrested for using ByLock since the failed coup last year. Among such arrestees is Amnesty International's Turkey bureau chief, Taner Kilic. Source


Turkey locates 4,600 people in 110 countries as part of post-coup manhunt
Turkey's Foreign Ministry has located 4,600 suspected followers of the Gulen movement in 110 countries as part of its post-coup manhunt, pro-government Daily Sabah newspaper said Friday. Turkey monitors the activities of Gülenists in 160 countries, the daily said adding that the foreign ministry has so far located 4,600 suspected Gulen followers in 110 countries. "Until now more than 80 coup plotters from 18 countries have been brought back in a global manhunt," the article read.
Turkish president Erdoğan accuses the Gülen movement of masterminding a failed coup attempt in Turkey in 2016 while the latter denies involvement. More than 150,000 people have been detained and 90,000 were remanded in prison over Gulen links in Turkey since the summer of 2016. Meanwhile, Erdogan called on foreign governments to punish Gulenists in their own countries.
So far, a number of countries like Saudi Arabia, Malaysia, Georgia and Myanmar handed over academics, businessmen and school principals upon the Turkish government's request despite the fact that some of those victims already had refugee status with the United Nations. Source


Executives get jail terms for FETO terror links
Four executives of a major Turkish holding company linked to the July 15 defeated coup were convicted on Thursday in central Kayseri province, judicial sources told Anadolu Agency.
Former executives of Boydak Holding -- Memduh Boydak, Haci Boydak, Sukru Boydak and Mustafa Boydak -- were sentenced to jail terms ranging from seven and half years to 18 years, according to the sources who spoke on condition of anonymity due to restrictions on speaking to the media.
The court also ruled in favor of the takeover of the shares of the Boydak Holding executives in the company and its subsidiaries. In August 2016, a Turkish court had appointed trustees to the holding for alleged ties with FETO, the group that staged the defeated July 15, 2016 coup.
According to the Boydak Holding website, the family-based consortium was established in 1957 and has interests in furniture, textiles, chemicals, marketing, logistics and energy. Its 42 companies employ more than 14,000 staff. Source

Turkey issues warrants for 24 FETO terror suspects
Turkish prosecutors on Thursday issued arrest warrants for 24 suspects linked to the Fetullah Terrorist Organization (FETO), the group behind the 2016 defeated coup in Turkey. Istanbul prosecutors issued arrest warrants over the suspects' alleged involvement in infiltrating Turkey's National Intelligence Organization (MIT).
The case is linked to an incident in February 2012, when an Istanbul prosecutor ordered MIT head Hakan Fidan and other officials to testify in an investigation of an urban network of the terrorist PKK organization. The probe was plotted by FETO.
The suspects include U.S.-based FETO leader Fetullah Gulen, alleged "MIT imam" Murat Karabulut, former Police Commissioner Yurt Atayun, Ali Fuat Yilmazer, Serdar Bayraktutan, Oguzhan Ceylan, Erol Demirhan, former prosecutors Sadrettin Sarikaya and Bilal Bayraktar, journalist Mustafa Gokkilic, lawyers, and former MIT officials. Ten of the uspects were already arrested as part of other FETO investigations, while five are fugitives. Source