The new Turkey
Berdan Öztürk

Kurdish Peoples' Democratic Party parliament deputie
21-May-2019
16 May 2019:
Proposal to lift immunity of HDP deputies submitted to Parliament

A summary of proceedings of the deputies of the pro-PKK Peoples' Democratic Party (HDP) was submitted to Parliament to lift their immunity in the face of their affiliation with the terrorist organization.
Presidency dossiers on the immunity of 21 deputies, including HDP co-chairpersons Pervin Buldan and Sezai Temelli and the main opposition Republican People's Party (CHP) Istanbul deputy Saliha Sera Kadıgil were presented to the Turkish Parliamentary Speaker's Office.
Buldan along with HDP Ağrı deputy Berdan Öztürk and HDP Diyarbakır deputy Remziye Tosun have three dossiers while two dossiers were submitted for HDP's Istanbul deputy Ahmet Şık, Şırnak deputy Nuran İmir, Van deputy Murat Sarısaç and Diyarbakır deputies Musa Farisoğulları, Salihe Aydeniz and Dersim Dağ.

28 November 2018:
Erdogan's office asks to strip opposition leaders, 19 MPs of immunity
The office of Turkey's President Recep Tayyip Erdogan on Wednesday demanded from the country's Parliament to strip the leaders of the main and Kurdish opposition parties of immunity along with 19 other lawmakers, to pave the way for potential prosecution.

The move comes only a week after the European Court of Human Rights, which Turkey is a party to, ruled that Ankara was unjustly and politically holding Kurdish leader Selahattin Demirtas in detention for two years and that authorities had to release him.

It is also the latest in a far-reaching crackdown on the opposition, Kurdish movement, and civil society that has over the past two years seen the jailing of up to 150,000 people, 50,000 of them now political prisoners.

The Presidency has sent the parliament 43 files containing criminal charges against the Co-chair of pro-Kurdish Peoples' Democratic Party (HDP), Pervin Buldan, leader of the largest opposition bloc, the Republican People's Party (CHP), Kemal Kilicdaroglu, and other MPs from their respective parties, the state media reported.

If approved by a majority of lawmakers, they will have to face the charges by prosecutors, and also appear in front of courts that could land them in jail—as was the case with Demirtas and a dozen other now-former lawmakers from the previous parliament.

It was not immediately clear what the accusations against them were.

However, earlier reports this month by the pro-government media wrote that charges against the opposition politicians varied from "terrorist membership, terrorist propaganda to insulting the President," based on their speeches.

Both Buldan and Kilicdaroglu are members of the national assembly which is dominated by Erdogan's Justice and Development Party (AKP) and its junior far-right ally Nationalist Movement Party (MHP), the number of whose lawmakers suffices to purge their rivals.

Among HDP MPs targeted by the latest move from Erdogan's administration are Feleknas Uca and Ayse Acar Basaran of Batman, Dirayet Dilan Tasdemir and Berdan Ozturk of Agri, Nimetullah Erdogmus of Sanliurfa, Ayhan Bilgen of Kars, Bedia Ozgokce Ertan of Van, Imam Tascier and Garo Paylan of Diyarbakir, Mahmut Togrul of Gaziantep, and Filiz Kerestecioglu Demir of Ankara.

Those from the CHP who may lose parliamentary immunity from prosecution are Mehmet Goker of Burdur, Okan Gaytancioglu of Edirne, Mustafa Sezgin Tanrikulu, Mahmut Tanal, and Aykut Erdogdu of Istanbul, Kadim Durmaz of Tokat, Cetin Osman Budak of Antalya. Source



13 November 2018:



The Ankara Chief Public Prosecutor's Office on Tuesday filed motions against four pro-Kurdish Peoples' Democratic Party (HDP) deputies, including the party's co-chair Pervin Buldan, for conducting "terrorist propaganda," independent news site T24 reported.



A motion was filed against Buldan for her speech in the southeastern province of Diyarbakır on June 21; Diyarbakır deputy  İmam Taşçıer for his social media posts on May 24 and speeches he delivered in the same province on Sept. 8 and 9;
Tunceli deputy Alican Önlü for a speech he gave during the Newroz celebrations - the traditional Kurdish celebration of both the New Year and the beginning of Spring - in the eastern province of Tunceli on March 21 and
Berdan Öztürk for a speech during Newroz celebrations in the eastern province of Ağrı on March 21, T24 said.

The motions demand the removal of the deputies' immunity from prosecution, T24 said.

Ankara accuses HDP's politicians of harbouring sympathies and acting in the interest of the Kurdistan Workers' Party (PKK), an armed group that has been in war in Turkey for over 30 years. 

Almost one in three members of Turkey's top Kurdish political party have been detained since the ceasefire between Kurdish militants and the Turkish state collapsed in July 2015.
---

5 October 2018:

Prosecutors file to lift immunity from 15 opposition deputies
A prosecutor's office in Turkey's capital city of Ankara has filed requests to lift the parliamentary immunity of 15 opposition deputies, Turkish news site Diken said on Friday, citing a report from the Turkish state-run Anadolu Agency.
The prosecutor wishes to take press charges on 12 deputies from the pro-Kurdish Peoples' Democratic Party (HDP) for allegedly creating propaganda for terrorists, and three from the main opposition Republican People's Party (CHP) for insulting President Recep Tayyip Erdoğan.
Turkey's Justice and Development Party (AKP) government has piled constant pressure on the HDP since it became the first pro-Kurdish party to win enough votes to break the country's 10 per cent electoral threshold in the June 2015 elections.
Shortly after the elections, a peace process broke down between the AKP and the Kurdistan Workers' Party (PKK), a terrorist-designated armed group that has fought for Kurdish self-rule in Turkey since the 1980s.
The charges against the 12 HDP deputies are related to statements made criticising Turkey's Operation Olive Branch, a military assault launched in January this year against Syrian-Kurdish groups linked to the PKK in northwest Syria. They also refer to political statements made on International Women's Day on March 8.
Dozens of high-profile HDP politicians and activists have faced legal action since 2015 due to their alleged links to the PKK, including two of the party's former co-chairs, Selahattin Demirtaş and Figen Yüksekdağ.
The CHP politicians have been accused of "insulting the president," a crime with a maximum four-year prison sentence according to the Turkish constitution, which does not clearly define what constitutes an insult. Erdoğan has launched around 2,000 legal cases against Turkish citizens, including schoolchildren, for alleged insults.
The Turkish parliament decided to make it possible to lift politicians' parliamentary immunity in a controversial vote in May 2016.
CHP leader Kemal Kılıçdaroğlu may have come to regret backing the vote, which has seen several of his party's deputies and prominent figures sentenced, including Istanbul deputy Enis Berberoğlu.
The HDP politicians facing the latest round of legal problems are Ayhan Bilgen, Ayşe Acar Başaran, Alican Önlü, Berdan Öztürk, Bedia Özgökçe Ertan, Feleknas Uca, Filiz Keresteci, Kemal Bülbül, Meral Danış Beştaş, İmam Taşçıer, Nimetullah Erdoğmuş and Pervin Buldan.
On the CHP side, Çetin Osman Budak, Erdin Bircan and Aykut Erdoğdu face charges. Source

8 May 2018: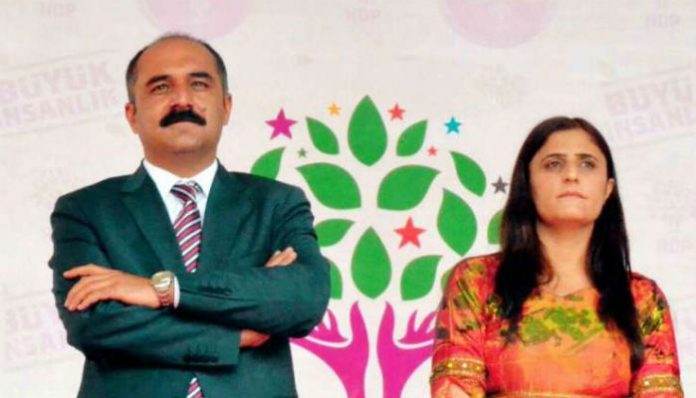 Pro-Kurdish Peoples' Democratic Party (HDP) Ağrı deputy Dirayet Taşdemir has been given a suspended 20-month sentence on terror charges, while another HDP Ağrı deputy, Berdan Öztürk, has been acquitted of the same charges, Turkish media have reported. The deputies' trial at an Erzurum court concluded on Tuesday.
A case was launched against Taşdemir and Öztürk after they attended the funeral ceremonies of five individuals who were claimed to be militants of the outlawed Kurdistan Workers' Party (PKK) in Erzurum in 2016.
The HDP deputies were tried at the Erzurum 2nd High Criminal Court on charges of disseminating the propaganda of a terrorist organization, with the deputies facing a jail sentence of up to five years. The indictment said that during the funeral services Taşdemir made remarks such as "Kurds will rule themselves from now on" and "The Kurdish people will never bow to pressure."
While Taşdemir was given a 20-month suspended sentence for the remarks, Öztürk was acquitted of the charges. Many HDP deputies including the party's former chairpersons and HDP officials are currently behind bars.

---
20 Nov. 2017

Criminal probe opened into six HDP deputies over attending PKK militant funeral
The Interior Ministry has filed a criminal complaint about Peoples' Democratic Party (HDP) members, including six MPs, who attended a funeral of outlawed Kurdistan Workers' Party (PKK) militants in the southeastern province of Diyarbakır.
"As the Interior Ministry we have filed a criminal complaint about HDP deputies who attended the Diyarbakır funeral of Hülya Eroğlu, code-named 'Delal Amed,' who was one of the so-called executives of the PKK-KCK separatist terrorist organization and whose name was on a red list," a statement from the ministry read on Nov. 19.
The Diyarbakır Chief Prosecutor's office stated that a criminal investigation was launched into HDP Diyarbakır deputies Feleknas Uca, Sibel Yiğitalp and Berdan Öztürk on Nov. 18 for attending the funeral, which took place on the same day.
It added that a further complaint was filed on Nov. 19 against Ağrı deputy Berdan Öztürk, Van deputy Nadir Yıldırım and Muş deputy Ahmet Yıldırım, as well as "other attendants," for paying a condolence visit to a funeral house in Diyarbakır.
The prosecutor's office stated that "the investigation will continue in line with further findings." Source

---
16 March 2017

TurkishMinute.com news portal reported that two deputies from the pro-Kurdish HDP, Berdan Öztürk and Mehmet Emin Adıyaman, were detained on Thursday as they were holding a campaign rally in the eastern province of Ardahan against a constitutional reform package that will be put a public vote in April. Source
18 Sep. 2017 - HDP holds 'justice rally' in Diyarbakır
18 Sep. 2017


The Kurdish-question focused People's Democratic Party (HDP) held a grand meeting in the southeastern province of Diyarbakır titled "Justice, Conscience and Democracy" in protest of the current state of democracy in Turkey and arrests of its lawmakers.

HDP co-leader Serpil Kemalbay, Democratic Society Congress (DTK) co-leaders Leyla Güven and Berdan Öztürk attended the rally along with HDP lawmakers and representatives.

At the rally, the letter written by imprisoned former HDP co-leader Figen Yüksekdağ from Kandıra Prison was read aloud. "The campaign we have initiated saying 'Let's not stop ourselves, let's stop fascism' paved a way for justice by the hands of suppressed people, workers, laborers, youth and women. Our Justice and Conscience meetings and the meetings we have started today will have their place in history for their role against fascism," read the letter Yüksekdağ delivered via her lawyers.

HDP co-leader Kemalbay criticized the imprisonment of HDP lawmakers regarding it as a "strike against the third biggest party in the parliament."

"We have carried out sit-in protests in Diyarbakır, Istanbul, Van and İzmir for justice and conscience. Our protests were isolated, blocked by police barricades. We are carrying out our struggle under such conditions. We will never surrender, we will create a new life by resisting," she said.

Criticizing the attack on the funeral of imprisoned lawmaker Aysel Tuğluk's mother, Kemalbay said the underlying reason for the attacks are "the unlawful and inhumane steps of those who attempt political engineering."

"We condemn those who perpetrated such attacks and those who did not resign," she said.

HDP spokesperson Osman Baydemir called out on ruling Justice and Development Party (AKP) leader and President Recep Tayyip Erdoğan and Nationalist Movement Party (MHP) leader Devlet Bahçeli "to stop current policies."

"Erdoğan and Bahçeli! When there is a way to heal wounds, give up on turning this country into a graveyard. The only thing they know is to rule the country with death," Baydemir said.

Yüksekdağ's case in Ankara

Meanwhile, the Ankara 16th Heavy Criminal Court continued a case against Yüksekdağ on Sept. 18.

The prosecutor's office ordered 30 to 83 years of prison time from Yüksekdağ for "inciting to commit a crime" and "inciting hatred and hostility in the public."

Being tried in more than 20 other cases against her, Yüksekdağ was already convicted for a year in one case and two other convictions are in an appeal process.

Yüksekdağ was arrested on Nov. 4, 2016, along with nine other HDP lawmakers and has been in prison ever since.

After her first conviction was finalized in February 2017, her lawmaker status was removed, "and two other convictions are in an appeal process," she said.

Freed HDP, MP ordered to be re-arrested

In the meantime, the Diyarbakır Sixth Heavy Criminal Court ruled for the re-arrest of HDP Kars lawmaker Ayhan Bilgen, who was released from prison on Sept. 8 from the same case.

"Despite the fact that it is not in the indictment, I am imprisoned with an accusation included in the file unlawfully by the prosecutor's office. Now, I'll be arrested again with the unlawful wiretapping added into my file, accusing me of having relations with the Tevhid Salam organization," Bilgen said on Sept. 18.

Bilgen was arrested on Jan. 31, 2017 and released on Sept. 8 by the court. The Diyarbakır Prosecutor's Office objected to the release and asked for his re-arrest.

As Nursel Aydoğan and Yüksekdağ's lawmaker statuses were removed, there are currently nine HDP lawmakers in prison on terror charges, including HDP co-leader Selahattin Demirtaş and Bilgen.

Two other former lawmakers Faysal Sarıyıldız and Tuğba Hezer, who were also stripped of their lawmaker status following criminal charges, left Turkey in the wake of a parliamentary decision to remove lawmakers' immunities in 2016 and have been abroad ever since. Source
Two more members of parliament of Turkey's main the pro-Kurdish opposition, the Peoples' Democratic Party (HDP), have been removed from their posts, bringing the total number of HDP parliamentarians to have lost their jobs to 11, alternative news source Bianet said .
Selma Irmak and Osman Baydemir were relieved of their duties on Thursday after being convicted of terror organisation membership and insulting the police respectively.
The HDP, the third biggest party after 2015, elections now only has 48 seats in parliament. Its members left the chamber in protest.
Figen Yüksekdağ, Nursel Aydoğan, Besime Konca, Ferhat Encü, İbrahim Ayhan and Ahmet Yıldırım lost their seats due to criminal convictions, and Faysal Sarıyıldız, Tuğba Hezer Öztürk and Leyla Zana due to absenteeism while in police detention. Source