The new Turkey


Sara Kaya.


Co-Mayor of Nusaybin



25-Nov-2018 16:34
23 November 2018: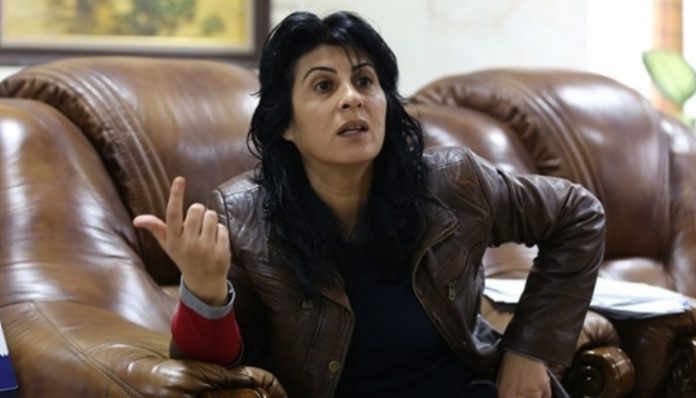 A Turkish prosecutor on Friday demanded an aggravated life sentence for the dismissed co-mayor of Nusaybin in southeastern Turkey on charges of terrorism. Sara Kaya, a Kurdish mayor who was detained in a house raid on Jan. 13, 2017 and subsequently arrested, testified at a hearing on Friday in Mardin via teleconference, the Mezopotamya news agency reported.
The prosecutor asked for an aggravated life sentence for the former co-mayor, who is being held in pretrial detention, thus precluding any chance of parole.
Kaya is accused of providing municipal vehicles to members of the outlawed Kurdistan Workers' Party (PKK), which is recognized as a terrorist organization by Turkey, the United States and the European Union. Kaya is charged with supporting terrorism and inciting hatred and animosity among the people.
In her defense, Kaya argued that counterterrorism unit chief Ünal Uyar fabricated the evidence against her. Kaya said she is charged because she was the elected mayor, while the local governor is not being investigated in the same case. Kaya said she dispatched the vehicles upon the request of the local governor of the time. Kaya will remain in prison on the grounds that she presents a flight risk until the next hearing in January. Source

3 September 2018:

Jailed Kurdish mayor faces trial on evidence police admit was faked
When I first met her, she was walking down the beautiful stone steps of the municipality building of Nusaybin, a small, predominantly Kurdish city in southeast Turkey that sits right up against the Syrian border. I remember that day distinctly because there was a commemoration in Qamishli, directly across the frontier that divides the two cities.
On March 12, 2004, at a football match in Qamishli, tensions between Kurdish fans of the local team and Arab supporters of a visiting team from Deir al-Zor turned into a riot and Syrian security forces responded by firing live rounds at the protesters. Fifty-two people, mostly Kurds, were killed and hundreds more were arrested, a rare sign at the time of Kurdish discontent in President Bashar Assad's tightly controlled Syria.
Local residents organise memorials for the protesters every year. It was the 11th anniversary that year; March 12, 2015. It was also around the time I was organising help for a camp for Yazidi refugees who had fled the massacres and rape inflicted on the religious minority by Islamic State (ISIS) in nearby Iraq.
I visited Nusaybin on the way back from a Yazidi camp and stopped by the Nusaybin municipality to meet the mayor. The smiling woman who greeted me, wearing blue jeans and a Kurdish scarf was Nusaybin Mayor Sara Kaya. She had an appointment somewhere, but when she found out I was visiting, she moved her schedule around. Sara immediately offered me a cup of tea and started talking about the situation in Nusaybin. "We are mourning," she said.
"Not just today, every day we have another funeral for those who died fighting ISIS," Sara said.
The mayor said the day before, they had held a funeral for German citizen Ivana Hoffman, who was killed fighting ISIS. Sara said Hoffman was an only daughter.
"Her mum kept opening the casket, maybe 30 times or more to kiss her deceased daughter," Sara said. "I went home at night, I looked at my children, I couldn't sleep all night."
"We saw everything, combat, conflict, our generation saw a lot," she said, chain-smoking.
Then the fighting was nearby in Syria and Iraq. But we did not know a new war was about to start a few months later, forcing Nusaybin residents to attend funerals of people killed on the Turkish side of the border. And of course, we had no idea of the massive destruction that would wreaked on beautiful Nusaybin when fighting broke out between Turkish security forces and Kurdistan Workers' Party (PKK) militants in November 2015. Large parts of the city were destroyed as the armed forces used tanks and artillery to crush the rebels and bulldozers razed much of what was left afterwards.
After our first meeting, more funerals and deaths brought Sara and I together. Sometimes we met among the ruins of Nusaybin. Others days when we could not enter the town, we met outside the city. Each time, despite all the pain, she gave strength and hope to those around her.
I met Sara in September, 2016, at the Peace Park in Nusaybin during curfews imposed as a result of the clashes. Some six neighbourhoods of the city were shut off behind barbed wire. People waited next to the wire for the bodies of their loved ones.
We looked at the destruction of Nusaybin and later visited a few families who had lost children. As I walked with Sara, I saw with my own eyes how much the people adored her. Everyone who saw her held her and told her their worries.
An elderly man we met in a ruined bazaar told her his house had been looted during the curfews. Sara's voice started trembling. There were tears in her eyes as she talked to the old man.
"What I really feel bad about is my daughter's dowry," the old man said. "Her mother had prepared the dowry before she died." Sara hugged the man. "We will prepare a better dowry for your daughter," she said.
Sara, the beloved local politician and leader, was arrested on January 13, 2017 and has been in custody ever since
The reason for her arrest was a message allegedly written by Sara to the local commander of the PKK.
A police officer taped the search. Without even opening the bag, one officer shouts "amazing!". The police seemed to know who the letter was addressed to even before opening and reading it. The supposedly one-and-a-half year-old document looked remarkably fresh.
The officer who carried out the investigation has since been arrested for falsifying evidence and admitted the police forged the documents. But Sara is still in custody.
Sara's lawyer Kamuran Tanhan said police had arrested her so as to put the mayor's office under the control of a central government-appointed administrator.
"In Nusaybin, the police work almost like a gang. The police force produced fake evidence not only for Sara Kaya but also for others, and this police officer is currently under arrest for falsifying evidence, extortion, and torture," Tanhan said.
Sara is just one example. Many Kurdish mayors have been arrested on the basis of flimsy evidence. These people are also fathers, mothers, sons and daughters. Their loved ones are waiting for them, just like Sara's husband and her four small children.
Yet, I say this with regret, neither the Turkish public, nor its political parties are paying any attention to these arrested people and their trials.
Sara's trial is on September 21 in Mardin. As she said to me, we must support each other to find better days.
* If you would like to write a letter to Sara Kaya, her address is: Erciş Yolu Üzeri 25. KM T Tipi Kapalı Ceza İnfaz Kurumu Tuşba / Van, Turkey. Source

21 March 2018:

Newroz in Turkey from Nusaybin to İzmir
Tens of thousands of people have participated in the Newroz celebrations across Turkey.


Thousands of people participated in the Newroz celebrations held at Cegerxwîn Park in the district of Nusaybin in Turkey's southeastern province of Mardin today (March 21). In the celebrations, which were participated by the Peoples' Democratic Party (HDP) Diyarbakır MP Feleknaz Uca and HDP Mardin Provincial Co-Chair Ali Sincar, the HDP Nusaybin District Co-Chair Ferhat Kut made a speech. In his speech, Kut reminded the audience that Newroz had not been celebrated in Nusaybin for the last two years and emphasized that celebrations were held this year despite all efforts of prevention.
During the celebrations in Nusaybin, the letter sent by the jailed Co-Mayor of Nusaybin, Sara Kaya, was also read out. In her letter, Kaya wrote, "The youngsters and children of Nusaybin who have the sun and light in their eyes, I am bowing before the resistance and willpower of yours. Even though I am not beside you, I know that you are resisting at squares with enthusiasm despite everything." Source


8 September 2015:

Nusaybin Co-Mayor Sara Kaya Unseated
Nusaybin Co-Mayor Sara Kaya has been unseated by Mardin Governorship Directorate of Local Authorities showing declaration of self-government reason.

Nusaybin (a district of Mardin province in southeastern Turkey) Co-Mayor Sara Kaya from Democratic Region Party (DBP) was unseated by Mardin Governorship Directorate of Local Authorities.
In 2014 local elections, Kaya and other Co-Mayor Cengiz Kök from DBP took 91% of the votes.
What happened?
Sara Kaya's home was raided by police and she was arrested by showing declaration of self-government reason on August 28 and then was released upon judicial control decision.
However, Public Prosecutor of Nusaybin objected and Kaya was arrested for a second time for being a member of 'illegal organization' and was sent to Mardin E-Type Prison.
Kaya was transferred to Ankara Sincan Prison on September 2. (YY/BD) Source
Click here to read the article in Turkish