The new Turkey


Bedia Özgökçe Ertan.


Kurdish Peoples' Democratic Party parliament deputie



15-Nov-2019
15 November 2019:

Elected Mayors of 20 Municipalities Replaced with State-Appointed Trustees So Far

Since the Metropolitan Mayors of Van, Diyarbakır and Mardin were removed from office on August 19, 2019 on the ground that there were ongoing investigations against them, trustees have been appointed to 20 metropolitan, provincial and district municipalities in eastern Turkey.
Lastly, on November 13, trustees were appointed to the District Municipalities of Yenişehir and Hazro in Turkey's southeastern province of Diyarbakır and the Municipality of Akpazar town in Mazgirt, Dersim.
CLICK - Four HDP Mayors Replaced with Trustees
CLICK - Trustees Appointed to 15 HDP Municipalities Since Local Elections on March 31
While mayors have been removed from office, district governors or governors have been appointed as acting mayors in their place.
In dismissing Peoples' Democratic Party (HDP) mayors, the Ministry of Interior or governorships have been referring to "the ongoing investigations against them on terror-related charges." 
Trustees have been appointed to the following municipalities so far:
Diyarbakır Metropolitan Mayor Adnan Selçuk Mızraklı
Mardin Metropolitan Mayor Ahmet Türk
Van Metropolitan Mayor Bedia Özgökçe Ertan
Hakkari Mayor Cihan Karaman
Yüksekova Mayor Remziye Yaşar
Nusaybin Mayor Semire Nergiz
Kulp Mayor Mehmet Fatih Taş
Kayapınar Mayor Keziban Yılmaz
Bismil Mayor Gülcan Özer
Kocaköy Mayor Rojda Nazlıer
Erciş Mayor Yıldız Çetin
Karayazı Mayor Melike Göksu
Cizre Mayor Mehmet Zırığ
Saray Mayor Caziye Duman
Kızıltepe Mayor Nilüfer Elik Yılmaz
Yenişehir Mayor Belgin Diken
Hazro Mayor Ahmet Çevik
İdil Mayor Songül Erden
Akpazar Town Mayor Orhan Çelebi
İpekyolu Mayor Azim Yacan
---
24 October 2019:

Turkish Parliament receives 30 summaries of proceedings for 19 HDP deputies
The Turkish Parliament has received 30 summaries of proceedings on terrorism charges against 19 deputies from the Kurdish Peoples' Democratic Party (HDP), including Sezai Temelli and Pervin Buldan, the party's co-chairs, the Diken news website reported.
According to the report, as of Oct. 7, 758 summaries of proceedings for 171 deputies have been pending in parliament. If parliament votes to strip the deputies of their immunity from prosecution, they will be tried by Turkish courts. In November 2016, after parliament removed the immunity of deputies who had been charged by prosecutors, the HDP's then-co-chairs, Selahattin Demirtaş and Figen Yüksekdağ, were arrested.


10 October 2019: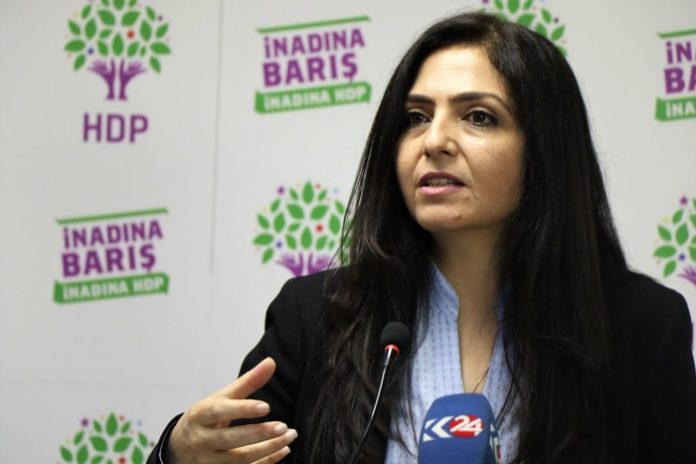 The Van Chief Public Prosecutor's Office has drafted an indictment that seeks up to 30 years in prison for Bedia Özgökçe Ertan, the former Kurdish mayor of Van who on Aug. 19 was removed from office by the Turkish Interior Ministry, the Artı Gerçek news website reported on Thursday.
Ertan was elected mayor of Van in the March 31 local polls.
Ertan is charged in the indictment with membership in a terrorist group and spreading terrorist propaganda as well as praising crime and criminals based on her remarks and flyers distributed during her time as mayor of Van. Her trial will begin on Dec. 25.
---

28 November 2018:

Erdogan's office asks to strip opposition leaders, 19 MPs of immunity
The office of Turkey's President Recep Tayyip Erdogan on Wednesday demanded from the country's Parliament to strip the leaders of the main and Kurdish opposition parties of immunity along with 19 other lawmakers, to pave the way for potential prosecution.
The move comes only a week after the European Court of Human Rights, which Turkey is a party to, ruled that Ankara was unjustly and politically holding Kurdish leader Selahattin Demirtas in detention for two years and that authorities had to release him.
It is also the latest in a far-reaching crackdown on the opposition, Kurdish movement, and civil society that has over the past two years seen the jailing of up to 150,000 people, 50,000 of them now political prisoners.
The Presidency has sent the parliament 43 files containing criminal charges against the Co-chair of pro-Kurdish Peoples' Democratic Party (HDP), Pervin Buldan, leader of the largest opposition bloc, the Republican People's Party (CHP), Kemal Kilicdaroglu, and other MPs from their respective parties, the state media reported.
If approved by a majority of lawmakers, they will have to face the charges by prosecutors, and also appear in front of courts that could land them in jail—as was the case with Demirtas and a dozen other now-former lawmakers from the previous parliament.
It was not immediately clear what the accusations against them were.
However, earlier reports this month by the pro-government media wrote that charges against the opposition politicians varied from "terrorist membership, terrorist propaganda to insulting the President," based on their speeches.
Both Buldan and Kilicdaroglu are members of the national assembly which is dominated by Erdogan's Justice and Development Party (AKP) and its junior far-right ally Nationalist Movement Party (MHP), the number of whose lawmakers suffices to purge their rivals.
Among HDP MPs targeted by the latest move from Erdogan's administration are Feleknas Uca and Ayse Acar Basaran of Batman, Dirayet Dilan Tasdemir and Berdan Ozturk of Agri, Nimetullah Erdogmus of Sanliurfa, Ayhan Bilgen of Kars, Bedia Ozgokce Ertan of Van, Imam Tascier and Garo Paylan of Diyarbakir, Mahmut Togrul of Gaziantep, and Filiz Kerestecioglu Demir of Ankara.
Those from the CHP who may lose parliamentary immunity from prosecution are Mehmet Goker of Burdur, Okan Gaytancioglu of Edirne, Mustafa Sezgin Tanrikulu, Mahmut Tanal, and Aykut Erdogdu of Istanbul, Kadim Durmaz of Tokat, Cetin Osman Budak of Antalya. Source

5 October 2018:

Prosecutors file to lift immunity from 15 opposition deputies
A prosecutor's office in Turkey's capital city of Ankara has filed requests to lift the parliamentary immunity of 15 opposition deputies, Turkish news site Diken said on Friday, citing a report from the Turkish state-run Anadolu Agency.
The prosecutor wishes to take press charges on 12 deputies from the pro-Kurdish Peoples' Democratic Party (HDP) for allegedly creating propaganda for terrorists, and three from the main opposition Republican People's Party (CHP) for insulting President Recep Tayyip Erdoğan.
Turkey's Justice and Development Party (AKP) government has piled constant pressure on the HDP since it became the first pro-Kurdish party to win enough votes to break the country's 10 per cent electoral threshold in the June 2015 elections.
Shortly after the elections, a peace process broke down between the AKP and the Kurdistan Workers' Party (PKK), a terrorist-designated armed group that has fought for Kurdish self-rule in Turkey since the 1980s.
The charges against the 12 HDP deputies are related to statements made criticising Turkey's Operation Olive Branch, a military assault launched in January this year against Syrian-Kurdish groups linked to the PKK in northwest Syria. They also refer to political statements made on International Women's Day on March 8.
Dozens of high-profile HDP politicians and activists have faced legal action since 2015 due to their alleged links to the PKK, including two of the party's former co-chairs, Selahattin Demirtaş and Figen Yüksekdağ.
The CHP politicians have been accused of "insulting the president," a crime with a maximum four-year prison sentence according to the Turkish constitution, which does not clearly define what constitutes an insult. Erdoğan has launched around 2,000 legal cases against Turkish citizens, including schoolchildren, for alleged insults.
The Turkish parliament decided to make it possible to lift politicians' parliamentary immunity in a controversial vote in May 2016.
CHP leader Kemal Kılıçdaroğlu may have come to regret backing the vote, which has seen several of his party's deputies and prominent figures sentenced, including Istanbul deputy Enis Berberoğlu.
The HDP politicians facing the latest round of legal problems are Ayhan Bilgen, Ayşe Acar Başaran, Alican Önlü, Berdan Öztürk, Bedia Özgökçe Ertan, Feleknas Uca, Filiz Keresteci, Kemal Bülbül, Meral Danış Beştaş, İmam Taşçıer, Nimetullah Erdoğmuş and Pervin Buldan.
On the CHP side, Çetin Osman Budak, Erdin Bircan and Aykut Erdoğdu face charges. Source

7 Match 2018: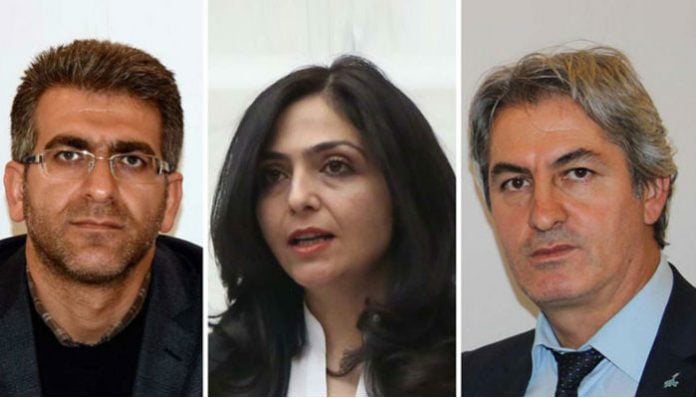 The Ankara Chief Public Prosecutor's Office has filed summaries of proceedings for three deputies from the pro-Kurdish Peoples' Democratic Party (HDP) on terror charges due to their criticism of a Turkish military operation in the Afrin region of Syria.
HDP deputies Adem Geveri, Bedia Özgökçe Ertan and Lezgin Botan are facing charges of disseminating the propaganda of a terrorist organization in their messages on social media regarding the operation in Afrin.
The summaries of proceedings against the deputies have been sent to the Turkish Parliament by the Ankara Chief Public Prosecutor's Office.
The Turkish military and Free Syrian Army (FSA) fighters on Jan. 20 launched Operation Olive Branch in Afrin against the Syrian Kurdish Democratic Union Party (PYD), which Turkey sees as the Syrian extension of the outlawed Kurdistan Workers' Party (PKK).
The Turkish government and President Recep Tayyip Erdoğan have reacted strongly to people who oppose the operation, and prosecutor's offices have initiated investigations into those who share social media messages critical of the operation.

17 July 2017:

Turkish Parliament to discuss immunity of 29 more opposition deputies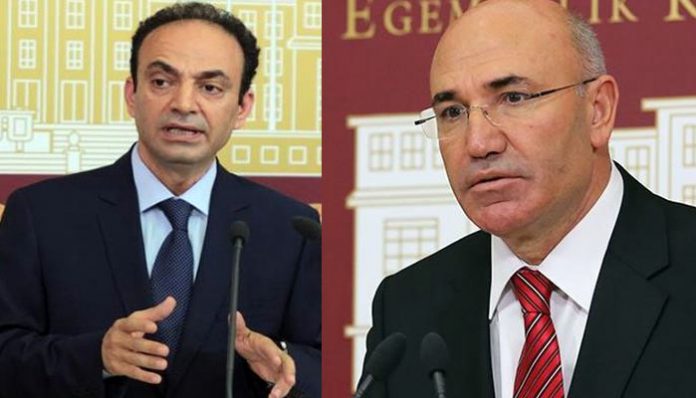 Dossiers for 29 more opposition deputies from the pro-Kurdish Peoples' Democratic Party (HDP) and the Republican People's Party (CHP) have been submitted to a commission in the Turkish Parliament to discuss whether their immunity from prosecution should be removed or not.
According to a state-run Anadolu news agency story on Sunday, the Constitution and Justice Joint Commission will discuss the removal of immunity for 29 more deputies, including 22 from the HDP and seven from the main opposition CHP.
Anadolu said 43 summaries of proceedings submitted to the commission include dossiers for jailed HDP deputy Pervin Buldan and HDP Co-chair Selahattin Demirtaş.
Currently, 11 HDP deputies are in jail on charges of terrorist links.
The immunity of all deputies who face investigations was lifted in May 2016.
Most recently CHP deputy Enis Berberoğlu in June was sentenced to 25 years in prison for leaking information for a report on National Intelligence Organization (MİT) trucks transporting weapons to jihadists in Syria.
The arrest of Berberoğlu, who would normally enjoy parliamentary immunity, was possible because the CHP and Nationalist Movement Party (MHP) had lent support to a proposal submitted by the ruling Justice and Development Party (AKP) on removing deputies' immunity from prosecution last year.
Deputies whose immunities will be discussed in the parliamentary commission are: CHP İstanbul deputy Aykut Erdoğdu, HDP Van deputy Tuğba Hezer Öztürk, HDP Diyarbakır deputy İmam Taşçıer, HDP Bingöl deputy Hişyar Özsoy, HDP Şırnak deputy Leyla Birlik, HDP Batman deputy Saadet Becerekli, HDP Van deputy Bedia Özgökçe Ertan, HDP Van deputy Nadir Yıldırım, HDP Batman deputy Mehmet Ali Aslan, HDP Şanlıurfa deputy Dilek Öcalan, HDP Mardin deputy Gülser Yıldırım, HDP Batman deputy Ayşe Acar Başaran, HDP Hakkari deputy Selma Irmak, HDP Iğdır deputy Mehmet Emin Adıyaman, CHP Sakarya deputy Engin Özkoç, CHP Kocaeli deputy Tahsin Tarhan, CHP İstanbul deputy Mahmut Tanal, CHP Manisa deputy Tur Yıldız Biçer, HDP Diyarbakır deputy Ziya Pir, HDP Adana deputy Meral Danış Beştaş, CHP İzmir deputy Ahmet Tuncay Özkan, HDP Siirt deputy Besime Konca, HDP Şırnak deputy Aycan İrmez, HDP İzmir deputy Ertuğrul Kürkcü, HDP Diyarbakır deputy Sibel Yiğitalp, CHP İstanbul deputy İlhan Cihaner, HDP Şanlıurfa deputy Osman Baydemir, HDP Adıyaman deputy Behçet Yıldırım, HDP Şanlıurfa deputy İbrahim Ayhan. Source