The new Turkey
Meral Danış Beştaş.
Kurdish Peoples' Democratic Party parliament deputie
08-Oct-2018

5 October 2018:

Prosecutors file to lift immunity from 15 opposition deputies
A prosecutor's office in Turkey's capital city of Ankara has filed requests to lift the parliamentary immunity of 15 opposition deputies, Turkish news site Diken said on Friday, citing a report from the Turkish state-run Anadolu Agency.
The prosecutor wishes to take press charges on 12 deputies from the pro-Kurdish Peoples' Democratic Party (HDP) for allegedly creating propaganda for terrorists, and three from the main opposition Republican People's Party (CHP) for insulting President Recep Tayyip Erdoğan.
Turkey's Justice and Development Party (AKP) government has piled constant pressure on the HDP since it became the first pro-Kurdish party to win enough votes to break the country's 10 per cent electoral threshold in the June 2015 elections.
Shortly after the elections, a peace process broke down between the AKP and the Kurdistan Workers' Party (PKK), a terrorist-designated armed group that has fought for Kurdish self-rule in Turkey since the 1980s.
The charges against the 12 HDP deputies are related to statements made criticising Turkey's Operation Olive Branch, a military assault launched in January this year against Syrian-Kurdish groups linked to the PKK in northwest Syria. They also refer to political statements made on International Women's Day on March 8.
Dozens of high-profile HDP politicians and activists have faced legal action since 2015 due to their alleged links to the PKK, including two of the party's former co-chairs, Selahattin Demirtaş and Figen Yüksekdağ.
The CHP politicians have been accused of "insulting the president," a crime with a maximum four-year prison sentence according to the Turkish constitution, which does not clearly define what constitutes an insult. Erdoğan has launched around 2,000 legal cases against Turkish citizens, including schoolchildren, for alleged insults.
The Turkish parliament decided to make it possible to lift politicians' parliamentary immunity in a controversial vote in May 2016.
CHP leader Kemal Kılıçdaroğlu may have come to regret backing the vote, which has seen several of his party's deputies and prominent figures sentenced, including Istanbul deputy Enis Berberoğlu.
The HDP politicians facing the latest round of legal problems are Ayhan Bilgen, Ayşe Acar Başaran, Alican Önlü, Berdan Öztürk, Bedia Özgökçe Ertan, Feleknas Uca, Filiz Keresteci, Kemal Bülbül, Meral Danış Beştaş, İmam Taşçıer, Nimetullah Erdoğmuş and Pervin Buldan.
On the CHP side, Çetin Osman Budak, Erdin Bircan and Aykut Erdoğdu face charges. Source

4 December 2017:

The Ankara Public Prosecutor's Office prepared summaries of proceedings for a total of 19 deputies of the Peoples' Democratic Party (HDP) and submitted them to the Justice Ministry on Monday, the state-run Anadolu news agency reported.
According to the report the summaries of proceedings have been prepared for deputies for "disseminating the propaganda of a terrorist organization" on May 2, 2016.
The HDP deputies protested and walked out of a Constitution Commission meeting where a proposal to lift the political immunity of deputies was being discussed, in the Turkish Parliament on May 2, 2016.
The prosecutor's office accused HDP deputies Dirayet Taşdemir, Sibel Yiğitalp, Çağlar Demirel, Hüda Kaya, Ayşe Acar Başaran, Adem Geveri, Mithat Sancar, Ferhat Encu, Gülser Yıldırım, İbrahim Ayhan, Garo Paylan, Bedia Özgökçe Ertan, Meral Danış Beştaş, Mahmut Toğrul, Ertuğrul Kürkcü, Mizgin Irgat, Saadet Becerekli, Nadir Yıldırım and Ziya Pir of spreading propaganda for the outlawed Kurdistan Workers Party (PKK) while leaving the commission meeting.

---
30 January 2017: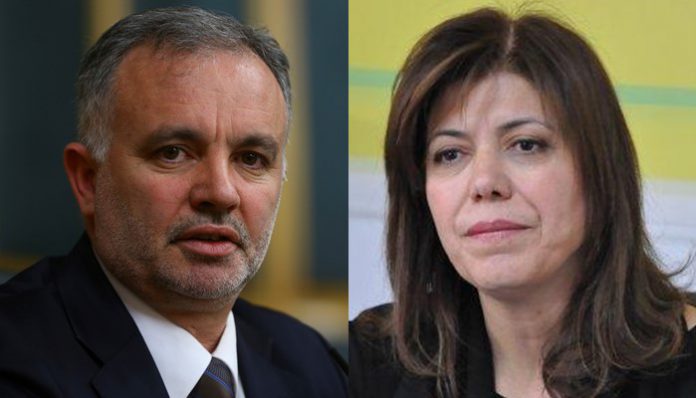 Pro-Kurdish Peoples' Democratic Party (HDP) deputies Ayhan Bilgen and Meral Danış Beştaş were detained on terror charges on Monday night after a Diyarbakır court issued arrest warrants for the two deputies.
According to a decision by the Diyarbakır 5th Penal Court of Peace on Monday night, Bilgen and Beştaş were detained on charges of "membership to a terrorist organization."
HDP deputy Beştaş was briefly detained on Saturday, while HDP deputy and spokesperson Ayhan Bilgen was held by police for a short time on Sunday.
The Diyarbakır court issued arrest warrants for the two deputies due to an objection to their release filed by the Diyarbakır Chief Public Prosecutor's Office.
Bilgen was detained at Diyarbakır Airport, while Beştaş was detained at her home in the same city.