+
The new Turkey
Canan Kaftancıoğlu
Republican People's Party (CHP) officia
Last update: 25-Jun-2020
23 June 2020:

Turkish court upholds prison sentence for main opposition Istanbul chair Kaftancıoğlu
An appeals court in Ankara has upheld a prison sentence for the main opposition Republican People's Party (CHP) Istanbul provincial chairwoman Canan Kaftancıoğlu, on charges including terrorist propaganda and insulting the president, Habertürk reported on Tuesday.
Kaftancıoğlu was sentenced to nine years, eight months and 20 days in prison in September of 2019 on a string of charges, including  "insulting the president," "inciting people to animosity and hatred," and "conducting propoganda for a terrorist organisation."
The Istanbul provincial head became a rising star in the opposition after the March 31 local elections, and is credited as the person behind the CHP's victory in Istanbul, which had been controlled by Islamist parties since 1994.
The ruling arrives on the anniversary of a revote in Istanbul after the ruling Justice and Development Party contested the initial polls. Kaftancıoğlu may appeal the decision with the Supreme Court.
---
12 November 2019:

Turkey revokes security detail assigned to prominent opposition figure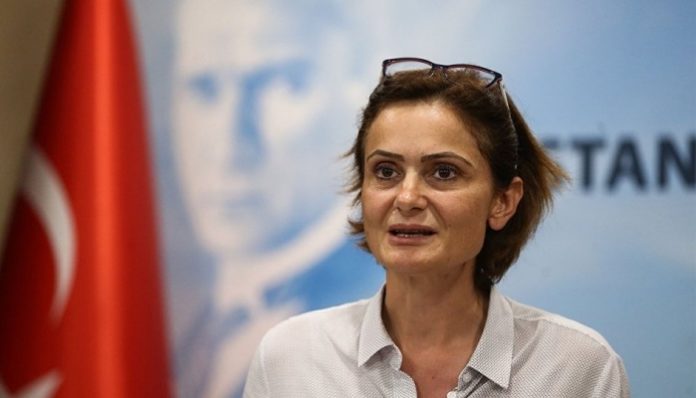 The Turkish government has revoked a protective detail it previously assigned to Canan Kaftancıoğlu, a prominent member of the main opposition Republican People's Party (CHP) who was recently sentenced to nearly 10 years in prison for insulting President Recep Tayyip Erdoğan and spreading terrorist propaganda, the Cumhuriyet newspaper reported on Monday. Kaftancıoğlu is currently free on bail pending appeal.
Kaftancıoğlu was notified of the decision on Saturday in a document handed to her by police officers. No justification was provided for the move. In a handwritten note that she added under her acknowledgment of having been served the notification, Kaftancıoğlu underlined that she was not given any reason for the decision and that "the interior ministry bears responsibility for anything that might happen to me." She tweeted that she is not afraid and that the decision was trivial.
CHP deputy Gökan Zeybek submitted a written parliamentary question directed to Interior Minister Süleyman Soylu inquiring if he was aware of the move and whether he assumes responsibility for any security problems she might encounter. The head of the CHP's İstanbul branch, Kaftancıoğlu is famous for her role in her party's local election victory in İstanbul.
She stood trial for allegedly insulting President Erdoğan and spreading terrorist propaganda and was handed down a prison sentence of nine years, eight months in September, which she is appealing with a higher court.She was elevated to "special protection" status by authorities after she and her family received death threats. She was also the target of attacks by Turkey's pro-government media.

---

6 September 2019:

Opposition CHP's Istanbul head sentenced to 9 years in prison over terror propaganda, defamation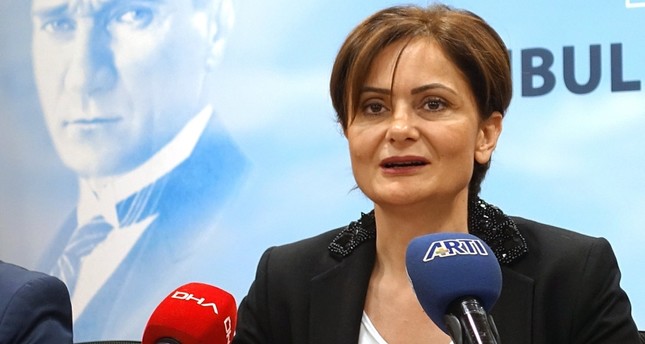 A Turkish court on Friday sentenced a prominent opposition figure to nine years and eight months in prison over several crimes including insulting the president and spreading terrorist propaganda, a lawmaker from the main opposition party said.
Canan Kaftancıoğlu, the head of the Republican People's Party (CHP) Istanbul branch, was sentenced on charges of making propaganda of an armed terrorist organization, defamation of a public servant, the president, and the Turkish state, and inciting public hatred and violence.would not immediately go to jail pending the appeals process. Kaftancıoğlu denied all accusations, saying that she had not intended to insult the president or the Turkish state. The prosecutors originally sought up to 17 years for Kaftancıoğlu.

Eight people, including President Recep Tayyip Erdoğan, acted as complainants. The enquiry was started due to tweets Kaftancıoğlu posted on social media between 2012 and 2017, as well as complaints, which were also stated in the accusation.
Posts concerning Sakine Cansız who was wanted with a red notice due to being one of the PKK founders, who died in France and responsible for the recruitment of women for the group, were categorized as terrorist propaganda. With tweets regarding the Gülenist Terror Group's (FETÖ) July 15 coup attempt, on the other hand, she committed the crime of provoking hatred and hostility among people.
The CHP's Istanbul head has been a highly controversial figure in Turkish society over her debatable comments and actions. She previously expressed support for the PKK terrorist group's leader, who was assassinated in Paris in a likely internal feud in 2013. Two days after the murder, Kaftancıoğlu wrote on her Twitter account that "humanity is lost," citing one of the Cansız's statements on women.
She has even seen serious backlash from the CHP's own voter base, but kept her seat despite serious challenges. During the campaign period of the March 31 elections, she had announced that she would be resigning from her post in reaction to the choice of mayoral candidates; however, she later withdrew her resignation. The CHP was criticized for its unofficial alliance with the pro-PKK Peoples' Democratic Party (HDP) in the local elections.

---

28 May 2019:

Istanbul opposition leader faces jail time for social media posts
An Istanbul court on Monday accepted an indictment charging the chair of the main opposition party's Istanbul branch with insulting the president and spreading terrorist propaganda, state-run Anadolu Agency reported.
Last week, Turkish prosecutors prepared the indictment against Republican People's Party (CHP) official Canan Kaftancıoğlu for insulting the Turkish government, the president and public servants, inciting "hatred and enmity", and "distributing propaganda for a terrorist organisation", mostly on the basis of tweets she posted between 2012 and 2017, said Anadolu.
The first hearing is set for June 28, and prosecutors seek a prison sentence of up to 17 years, Anadolu said. Turkish President Recep Tayyip Erdoğan is among the eight litigants who brought the case against Kaftancıoğlu.
Kaftancıoğlu said she had posted all but one of the tweets mentioned in the indictment, but denied the accusations. The CHP official said her tweets were within the legal bounds of freedom of expression and criticism.
Kaftancıoğlu was a prominent figure during the campaign for the March 31 local elections in Turkey's largest city, Istanbul, where CHP candidate Ekrem İmamoğlu won the mayoral seat by a narrow margin over his ruling party rival.
But Erdoğan's ruling party appealed the results, citing irregularities and fraud at the ballots. The Supreme Election Council, top election authority in the country, revoked İmamoğlu's mandate and called a new election for June 23. Source