CO-founder of Gülen movement:
Cult leader Gülen works with CIA, aims for imamate of the universe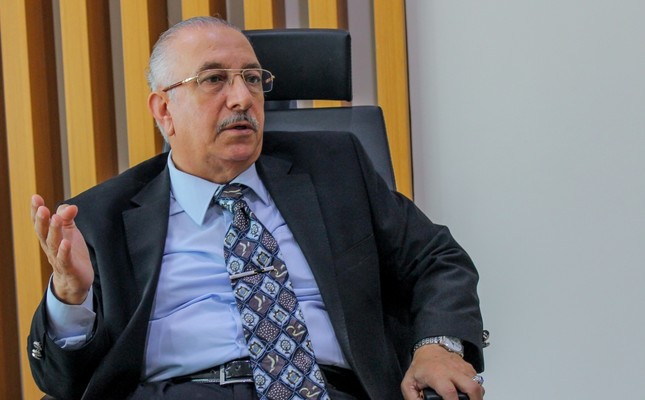 The man who built the Gülen Movement together with fugitive imam Gülen in 1966 told Daily Sabah in an exclusive interview that Gülen shares Turkish intelligence with the CIA and aims to establish an imamate of the universe
Nurettin Veren, the man who built the Gülen Movement in 1966 together with Gülen and remained close friends until 1996, told Daily Sabah in an exclusive interview that Gülenist Terror Group (FETÖ) leader Fetullah Gülen's decades-long dream is to become the supreme imam of the universe and rule people in accordance with his ideology, for which he collaborates with the CIA and serves Turkish intelligence to the U.S.

Veren has been one of three main figures of the Gülen Movement, which was practically founded in 1966 in the western İzmir province. He told the story of how he got acquainted with Gülen and laid the groundwork for a movement, which he said turned into a terrorist cult in decades.

"Gülen came to İzmir from Edirne as a man who did not even finish primary school. His diploma was faked so that he could be an imam as a public servant. He used to take shelter in a small mosque. This is where our paths crossed," Veren said. Recalling his first year at university, Veren said he became friends with Gülen in 1966 when Gülen was quite poor.

BIRTH OF GULENIST CULT DATES BACK TO 1966

Explaining how the first seeds of the Gülen Movement were sowed, Veren said the political landscape and environment in the 1970s helped Gülen a lot. "There were clashes between leftist and far-right students on a daily basis. Conservative students were not comfortable. Gülen suggested that we provide shelter to them. We rented a couple flats," Veren said, adding that both students and businessmen willing to donate put up money the rent.

"This is how the Hizmet [service in Turkish, what Gülenists call the Gülen Movement] was born," Veren stressed. Asserting that everyone who visited the flats liked the environment and the idea, Veren said the number of flats increased to 50 or 60 in a short span of time. "We had to legalize our houses. According to the constitution at the time, it was illegal," Veren said, adding that they decided to establish a foundation and build a dormitory, which would be monitored and supervised by the state.

"We started to build the dormitory in 1972. We could finish it in five years due to economic problems. It had a capacity of 100 beds. It was a model for other dormitories. Anyone who visited the dormitory loved it," Veren said, adding that the number of dormitories rose to 100 across Turkey by 1980.

Veren explained how the number of dormitories skyrocketed in only three years. "Many conservative businessmen who had been oppressed previously offered their properties and money. It came from them," he said.

MOVEMENT THRIVES WITH PREP SCHOOLS, PRIVATE SCHOOLS

When asked about how Gülen's power in Turkey strengthened further, Veren pointed to prep schools for high school students who wanted to enter university and the legalization of opening private schools.

"After Turgut Özal was elected prime minister in 1983, he legalized the opening of private schools by foundations and companies," Veren said. He said that the new law paved the way for Gülen to open conservative schools where students are educated in accordance with his ideologies.Veren said that Gülen saw another opportunity at the time. "Half the students who took the university exam were not able to enroll because of quotas. That's when Gülen proposed to open prep schools for the students," Veren explained.

Veren said that Gülen has been able to earn quite a lot of money, manpower and respect through the prep schools, which paved the way for his ultimate goal.

EXPANSION OF GÜLEN SCHOOLS ABROAD

As a terrorist group that currently has private schools all around the world, Veren recalls how the Gülen Movement first expanded abroad. "When the Soviet Union collapsed in 1991, the door to Turkic republics was opened for us," Veren said, adding that then President Özal supported Gülen to a great extent.

"Özal introduced us to the presidents of countries we visited. He suggested them that we open schools there. They opened their doors to us and we were able to sneak in," Veren asserted. According to Veren, Gülen's expansion in former Soviet Union states opened the U.S.'s eyes."Gülen and the CIA's paths crossed at this point," Veren contended, adding that the CIA infiltrated these former Soviet countries with English teachers. He claimed that the English teachers could be CIA agents.

INFILTRATION OF TURKISH STATE INSTITUTIONS

Veren explained how Gülen ordered his followers to infiltrate the judiciary, military, police department and other state institutions decades ago. "I attended a quite confidential meeting held by Gülen in 1996. Gülen told them to seize the military, police department and judiciary. We had thought that we were training children to be conservative and be useful to the nation. My whole world was shattered there," Veren said.

Having warned Gülen about his intentions, Veren was dismissed from the core squad. "He sent me a letter after I warned him. They put a ban on me. They told me not to come near him or his followers," he added.

Veren also said that Gülenist infiltration of state institutions has been taking place for at least 40 years. He added that the Turkish state should create a long-term plan to cleanse Gülenists from these institutions.

GÜLEN SHARES TURKISH INTELLIGECE WITH CIA

Drawing attention to the U.S.'s help to the FETÖ, Veren said that the CIA clears Gülen's way for its own interests. "Gülen shares Turkish intelligence with the U.S. The U.S. clears Gülen's path and Gülen works for them. The FETÖ sends the U.S. men and the U.S. assigns them at different places – NASA, Twitter etc.," he contended.

JULY 15 COUP ATTEMPT FETÖ-CIA JOINT WORK

Veren touched on the bloody July 15 coup attempt, too. Claiming that the attempt was a joint work by the FETÖ and the CIA, Veren asserted that the two aimed at toppling Erdoğan, who does not obey the U.S.

"It is all about Erdoğan, who cannot be controlled, and Turkey's unstoppable growth. There is [President Abdel-Fattah] el-Sissi in Egypt. Does the U.S. want democracy there? No. Because they want someone in power who can be controlled," he asserted.

"The U.S. needed Fetullah in power in Turkey. That was the reason for the coup attempt," he claimed.

GÜLEN WANTS TO BECOME IMAM OF THE UNIVERSE

Veren talked about Gülen's ambitions and plans about the future as well. He contended that Gülen's followers see him as the supreme imam of the universe. "A caliphate does not even matter for Gülen. He said once he would not even want the U.S. presidency. He aims to be the imam of the universe," he said, adding that Gülen wants to rule the world with his own ideology.

"Judaism, Christianism, Islam, there is none of these in Gülen's ideology. He wants to rule the people with an Ashura-like religion," he contended.

US WILL NOT EXTRADITE GÜLEN, STILL MUCH WORK TO DO

Amid the ongoing diplomatic dispute between Washington and Ankara over Gülen's extradition, Veren claimed that the U.S. would not extradite him because it will continue to make use of his organization.

"Gülen's expiration date has not arrived yet. Gülen has schools around the world. There is already a flow of information and manpower from him to the CIA," Veren claimed.
Source: http://www.dailysabah.com/war-on-terror/2016/08/13/co-founder-of-gulen-movement-cult-leader-gulen-works-with-cia-aims-for-imamate-of-the-universe