National

16-Aug-2018 9:19

Russian wife sues Turkish husband over 'elephant' insult as English racehorses caught in divorce dispute
A Turkish court has ruled to seize more than a dozen English Thoroughbreds owned by a Turkish man as a measure in an ongoing divorce case in which he was accused by his Russian wife of calling her as "fat as an elephant."
Maria Kitapçı, a Russian-born Turkish citizen, filed for divorce from her husband, Levent Kitapçı, at the Istanbul Family Court. According to court documents, the woman claimed that she was "constantly insulted by her husband who kept telling her that she became as 'fat as an elephant.'"
Due to what she described as "psychological, physical and economic violence" during their 12-year-old marriage, Maria Kitapçı demanded a compensation of 10 million Turkish Liras as well as alimony of a monthly payment of 30,000 liras for child support.
The plaintiff also asked the court to stop the businessman from transferring his wealth to his father and brother, particularly citing a total of 31 racehorses worth some 3.5 million liras. Levent Kitapçı, rejecting his wife's allegations as "lies," filed a counter-suit by claiming a compensation of 5 million liras. In its interim ruling, the court decided to seize 19 English Thoroughbred horses and some property owned by the businessman as a temporary measure.
Kitapçı will also pay his wife 7,500 liras each month throughout the divorce case as "precautionary alimony." Source

Cost of flood in Turkey's Ordu estimated to be at 165 million liras
The cost of flash floods caused by heavy rains in the Black Sea province of Ordu is estimated to be at 165 million Turkish Liras ($27.1 million), Enver Yılmaz, the mayor of the city, said on Aug. 14. "Works to calculate the cost of the disaster are still ongoing, thus the final number could be much higher," Yılmaz added without elaborating.
The initial figure includes damages to the infrastructure, roads and sewage system, according to the mayor. Some 10,000 people in the province were affected, one person was killed and nine others injured, he also said. According to the mayor, a total of 455 houses and businesses were flooded, nine bridges collapsed, 15.5 kilometers of road structure and 123 power distribution units in 59 neighborhoods were damaged.
In the Çaybaşı district, 18 houses were evacuated as precaution against a possible landslide, Yılmaz said. The evacuated buildings will be demolished and their residents will be transferred to other buildings and their rents will be paid by the Disaster and Emergency Management Authority (AFAD). Source


Staffing becomes family affair at Turkish university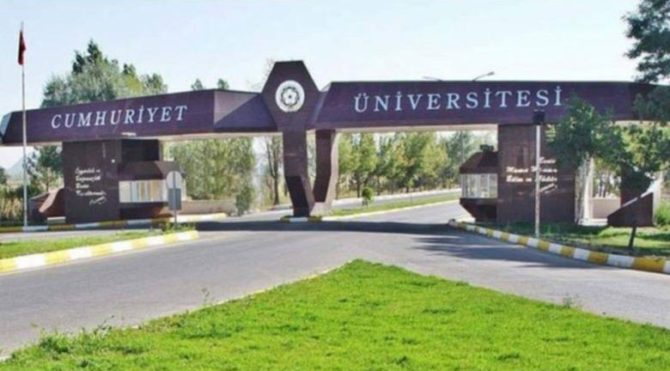 A Turkish university has come under criticism after every one of eight open job positions supposedly allocated by examination went to close family members of existing members of staff, nationalist newspaper Sözcü said. Some were shocked at the family talent that arrived to fill positions ranging from teaching staff to advisor, and from anatomy assistant to administrative positions, at Sivas Cumhuriyet University.
University staff, however, fervently denied any wrongdoing had taken place. "There is no question of nepotism in the appointment of administrators' family members," university general secretary Hakan Yekbaş said. "Everyone who fits the criteria enters an exam and those who are successful gain (the positions). There are some who cannot stand this new administration: their unearned income has been cut off and they are blackmailing (us)."
Deputy Dean of the Education Faculty Taner Çiftçi, whose wife was made a teaching staff member in the Health Services Vocational College, said that nepotism was impossible. "Up until the present day, we have never deviated from justice," he said. Source


30 'Special Security Zones' in Hakkari

The Governorship of Hakkari has declared 30 areas in the city center as well as in the districts of Çukurca, Şemdinli and Yüksekova in Hakkari "Special Security Zones" on the ground that a military operation will be conducted in the region.
As per the Article no. 32/A of the Law no. 2565 on Prohibited Military Zones and Security Zones, entrance to the areas declared "Special Security Zones" without permission has been banned. In the statement released by the Governorship of Hakkari on its official website, the duration of the ban has been specified as 14 days. The ban has been in effect as of 00.00.01 on August 7, 2018 until 23.59.59 on August 21, 2018.
In its statement, the Governorship has referred to "the activities of the separatist terrorist organization and other terrorist organizations" as a justification for the declaration of "Special Security Zones." Source


English-language teacher intercepted while escaping from Turkey to Greece
English-language teacher, identified by his initials S.B., was intercepted in a restricted military area near Turkey's Greek border in Edirne province, media reported Monday.
S.B. used to work at a private school that was closed down over its ties to the Gulen movement in the aftermath of the July 15, 2016 failed coup. The teacher was reportedly sneak into Greece in order to escape persecution in Turkey. Source


---
Turkey's Sumela Monastery to open next season
Turkey expects to open the Sumela Monastery in Black Sea province of Trabzon after restoration works end soon, Culture and Tourism Minister said Monday. Mehmet Ersoy told Anadolu Agency the aim is to open the monastery by next season.
Located in the Macka district of Trabzon, the Sumela Monastery is a site of historical and cultural significance as well as a major tourist attraction. It was included in UNESCO's temporary list of World Heritage sites. Built on a steep cliff at 1,200 meters in Altindere National Park, the Sumela Monastery reopened for religious use on Aug. 15, 2010 with the permission of the Ministry of Culture and Tourism, following an 88-year hiatus.

During his visit, Ersoy said renovation will be completed after interior works are done. The minister said visitors will be able to reach the monastery's main entrance in a month.
"The workers are doing a final retouch and the first phase of the restoration will almost end. Our aim in the second phase is to finish these works before the next season but this region is a very risky one. Because heavy rains are making [restoration] works difficult," Ersoy said and added that the monastery will be completely functional by the next season after the renovation works this winter. Source

---
PKK terrorists in Turkey hit low of 790
PKK terrorists currently in Turkey now number around 790, the lowest figure seen in recent years, Interior Minister Suleyman Soylu said Tuesday. Speaking at Kalana military zone in Yuksekova, Hakkari in southeastern Turkey, Soylu said that at least 47 PKK terrorists were neutralized in domestic security operations last week alone.
The word "neutralized" is used to imply that the terrorists in question either surrendered or were killed or captured. This year a total of 61 people have joined the PKK terrorist group, while 91 terrorists have so far surrendered, he said. Source

---
Tourists flocking to malls before international brands raise prices in Turkey
Tourists in Turkey are rushing to malls to buy luxury goods for less before international brands adjust their prices upward to reflect the current rate of exchange, the Cumhuriyet daily reported on Monday.
International brands are unable to keep up with the exchange rate of the Turkish lira as the lira continues to plummet.
Many tourists are going to malls where some stores have queues at the door, with people waiting up to 20 minutes before they can enter.
Luxury brands like Louis Vuitton are favorites among the mostly Arab tourists standing in line. Source

Nationalist Turkish party proposes prison terms for 'misleading' polling results
Vice Chairman of Turkey's Nationalist Movement Party (MHP) Mevlüt Karakaya has announced a bill calling for between two and five years' imprisonment for pollsters who present "mistaken, misleading or deficient information" with the purpose of influencing public opinion, the Diken news website reported on Thursday.
The bill calls such misrepresentation a "crime of manipulation" and includes fines as well.
Most polls underestimated votes garnered by the MHP in the June 2018 general election and the results of the concurrent presidential election.
MHP Chairman Devlet Bahçeli called the pollsters who claimed his party's vote would decrease to 5-6 percent from the previous 10 percent "undignified" before the June 24 general election.
The bill regulating pollsters was drafted by the party about a month later.
Pollsters will need to document the party financing their research, for whom the research is done and the amount of money used for the research, according to the bill.
Pollsters will also be obliged to intervene if a customer shares a doubtful research result independent from its context if the bill becomes law.
The bill prohibits keeping the results of a survey after its completion. "The data will have to be destroyed to avoid the use of the same data in a different a poll or for different purposes in the future," Karakaya said.
Pollsters and polling companies that do not abide by the regulations will have to pay 10 times a pollster's salary as a fine.
Most polling companies use Turkish Statistics Institute (TurkStat) data to separate surveys into age groups and geographical areas.
A face-to-face interview is the most common survey method in Turkey as Turkish citizens are likely to be insecure about sharing their political opinions via the Internet or on the telephone.
Hakan Bayrakçı, head researcher for Turkish polling company Sonar, said they provide the margin of error in every survey and that it depends on the scope of the poll as well as the trust respondents feel for pollsters, in an interview on a 5N1K newscast before the elections.
"Participants might also change their minds after the survey is taken but before the election," said Adil Gür, the owner of another polling company.
Allegations of electoral fraud and violence have been rampant in Turkey's most recent elections. Source
Plunge of lira hits Turkish football clubs: Goddamn Trump ruined us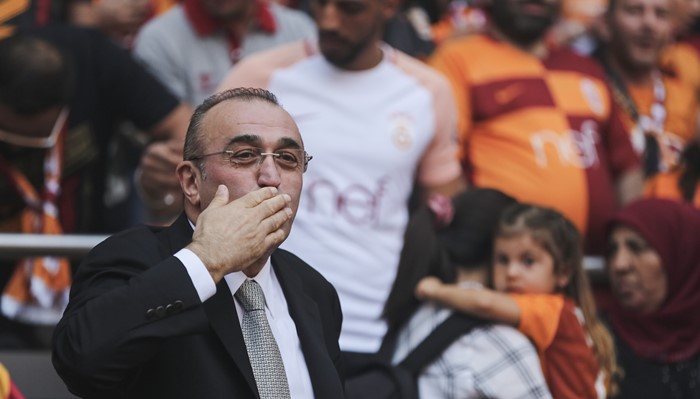 Abdurrahim Albayrak, vice president of Turkish football club Galatasaray, on Sunday strongly criticized US President Donald Trump for sanctions on Turkey that have resulted in the free fall of the Turkish lira, saying that the team cannot sell players during the currency crisis, Sputnik reported.
"There is a man… God damn it! He has ruined us. I am talking about Trump. Goddamn, he has ruined us. Our debt increased 25 percent in a day," Albayrak told CNN Türk, underlining the difficulty of making player transfers.
"All clubs try to sell players. We cannot do it easily now. They were paid a huge amount of money when they were transferred. But clubs won't agree to pay that amount when we try to sell them now," added Albayrak. Source


Right-wing opposition İYİ Party re-elects Akşener as chair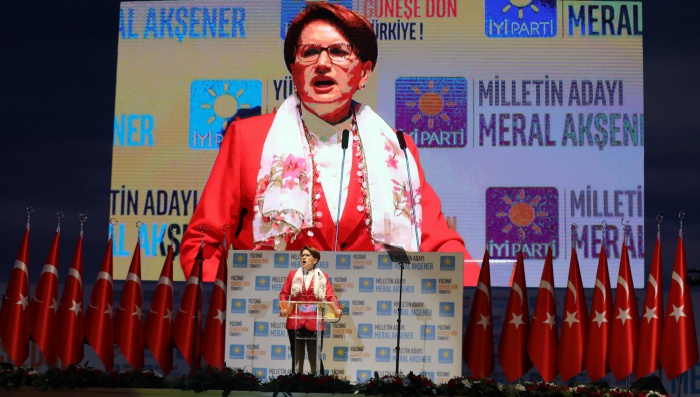 Turkey's right-wing opposition İYİ (Good) Party held an emergency convention on Sunday and re-elected its leader, Meral Akşener, as chairperson, BBC Turkish service reported.
Akşener had decided to resign from the post in view of this year's presidential and parliamentary election results; however, the party's executive board convinced her to stay. "I yielded to your decision. You said 'come' and I came," Akşener said in announcing her decision to again run for leadership during the convention.
The İYİ Party has 1,123 delegates from across Turkey, of whom 881 voted for Akşener, with only 888 of them participating in the election. Akşener had said she made the decision to resign in accordance with her personal principles and the understanding of democracy she wants for Turkey.
"After that moment, I didn't interfere [with the executive board]. The party group put on a performance against my decision and became insistent," she said. Source


Turkey's main opposition leader slams dissidents: 'Leadership necessitates ethical principles'
Main opposition Republican People's Party (CHP) leader has responded to the ongoing in-house debate over a call for leadership change, stating that election results should not be the only variable in evaluating leadership "if there is a struggle for democracy." 
"I have never had passion for a seat," Kılıçdaroğlu told daily Hürriyet in an exclusive interview on Aug. 13. His comments came amid his seat and administration were targeted with fierce criticisms from CHP dissidents, who argue that the current results in the latest elections are a direct consequence of Kılıçdaroğlu's management.
The dissident movement led by CHP presidential candidate Muharrem İnce initiated a process to convey an extraordinary congress but the signatures necessary for such a congress has fallen short.Kılıçdaroğlu said he had not expected a dissident move from İnce right after the parliamentary elections. The CHP leader said there was a lack of political trajectory, which he said was essential to achieve such a move in congress.
"A person who would like to be the chair of a political party should build a philosophy on the ground of ethical values. If you want to be a leader of a political party, you certainly have to comply with those ethical values," he added. Read the full article