The New Turkey


Turkey cancels press cards for opposition journalists
Turkey's Presidential Communications Directorate on Friday cancelled press cards of journalists working for nationwide opposition dailies BirGün and Evrensel. The directorate had delayed the renewal of the cards for months, BirGün wrote. The communications directorate had a list of journalists to be rejected, Evrensel quoted an unnamed official as saying.  
BirGün's publisher, publishing coordinators, supplements director, reporters and one columnist had their cards cancelled. Evrensel's reporters with permanent cards (that never expire), editor-in-chief, news director, managing editor, redactor, and reporters with temporary cards had theirs cancelled as well. Several of the journalists were members of Turkey's Union of Journalists, and Evrensel's news director was the chairman of Turkey's Union of Journalists.
The total number of cards cancelled on Friday is currently unknown, as the journalists were not officially notified. Journalists have individually confirmed the cancellations. "When I checked my card through the e-government website, I saw it was cancelled," BirGün columnist and Başkent University faculty Dr Doğan Tılıç said in a statement. 
"If (journalists) need adjusting, our Communications Directorate could handle that," Turkish President Recep Tayyip Erdoğan had said last year, as quoted by the Contemporary Journalists Association's statement on the cancellations.  
Read the full article

Turkey's Constitutional Court cancels Erdoğan decree for first time
Turkey's Constitutional Court ruled to annul an article of a presidential decree for the first time since a new executive presidential system entered into force after elections in June 2018, Cumhuriyet newspaper reported.
President Recep Tayyip Erdoğan issued the decree in question right after the election. The main opposition Republican People's Party (CHP) had appealed against the order, which had set out the organisational structure of the presidency, asking Turkey's top court to cancel several articles.
Judges announced their verdict on Thursday, rejecting the CHP's appeal save for one article, Cumhuriyet said.  The article it annulled had allowed the Ministry of Culture and Tourism to make payments in advance to contractors involved in promotional activities abroad, the newspaper said.
-------------------------------------------

Arrest warrants issued in crackdown on FETÖ infiltrators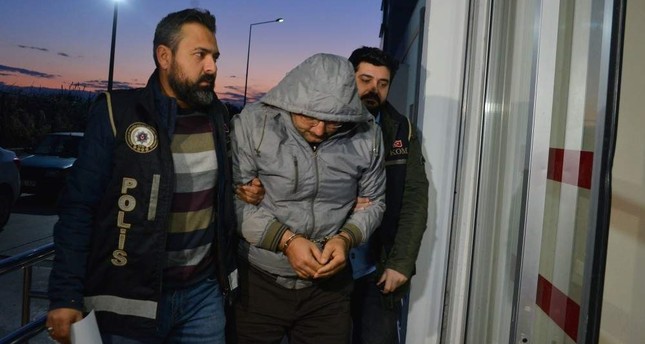 Arrest warrants for 48 Gulen movement suspects were issued Tuesday as authorities launched a new clampdown into the shady network's infiltrators in Turkey's education and judiciary system. The Ankara Chief Prosecutor's Office sought the arrest of 16 suspects in an investigation into FETÖ's infiltration into the Ministry of National Education (MEB). The suspects, 11 of them still on active duty, are being sought across seven provinces, including Ankara, Istanbul and İzmir.
Additional arrest warrants for 22 FETÖ suspects were also issued by the Adana Chief Prosecutor's Office. In a statement, the prosecutor's office said the suspects were wanted for trying to recruit military and police school students for the terrorist organization. In a separate probe, the Balıkesir Chief Prosecutor's Office issued warrants for 10 suspects in the judiciary for allegedly being in contact with the so-called "covert imams," the senior members of the terrorist organization.
While prosecutors issued fresh warrants for new suspects, police forces in southern Antalya province arrested 20 FETÖ suspects with existing warrants. According to the police, a large number of documents and digital files were seized in an apartment where the suspects were found. Police said nine of the suspects were sent to the provinces where the cases they are involved in are ongoing, while the rest were released after their statements were taken.
Former judge sentenced
Meanwhile, a court in southeastern Gaziantep province sentenced a former judge to six years and 10 months in prison for being a FETÖ member.The court sentenced Sabit Numan Kaya for "being a member of an armed terrorist organization" as the prosecutor said the evidence showed Kaya using ByLock, an encrypted messaging app developed and exclusively used by FETÖ members.
................................................

Raid nabs counterfeit $127.5 million bound for FETÖ members abroad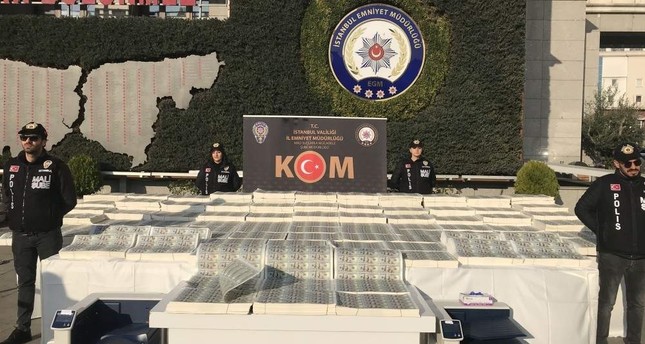 Istanbul police announced Wednesday that they confiscated $127.5 million in counterfeit bills destined for members of the Gülenist Terror Group (FETÖ) in South America and Africa.
Units from the Financial Crimes Department of Istanbul Security Directorate had previously seized a record $271 million in counterfeit bills during an operation in Istanbul's Esenyurt district on July 23. Six suspects, including a former police deputy discharged over links to FETÖ, were arrested.
As the investigation proceeded, the crime gang's ringleader and main financier, identified as A.A., was detained at the Kapıkule Border Gate on Oct. 10 trying to escape to Bulgaria hiding inside the trunk of a vehicle. Meanwhile, two members of the gang who went into hiding were also arrested the same day in Istanbul.
Upon these developments and links to FETÖ, the investigation was expanded. Using physical and technical surveillance, the police found that the crime ring was resuming activities and plotting to ship a hefty amount of counterfeit bills abroad. On Tuesday, two addresses were raided in Kağıthane and Sarıyer districts. Counterfeit $100 bills ready for cutting, worth $127.5 million in total, and printing machines were seized in the operation, which also saw eight suspects taken into custody. Four suspects were arrested while four others were released under judicial control.
Turkey arrests 203 suspects in operations against Gulen movement
Authorities issued arrest warrants for 237 people associated with the Gülenist Terror Group (FETÖ) on Tuesday. At least 203 suspects were arrested in nationwide operations while a manhunt is underway to capture the suspects at large.
The largest operations were based in İzmir, a western Turkish city where FETÖ's fugitive leader Fetullah Gülen once attracted large masses to his sermons while he was working as a preacher. Prosecutors in the city issued arrest warrants for 176 people, including active-duty soldiers and soldiers retired or dismissed from the army on suspicion of links to the terrorist group, which was behind the July 15, 2016 coup attempt. Police launched operations in 49 provinces to capture the suspects, 115 of whom were arrested. Media reports say among the wanted suspects were six F-16 fighter jet pilots and four commanders of gendarme garrisons in towns.

Suspects were identified through their contacts with FETÖ's handlers for military infiltrators via pay phones. FETÖ is known for its utmost secrecy. Even when it was disguised as a religious movement, long before its coup attempts in 2016 and 2013, it managed to keep its secret members out of the public eye. Pay phones were one of the methods used to disguise contacts between its members. A new intelligence report shows that the terrorist group turned to pay phones as early as 2009 to arrange meetings of its infiltrators and their handlers.
In the capital Ankara, prosecutors issued arrest warrants for 31 suspects in a probe on FETÖ's mass infiltration into the Turkish Land Forces. Twenty-two suspects, including non-commissioned officers and four civilian handlers controlling terrorist group's military network, were arrested in operations in 10 cities. Another 14 suspects out of 30 with outstanding arrest warrants were detained in operations based in the central city of Konya. Most of them were active-duty soldiers.
In the Black Sea province of Trabzon, authorities issued arrest warrants for 10 suspects and all were captured in operations in Trabzon and five other cities. Police also detained 30 suspects linked to the terrorist group after prosecutors in the northwestern province of Kocaeli issued arrest warrants. Suspects were employees of courthouses and prisons.
Meanwhile, gendarme units in the northwestern city of Edirne arrested two FETÖ suspects who were attempting to sneak into Greece.
FETÖ posed as a religious group for years under the leadership of Gülen before it disclosed its true intention – to topple the government and create chaos in the country – in 2013 with two plots targeting people close to the government. Turkey managed to stave off these attempts and launched operations against the group, which was designated as a national security threat. In 2016, the terrorist group tried to seize power again, this time by staging a coup attempt with the aid of its infiltrators in the Turkish Armed Forces (TSK). This attempt was quelled too, and the group faced heightened scrutiny. Police have launched countless operations against the group since the 2016 coup attempt that killed 251 people and injured nearly 2,200 others. Hundreds of military infiltrators were discovered and arrested in investigations while tens of thousands were arrested for links to the group.
The state of emergency declared after the coup attempt sped up the crackdown on the terrorist group's infiltrators. Some FETÖ members managed to flee abroad, while others are believed to still be hiding their ties to the group. Several former members confessed to authorities that senior figures of the group trained them on how to avoid being detected while serving in the army, law enforcement or judiciary.

Earthquakes in Manisa and Ankara

The district of Akhisar in Turkey's Mediterranean province of Manisa was hit by a 5.4-magnitude earthquake at 10.22 p.m. yesterday (January 22), according to Kandilli Observatory and Earthquake Research Institute. Three minutes later at 10.25 p.m., the same area was hit by a 4.4-magnitude aftershock, again according to Kandilli Observatory.
While the earthquake was felt in İzmir, Manisa, Aydın and Denizli as well as in Yalova, Bursa and İstanbul, Manisa Mayor Ahmet Deniz has said that according to initial findings, some houses have collapsed in Çeltikçi Neighborhood as a result of the earthquake, but no one has got wounded.The Disaster and Emergency Management Authority (AFAD) has also indicated that no losses of life or casualties have been reported after the 5.4-magnitude earthquake hit the city.
Ankara hit by 4.5-magnitude earthquake
Releasing a statement on its Twitter account, the AFAD has announced that the district of Akyurt in the capital city of Ankara was hit by a 4.5-magnitude earthquake at 6.54 a.m. in the morning today. The Authority has informed that no negative incidents have been reported after the earthquake and the developments are being followed.
----------------------------------------

Turkey's metal industry employers announce lockout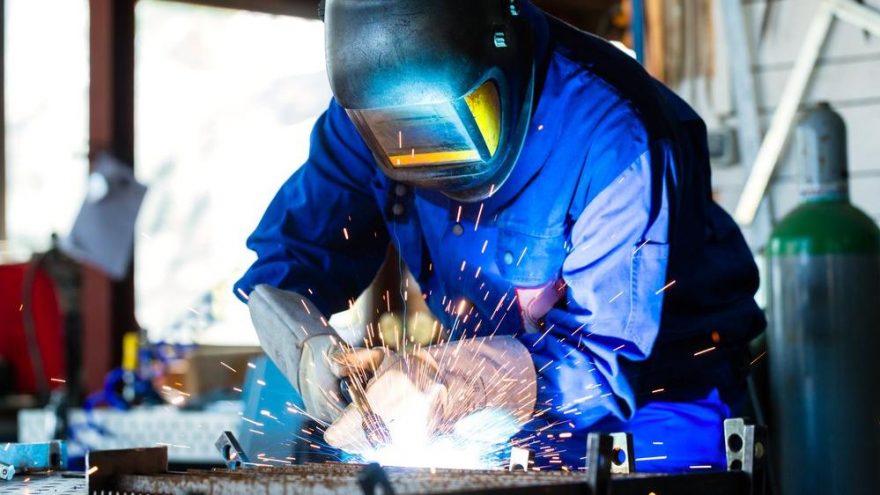 Members of the Turkish Employers Association of Metal Industries on Wednesday announced their decision to stage a lockout, after the Turkish Metal Union representing 130,000 workers called a strike over what they called an insufficient pay rise, Sözcü daily reported.
The strike was called after the employers announced an 8 percent rise in salaries. The employers then upped their offer to 10 percent, but the union rejected the offer, asking for a 26 percent increase. 
Turkish metal companies, including giants like TOFAŞ, Borusan Mannesmann, Aygaz, Ford Automative and Otokar, informed the country's Public Disclosure Platform (KAP) about the lockout decision on Wednesday morning, the daily said.
The companies said they would disclose the exact dates of the lockout later, it said.  The announcement said the employers and the union were continuing talks to sign a collective labour agreement. 
------------------------------------------

Aksa Enerji of Turkey to shut down power plant on pricing problems
Aksa Enerji became the latest Turkish electricity generator to apply to regulators to shut down a power plant. Aksa will temporarily close the 147 megawatt facility, which runs on natural gas, in the southeast province of Şanlıurfa, the company said in a statement to the Istanbul Stock Exchange on Wednesday.
"It has become less possible to produce electricity at a competitive price," Aksa said.
The Turkish authorities have sought to curtail electricity price increases to help spur economic growth and rein in inflation. As a result, profits in the industry are declining and several large firms have sought to restructure foreign currency loans used to build power plants and expand their operations.
The plant has been operating at 15 percent of its capacity in the first nine months of last year, contributing 2 percent of national power generation in the period and just 0.5 percent in the third quarter, Aksa said.
-----------------------------------------

Detention warrants issued for 22 including former police officers over Gülen links
Turkish prosecutors have issued detention warrants for 22 people including former police officers over alleged links to the Gülen movement, accused by the Turkish government of masterminding a failed coup in July 2016 despite its strong denial of any involvement, according to Turkish media reports.
The detention warrants were issued by the Adana Chief Public Prosecutor's Office as part of an investigation into alleged Gülen movement followers. Some of the individuals were detained by police teams on Tuesday following simultaneous police raids on addresses in Adana, İstanbul, Osmaniye and Isparta provinces.
The Turkish government accuses the Gülen movement of masterminding the failed coup and labels it a "terrorist organization," although the movement strongly denies involvement in the coup attempt or any terrorist activity.
Since the failed coup, more than 130,000 civil servants have been removed from their jobs by the Turkish government while more than 30,000 people are still in jail due to their alleged links to the Gülen movement.
US prosecutors seek escalating fines against Turkey's Halkbank
The US government said on Tuesday that Turkey's state-owned Halkbank should be subjected to escalating fines totaling millions of dollars until it responds in court to criminal charges it helped Iran evade US economic sanctions, Reuters reported.
In a filing in Manhattan federal court, prosecutors said Halkbank should be fined an initial $1 million a day for contempt of court, and which could double each week to counter the bank's "obstinacy" in refusing to defend itself in court.
Such a penalty "is an appropriate and necessary sanction to apply a sufficient coercive pressure to cause the defendant to cease its contempt and appear in this matter," prosecutors said.
The proposed fine could total $7 million after the first week of non-compliance and $21 million after two weeks, and nearly $1.8 billion by the end of eight weeks.
US prosecutors announced fraud and money laundering charges in the case on Oct. 15, saying Halkbank and its executives used money servicers and front companies in Iran, Turkey and the United Arab Emirates to evade sanctions.
Prosecutors also said Halkbank undertook transactions on Iran's behalf that would have exposed the bank to sanctions, including allowing revenue from oil and gas sales to be spent on gold, and facilitating sham purchases of food and medicine.
Last month, US District Judge Richard Berman, who oversees the case, rejected Halkbank's request to put the case on hold.
He said the public had a strong interest in a "prompt adjudication" of Halkbank's alleged role in a conspiracy to undermine the sanctions, including through the alleged transfer of $20 billions of otherwise restricted Iranian funds.
A hearing is scheduled for Feb. 25. Halkbank has asked a federal appeals court in Manhattan to stay the case.
The dispute has caused tension in US-Turkish relations, and nine people have been criminally charged.
They included former Halkbank executive Mehmet Hakan Atilla, who was convicted in January 2018 after another defendant, wealthy Turkish-Iranian gold trader Reza Zarrab, pleaded guilty and testified against him.
Atilla returned to Turkey last year after leaving prison, and became general manager of the İstanbul Stock Exchange.
81-year-old Alzheimer's patient detained over Gülen links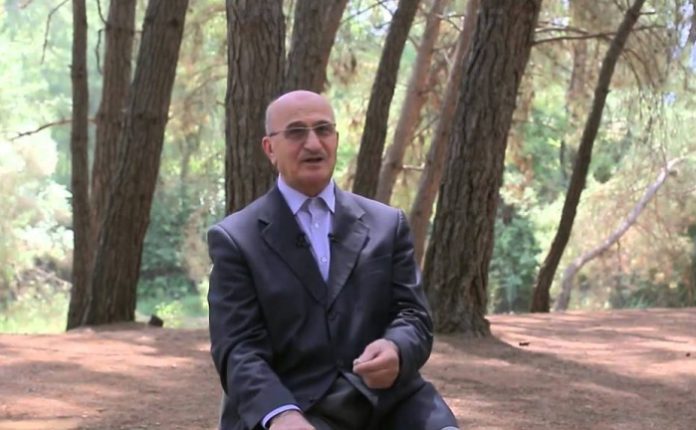 A 81-year-old man who suffers from Alzheimer's disease was detained by police in the Turkish province of İzmir on Monday due to his links to the Gülen movement, accused by the Turkish government of masterminding a failed coup in July 2016, the tr724 news website reported.
Yusuf Pekmezci was in hiding for three years due to a widespread crackdown launched by the Turkish government against the movement's followers.
Pro-government media outlets were running stories for a while targeting Pekmezci and presenting him as one of the leading figures of the movement based on interviews he gave earlier in which he talked about his love for the movement and Fethullah Gülen, a US-based Turkish cleric whose views inspired the movement.
In addition to Alzheimer's, Pekmezci also suffers from high blood pressure and osteoporosis. Pekmezci, who worked as a merchant in İzmir for years, is known for his philanthropy, which included giving scholarships to students in need and opening dormitories for students.
----------------------------------------------

Turkey's AKP drafts law to boost local watchmen's authority
A lawmaker from Turkey's ruling Justice and Development Party (AKP) has presented draft legislation to the country's parliament that will grant local watchmen the right to demand identification from citizens, Turkish news site Artı Gerçek reported.
AKP parliamentary group leader Mehmet Muş's draft was written up after a court ruled that the watchmen did not have the authority to demand identification earlier this month. The Interior Ministry revived the role of local watchmen who patrol markets and neighbourhoods after a failed coup attempt in 2016. The ministry has recruited thousands of watchmen each year since then.
---------------------------------------------

Turkey loses millions of saplings planted in record-breaking campaign
Turkey planted 11 million saplings across its 81 provinces on Nov. 11, 2019, smashing a world record in what President Recep Tayyip Erdoğan called a bid "to foster a new, lush green Turkey". Two months later, only one-in-ten of those trees is still alive, Turkish daily Cumhuriyet reported.
The drive to plant the trees capped the "Breath for the Future" campaign to much fanfare last year, with the government hailing the achievement and Guinness World Records acknowledging Turkey's record-breaking achievement of planting 303,150 trees in an hour.
The Agriculture and Forestry Ministry at the time said care had been taken to ensure that the saplings would thrive. But experts warned that the ground lacked moisture in November and that fewer than 10 percent of the saplings would survive, Cumhuriyet said. Studies conducted in various planting areas by the Forest and Agriculture Labour Union, an association working under the ministry, has proven the experts right.
"We said it was wrong to run the campaign in a period without adequate rainfall just to get into the Guinness Book of World Records. Besides that, the people recruited to plant the trees were not adequately trained. If only we had been wrong," the union's chairman Şükrü Durmuş said. "This is a murder. We are warning the Forestry and Agriculture Ministry once more. Over 17 years you have handed over thousands of hectares to international companies to develop as mines. You won't fix the destruction caused by these companies by planting 11 million trees," he said.
------------------------------------------

EU: We are Preparing a Sanctions List Against Turkey

High Representative of the European Union (EU) for Foreign Affairs and Security Policy Josep Borrell addressed the reporters after a meeting of EU Foreign Ministers in Brussels, Belgium yesterday (January 20). Borrell has announced that the EU has been preparing a list of names from Turkey to be sanctioned over the country's exploration and drilling for natural gas in the eastern Mediterranean.
As reported by Euronews news website, Borrell told the reporters that Minister of Foreign Affairs of Cyprus (Greek Cypriot Administration of Southern Cyprus) Nikos Christodoulides informed the participants of the meeting about the drilling activities.
"We are waiting for the working groups closely involving with the issue to complete the list of names to be imposed the necessary sanctions. We know that some names are included in the list", Borrell indicated. He shared no further information as to the exact date when the sanctions list will be ready.
What happened?
The EU defined Turkey's exploration and drilling activities for natural gas in the eastern Mediterranean as "illegal" as these activities violated the sovereign rights of the Republic of Cyprus. Accordingly, the union agreed to sanction Turkey over its activities on July 15, 2019. As for Turkey, it indicated that it was a guarantor state in Cyprus and its rights over natural resources are disregarded and its activities are legal as the Turkish Republic of Northern Cyprus (TRNC) is officially recognized by other countries. (TP/SD)
-----------------------------------------

Turkey central bank to transfer tens of billions of liras to Treasury
Turkey's central bank will transfer tens of billions of liras to the Treasury from last year's profits and from its precautionary reserves. The bank in Ankara will distribute advanced dividends from its 2019 profit plus reserves from its profits of 2018, a figure that amounts to a total of 40.5 billion liras ($6.9 billion), it said in a statement on Monday. It took the decision at an extraordinary meeting of its board earlier in the day.
The central bank's move comes after it distributed tens of billions of liras to the Treasury last year to help fund budget spending. The cash included 33.7 billion liras from its 2018 profit approved at a similar extraordinary meeting last January. The bank normally makes such decisions in April.
The ruling came aa the government reported on Friday that the budget deficit for December surged by an annual 68 percent to 30.8 billion liras, the biggest monthly shortfall of last year. The deficit for the whole of 2019 widened by 70 percent to 123.7 billion liras. That compared with a government goal of 80.6 billion liras.
The government is seeking funds to help lift the economy out of a severe downturn sparked by a currency crisis in 2018 and to meet a goal of growing the economy by 5 percent this year.
-------------------------------------

Turkey to tweak banks' required reserves in 2020, Albayrak says
Turkey's central bank will be very active in making adjustments to banks' required reserves this year as the authorities seek to direct lending to the economy. Turkey will closely track banks and their lending practices, Treasury and Finance Minister Berat Albayrak said in Istanbul on Monday, according to Dünya newspaper.
The central bank has begun adjusting the amount of reserves that banks are required to deposit in its coffers, reducing the total amount if they lend more to the economy and, most recently, encouraging them to approve more loans to businesses rather than consumers.
The central bank may introduce further measures encouraging banks to lend to specific sectors of the economy, according to recent reports in the Turkish media. The coming year will be one of further transformation for Turkey's economy, Albayrak said.
Albayrak said people should focus on nominal interest rates in Turkey, when asked about the central bank's main lending rate of 11.25 percent, which is now negative when compared with annual inflation of 11.8 percent.
----------------------------------------

Mystery investment firm offers to finance $12.9 billion Istanbul canal
Investment company Money Maker Management has offered to provide all financing for Kanal Istanbul, a 75 billion-lira ($12.8 billion) construction project announced by Turkish President Recep Tayyip Erdoğan.
Turkish media including financial newspaper Dünya said the company would arrange capital for the 45-km (28-mile) waterway, designed to divert shipping from Istanbul's Bosporus Straits, and all related bridges and tunnels, citing an interview with CEO George Ghorayeb. The firm, which has set up an office in Istanbul, is the seventh-largest fund in the United States, Dünya said.
But the company's website – moneymakermanagement.com – provides no information about past or current projects. It also lists no office address aside from a branch in Dubai, run by an individual named Ahmad Kurdi. The address of the office – M12/M13 Mezzanine Floor Pyramid Center, Oud Metha, Lebanon, is also the address of Ahmad Kurdi Fine Jewellery, according to the latter's LinkedIn profile.


HRW Calls on Turkey to Release Jailed Critics, Respect Elections Results
The prolonged and arbitrary detention of journalists, human rights defenders, and politicians blights Turkey's claims of being a country that respects human rights and the rule of law, Human Rights Watch said today (January 15) in its World Report 2020.
In the 652-page World Report 2020, its 30th edition, Human Rights Watch reviews human rights practices in nearly 100 countries.
"Keeping government critics locked up and cancelling the results of local elections won by opposition party candidates demonstrates the lengths to which the Erdoğan presidency will go to undermine human rights and democracy in Turkey," said Hugh Williamson, Europe and Central Asia director at Human Rights Watch.
"Turkey silences dissent and has once more denied its Kurdish voters their chosen local representatives," he further said.
Here are highlights from the report on Turkey: 
Local elections
"Turkey's presidency forced a controversial rerun of the March 31, 2019 local election in İstanbul metropolitan municipality, which was won by opposition candidate Ekrem İmamoğlu. In southeastern Turkey, the authorities have removed 32 elected mayors from the pro-Kurdish Peoples' Democratic Party (HDP), and detained 23 of them, accusing them of terrorism links.
Dismissal of HDP mayors
"In August, the Interior Ministry removed from office the HDP mayors of Diyarbakır, Van and Mardin greater municipalities, newly elected by the majority of votes in the March 31 local elections, accusing them of links with terrorism on the basis of ongoing criminal investigations and prosecutions.
"In place of the voters' chosen mayors, the Interior Ministry appointed provincial governors as "trustees" to run the municipalities and dissolved the local council, thus suspending local democracy in each city. In the following months, the removal of other elected HDP mayors in districts in the region continued with 24 removed at the time of writing and 14, including Diyarbakir Mayor Adnan Selçuk Mızraklı, jailed pending investigation and trial."
Prosecution against rights defenders and politicians
"Among government critics held in prolonged and arbitrary detention are Osman Kavala, a human rights defender; Ahmet Altan, a writer; Adnan Selçuk Mızraklı, elected mayor of Diyarbakır; and Selahattin Demirtaş and Figen Yüksekdağ, former chairs of the People's Democratic Party.
"Thousands of government critics have been prosecuted on terrorism charges in unfair proceedings that lack compelling evidence, resulting in bogus convictions that demonstrate the presidency's intolerance of legitimate dissenting opinion and the right to political association in the country.
"Thousands of ordinary people labelled supporters of the Fethullah Gülen movement or accused of links to the armed Kurdistan Workers' Party (PKK) have been detained without compelling evidence of their involvement in criminal activities."
Refugees
"Turkey remains host to the highest number of refugees in the world, with an estimated 3.7 million Syrian refugees in the country in addition to asylum seekers from other countries.
"In 2019, in a reversal of policy, Turkey's government increasingly signaled through deportations and political statements that Syrian refugees should be resettled in parts of northern Syria occupied by Turkish forces and their proxies, following a military incursion there in October.
"Turkish-backed militias that control territory in those areas have committed violations such as summary killings and enforced disappearances of Kurdish civilians, including political activists and emergency responders, as well as looting and unlawfully appropriating property, and arbitrarily denying the right of Kurdish Syrians to return to their homes and properties." (AS/VK) Source
---