The New Turkey

Bill with sentence reductions due in parliament
A bill that would reduce the sentences of thousands of Turkish inmates is hitting parliament this week, said Turkey's justice minister on Tuesday. "It will be soon brought to the agenda of parliament and we expect the proposal to be passed," said Abdulhamit Gul of the ruling Justice and Development (AK) Party proposal, which reached the Parliament Speaker's Office this afternoon.
The scope of the bill for releasing some inmates will be clear when the proposal is submitted and passed by parliament, Gul said in televised remarks. There are about 300,000 inmates in Turkey, he said, adding: "Convicts and detainees are entrusted to the state." Sentences for crimes repugnant to society are not expected to be included in the reductions, including homicide, sex crimes, murders of women, violence against women and spouses, and terrorism, he said.
Along with the Nationalist Movement Party (MHP), the AK Party is working on the measure with this in mind, he stressed. He also said most courtroom procedures in Turkey have been postponed to help stem the coronavirus spread, but 385 suspects charged with spreading manipulative news about the virus are moving through the system.
-------------------------------------

Death toll from coronavirus rises to 214
Health Ministry data shows 2,704 new cases recorded in past 24 hours, bringing total to 13,531
The death toll in Turkey from the new coronavirus rose to 214 after 46 more people died of the disease in the past 24 hours, the Health Ministry announced on Tuesday. The total number of confirmed cases surged to 13,531, as another 2,704 people tested positive for the virus, according to the ministry data.
A total of 243 patients have recovered and been discharged from hospitals since the beginning of the outbreak, according to the data, which said 847 patients are being treated under intensive care. Also, 15,422 tests were conducted in the past 24 hours and the total number of tests carried out so far rose to 92,403.
After first appearing in Wuhan, China, last December, the virus has spread to at least 179 countries and regions, according to the U.S-based Johns Hopkins University database. The data shows the confirmed number of cases worldwide has surpassed 823,000, with the death toll over 40,600 and more than 174,000 recoveries.
-------------------------------------------

Turkish gov't does not have financial resources to battle pandemic - economists
The Turkish government does not have the funds it requires to hold back the tide of the coronavirus pandemic and is asking for public donations to stem the issue, DW Türkçe reported.
While Turkey is expected to take additional measures set by the government to stimulate the economy, Turkish President Recep Tayyip Erdoğan has sparked controversy with the aid campaign he announced on Monday, DW Türkçe said. The government, which used Treasury resources in 2019, no longer has resources, DW Türkçe said, citing economist and author Mustafa Sönmez.
Sönmez said Turkey's finances should be transparent to explain the economic package, like other countries do. "Why doesn't the (ruling Justice and Development Party) do this when the whole world is willing to do it? Because the AKP ran out of gunpowder in 2018-19. Treasury resources have been depleted so that the crisis in 2018 does not get deeper," he said, adding that the only move the government can take now is to rein in the budget deficit.
Read the full article
--------------------------------------

Erdoğan under growing pressure to impose full lockdown
Turkish President Recep Tayyip Erdoğan is facing growing calls to urgently impose a full nationwide lockdown as Turkey struggles with one of the world's fasting growing outbreaks of the coronavirus, said the Financial Times on Tuesday. 
"I don't even want to think, God help us, about the way that this pandemic might spread because of those people who are still outside," Ekrem İmamoğlu, the opposition mayor of Istanbul, told Turkey's Fox News channel on Monday as he urged the government to impose sweeping restrictions in addition to existing measures. 
The mayor of Izmir, Turkey's third-largest city, echoed İmamoğlu's calls, and the Turkish Medical Association has also persistently urged the government to order people to stay at home. However, in a speech on Monday night, Erdoğan insisted the economy must continue to function. "Turkey is a country where production must continue and the cogs must keep turning under every circumstance and every condition," he said.
Read the full article
-----------------------------------------

Turkey's dissidents launch online campaign against gov't donation drive
Social media users in Turkey launched an online campaign against a state donation fund kicked off on Monday, aiming to provide financial support to the country's low-income households during the coronavirus pandemic.
Critics of the national campaign used the Twitter hashtag #ZırnıkYok ("Not a single penny" in English) after Turkish President Recep Tayyip Erdoğan launched the "national solidarity campaign", for which the leader said he would donate seven months of his own salary.
Opponents bashed Erdoğan, often criticised for his extravagant lifestyle, for not donating more from his own income for the campaign that relies on public donations.
"Sell your palace and live in honour," one Twitter user said, referring to Erdoğan's lavish 1150-room Presidential Palace, which cost $615 million to build.
Read the full article
----------------------------------------

Turkish health minister denies claims of contradictory COVID-19 data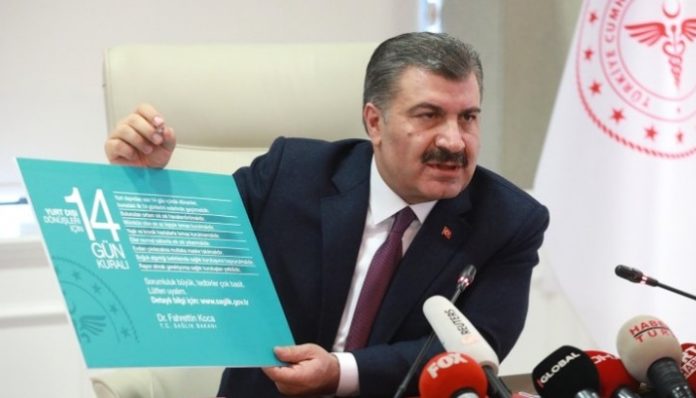 Turkish Health Minister Fahrettin Koca on Monday denied claims on social media that his government has been announcing inaccurate figures on novel coronavirus infections. "Claims on social media that we have been announcing inconsistent data are completely baseless. The numbers are based on COVID-19 diagnoses," Koca tweeted. "The numbers are real and instantaneous. Manipulating facts will not benefit anyone."
The controversy was caused by a discrepancy between the death tolls announced by the government and an online inquiry system run by the İstanbul Municipality, the Ahval news website reported. While the ministry reported 16 deaths nationwide, the municipal website reported 20 COVID-19 deaths in the city of İstanbul alone. Access to the municipal system was blocked after opposition deputy Veli Ağbaba raised the issue, according to Ahval.
Ağbaba later tweeted that he was informed by Minister Koca that the apparent discrepancy might have been caused by the deaths recorded after the official announcement.
- --------------------------------

------------------------------------

----------------------------------------
Amnesty, 26 NGOs call on Turkish gov't to release political prisoners amid coronavirus crisis
Amnesty International and 26 other rights groups and civil society organizations from Turkey and around the world on Monday released a joint statement calling for the release of Turkey's political prisoners, particularly those with a high risk of complications due to COVID-19, caused by the novel coronavirus.
"Overcrowding and unsanitary facilities already pose a serious health threat to Turkey's prison population of nearly 300,000 prisoners and about tens of thousands of prison staff," the statement read. "That will only be exacerbated by the coronavirus pandemic."
"However, we remain concerned that journalists, human rights defenders and others imprisoned for simply exercising their rights, and other who should be released, will remain behind bars in the package of measures as currently conceived by the government."
Read the full article
-----------------------------------------

Turkey's Coronavirus Death Toll Rises by 37 to 168, Total Cases Top 10 Thousand

Turkey's death toll from the coronavirus pandemic has risen to 168 as 37 people died in the last 24 hours, the Health Ministy has announced. Out of 11,535 people tested for the virus since yesterday, 1,610 have been found to be infected, bringing the total cases to 10,827, the ministry said in a statement on its website. The total number of tests stood at 76,981.

According to the ministry's statement, 725 people are currently in intensive care with 523 of them being intubated. A total of 162 people have recovered from the disease so far.
Health Minister Fahrettin Koca has criticized also social media over allegations that official data on the novel coronavirus is inaccurate. "Claims on social media that there is an incoherency in the data we announced are completely unfounded," Fahrettin Koca said on Twitter. "The numerical data announced is based directly on COVID-19 diagnosis data. It is instant and real-time data."
--------------------------------------

Journalist Nurcan Baysal under investigation over articles, posts on pandemic
Turkish authorities have launched an investigation into Kurdish journalist Nurcan Baysal for her coverage of Turkey's measures against the coronavirus in the country's Kurdish-majority southeast.
Baysal is facing charges of inciting hatred and enmity in the public over tweets and articles on the pandemic, including an article titled "Routine life goes on in Diyarbakır despite coronavirus" penned for Ahval.  Ten tweets calling for the release of imprisoned politicians and human rights defenders are also part of the investigation.
"I was told that I would normally be detained, but I wasn't, because of the virus," Baysal told Ahval. Instead, the journalist will face a prosecutor directly on Tuesday. "As a human rights defender, journalist and citizen of the Turkish Republic, I exercised my right to inform the people and the institutions about precautions against coronavirus in my city. This is a Constitutional right and right protected by UN Charter," Baysal said in a tweet.
----------------------------------------

Quarantined Turkish doctors get salaries cut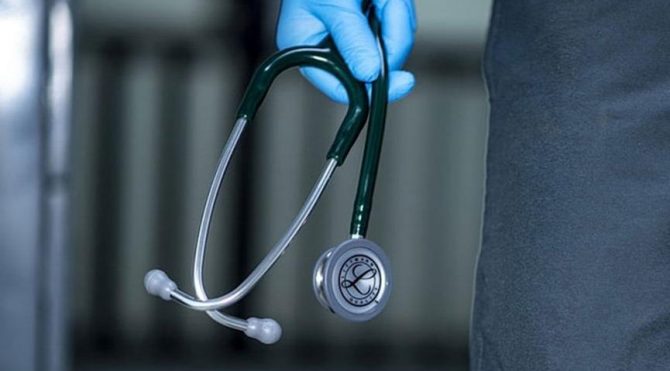 Family doctors quarantined after exhibiting symptoms of the coronavirus have had their salaries cut, even after they were issued with medical notes, Sözcü newspaper said on Monday.
The head of the Federation of Family Physicians, Özlem Sezen, said the salaries of family physicians infected with COVID-19, or quarantined for 14 days due to suspicions they had been injected, had been cut in proportion to days they could not work.
"As physicians who put their lives on the line while on duty, we think that cutting our money as if we had been punished for getting infected with the virus is insulting," Sözcü quoted Sezen as saying. Twenty-four family doctors and nurses in Istanbul have tested positive for the coronavirus. the Turkish Medical Association has criticised the lack of protective equipment for health workers.

Turkey puts more villages under coronavirus quarantine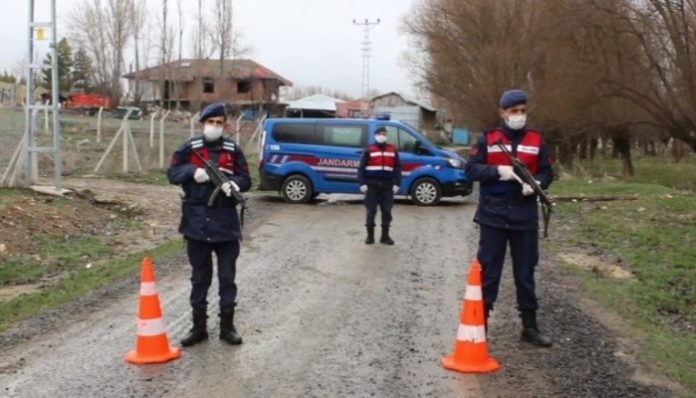 Six villages in the Black Sea province of Gümüşhane and the central province of Sivas have been put under quarantine due to the coronavirus  pandemic, which has so far claimed the lives of at least 131 people in Turkey, according to Turkish media reports.
Several other villages in the provinces of Çankırı, Kütahya, Yozgat and Rize were also quarantined last week to mitigate the spread of the virus. Entry and exit to and from the villages under quarantine is forbidden.
The death toll in Turkey due to the coronavirus jumped by 23 to 131 on Sunday, while the number of confirmed cases has surged to 9,217 since the first case was reported on March 11.
There are widespread claims that the number of COVID-19 cases is actually higher than what is officially announced in Turkey as many cases go unnoticed because tests are not widely performed.
------------------------------------------

Truck driver briefly detained for criticizing Turkish gov't over coronavirus measures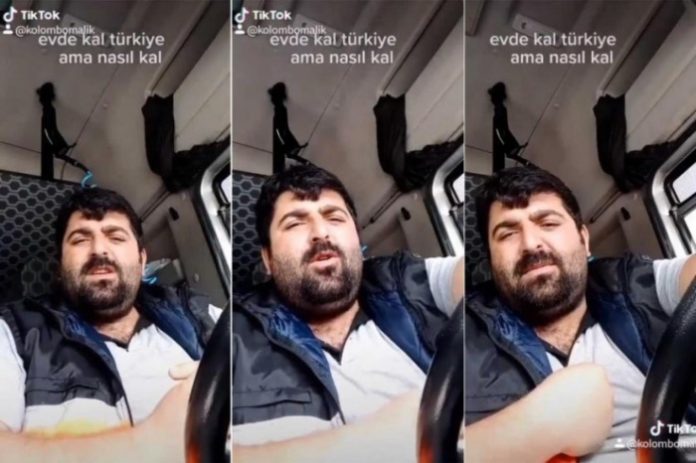 A Turkish truck driver was briefly detained over his video criticism of the government for calling on people to stay at home due to the coronavirus pandemic while presenting them with no solutions to the financial problems that will stem from an inability to work, according to Turkish media reports.
The truck driver, Malik Baran Yılmaz, says in the video posted on TikTok, a video-sharing social networking service that has millions of followers in Turkey: "Stay at home, Turkey. How can we do that, father? I am not a retired person, a civil servant or a rich man. I am a worker, a truck driver. When I don't work, there is no food. I can't pay my rent and my bills. Failing to pay them is actually worse than death. It doesn't matter — either I stay home and die of hunger or because of the virus. This virus won't kill me, but your style of administration [will]."
Yılmaz's video also went viral on other social media platforms such as Twitter. Many said he expressed the feelings of millions who desperately need to go out to work.

State-appointed mayor in Turkey's Batman province removes Kurdish from municipality website
The government-appointed municipality in Turkey's eastern city of Batman has removed the Kurdish language from its website, just leaving Turkish language content, Gazete Duvar said on Sunday. Turkish authorities on March 23 removed the pro-Kurdish People's Democratic Party (HDP) co-mayors of Batman on terrorism charges and replaced them with appointees.
The total number of HDP mayors removed from their posts since the local elections in March 2019 has reached 40. The government escalated its crackdown against pro-Kurdish politicians after launching a military offensive against Kurdish-held territories in northern Syria last October. The Turkish government accuses the HDP of links to the outlawed Kurdistan Workers' Party (PKK), which has been fighting for self-rule in southeast Turkey for more than 30 years.
The government-appointed administrators in predominantly Kurdish regions have reportedly taken measures to reverse previous positive steps taken by the ruling Justice and Development Party (AKP) towards recognising the Kurdish identity shared by millions of Turkish citizens.
These measures included shutting down organisations promoting Kurdish language and culture, removing Kurdish names from public parks and streets, and destroying Kurdish cultural monuments.
------------------------------------------

French Navy intercepts Turkish ship carrying weapons to Libya
The French Navy has intercepted a Turkish ship transporting anti-aircraft missile systems for Libya's Government of National Accord (GNA), Syrian NGO Al Marsad reported on Saturday citing Russia's state-run nRIA Novosti news agency.
The French frigate Provence forced the Turkish cargo ship to change course after the latter switched off its transporter in a move that raised suspicions of the French navy, it said.
Turkey is the main backer of Libya's U.N.-recognised GNA, and its earlier shipments of armoured vehicles and drones have helped the Tripoli-based government withstand an offensive launched last April by the eastern-based Libyan National Army (LNA).
The BBC earlier this month reported that Turkey sent arms to Libya and violated a United Nations arms embargo on the war-torn country, citing satellite images and footages obtained by its investigation team.
---------------------------------------

---