The new Turkey
Turkey - France relations
2018
10-May-2018
10 May 2018 - Turkish education board bans admissions to French departments
Turkey's Higher Education Board (YÖK) said new students will not be admitted to the French language and literature and French language teaching departments at Turkish universities until further notice, daily Hürriyet reported on May 10.
The departments in the ruling, which do not have any students at the moment, will remain empty according to the decision following a row between Ankara and Paris regarding a petition signed by 300 prominent French figures demanding the removal of particular verses from the Quran.
However, the report said the decision was taken due to "reciprocity" and "graduate-employment dynamics," as there are also no Turkish language faculties in France.
There are currently 16 French departments at the university level in Turkey—all of which are and will remain empty—and 19 university level French departments functioning with students and faculty.
The ruling will apply to departments with no students whereas the 19 functioning departments will continue teaching, the report said. No information was provided as to whether those departments that will continue will be allowed to admit students or not.
YÖK's decision came after 300 French intellectuals and politicians, including former President Nicolas Sarkozy and former Prime Minister Manuel Valls, signed a manifesto published in Le Parisien on April 21. The manifesto, which suggests some Quran verses incite violence and hatred toward Jews, Christians and nonbelievers, was interpreted as a demand to abrogate the Quran. Source
AA published sensitive info due to Erdogan's MB ties - Macron's fmr advisor
7 April 2018

Former defence advisor of French President Emmanuel Macron and military analyst Dominique Trinquand reacted to Turkey's semi-official Anadolu Agency for publishing sensitive information about the locations of French troops in Syria and defined the act as "unacceptable" for a country supposedly fighting against the Islamic State (Daesh) reported Sputnik France. 
"Recall that [Kurds] were the first to join the fight against Daesh. Turkey on the other hand entered the fight quite late," said Trinquand. 
According to Trinquand, the defense counsel to President Macron during last year's presidential campaign, Turkish government controlled Anadolu Agency's act was not surprising because "in domestic politics, President Erdogan is a supporter of the Muslim Brotherhood, and the Muslim Brotherhood has been hostile to the Kurds, and from the very start, to President Bashar Assad and indeed to France."
Trinquand also confirmed Macron's support to Kurdish forces in Syria. "President Macron clearly declared his support for the Kurds in general, new operations were not planned. In any case, the units operating there are special forces, and their positions and actions have never been disclosed," he told to Sputnik.
On March 31, following president Macron's meeting with the representatives of Syrian-Kurdish forces in Paris, Anadolu Agency published an article including a map of five military bases the French troops were stationed in areas under the control of Syrian Democratic Forces (SDF) and its armed units YPG, which Turkey sees as the Syrian branch of the Kurdistan Workers' Party, an armed group that has been fighting for autonomy inside Turkey for more than 30 years.
French military cooperating with YPG/PKK terrorists

French troops present at five military bases in northern Syrian territory occupied by terrorist group http://aane.ws/UPO 
Anadolu Agency also wrote that French troops were working with Kurdish militia during field operations in those regions as well as Raqqah and claimed that French forces stationed in Iraq also organised cross-border operations in Syria.
Moreover, Anadolu Agency said that French construction company Lafarge which opened a cement factory in northern Syria in 2010, bribed Daesh to continue its operations when the area was under Daesh control, adding "the U.S.-funded YPG/PKK seized the factory, which had previously been seized by Daesh, to use as its base".
This is not the first time Anadolu Agency reveals Western bases in Syria. Last July, the United States also reacted angrily on after the agency disclosed the locations of American military posts in northern Syria. The Pentagon then warned those reports could put lives at risk.
The Agency then detailed some 10 US military facilities' whereabouts and, in some instances, the number of special operations forces working there.
Number of Congressmen also slammed the agency for reports. Source
Macron kept saying 'strange things,' so I had to respond - Erdogan
30 March 2018


Turkish President Recep Tayyip Erdogan said on Friday that Turkish Intelligence (MİT), worked with Kosovan intelligence in ''taking 6 high level FETO (Referred to as the Fethullahist Terrorist Organization (FETO) by the Turkish administration and blamed for failed 2016 coup attempt) representatives,'' and that the operation was conducted in agreement Kosovan authorities.
The Turkish President noted that Kosovan authorities handed the Turkish nationals to the Turkish police.
''As I told you before, they [Gulen members] will keep running and we will keep chasing after them. Wherever they may go, we will nab them and bring them home. We will hold them accountable," Erdogan stated.
Despite Erdogan's suggestion that Turkish and Kosovan authorities had an "understanding" about the six Turks, earlier on Friday Kosovo Prime Minister Ramush Haradinaj denied any agreement and fired the country's intelligence chief in addition to the interior minister following the news of 6 Turks' extradition to Turkey.
In his speech Erdogan also reacted to French President Emmanuel Macron's offer that France become a mediator between the Syrian Kurds and Turkey.
"I'd like to express my incredible sadness over the France's behaviour. I spoke with Macron in recent days and realized he says some very strange things. When he kept speaking so strangely - even though it may have been at a high frequency - I had to say something. Because it's not anyone's place to describe our military forces in an unacceptable fashion," Erdogan said.
Erdogan added that the Syrian Democratic Forces (SDF), an umbrella military organization in Syria consisting mostly of Kurdish fighters, is "identical" the Kurdistan Workers' Party (PKK), an internationally recognized terrorist organization.
Commenting on Macron's remarks in which he stated "we gave them [SDF] our guaranteed support," Erdogan said, this is "above their heads." The Turkish President added, ''We have a saying, 'Don't get into business that's above your head.' We do not need a mediator. Since when does Turkey sit down at a table with terrorist organizations when it has a problem?"
Referring to Macron's meeting with YPG representatives at Elysee Palace on Thursday, Erdogan stated, "France lost its rights to complain about any terrorists or any terrorist attacks. Those who are together, who host them [YPG reps] at their palace will come to this realization sooner or later."
Erdogan continued saying, "When those who were able to survive piled in there, I hope they would not ask for help from us. You are hosting 7 terrorists there but have you ever asked Turkey, who is hosting 3.5 million Syrians, if you can help? How many refugees have you hosted in France, tell me?"
Erdogan also reacted Turkish Deputy Prime Minister Mehmet Simsek on Friday for his recent remarks on an a potential financial crisis hitting Turkey, warning Turkish citizens in exercising caution in taking loans.
Erdogan said ''Some of our friends are deceived by the game being played by international credit rating agencies to prevent global wealth flowing into Turkey.''  The Turkish President noted that he is "sorry to hear such remarks" adding that "this is not something can be forgiven." Source
France ramps up criticism of Turkey's Afrin operation
13 March 2018


French Foreign Minister Jean-Yves Le Drian has directed the country's strongest criticism so far at Turkey's military operation in the northwest Syrian area of Afrin, calling it "unjustified," Reuters reported on Tuesday.
Turkey launched Operation Olive Branch on Jan. 20 to clear Afrin of fighters from the mostly Kurdish People's Protection Units (YPG), a group linked to the outlawed Kurdistan Workers' Party (PKK) which has been in armed conflict with Turkish armed forces for decades.
The intervention was not welcomed by Turkey's NATO allies in France and the United States, which have armed and collaborated with the YPG and its political wing the Democratic Union Party (PYD), particularly in the fight against the Islamic State.
"While concerns over border security are legitimate... at the same time ... It must be said that it absolutely does not justify the deep incursion of Turkish troops in the Afrin zone," Reuters quoted Le Drian as saying.
"The main reason for our determination on this subject is that we have a very old relationship with the Kurds and we recognize the vital role they played in retaking Raqqa," he added, referring to the Syrian city that had been the Islamic State's capital until it was captured by an international force spearheaded by Kurdish fighters in 2017. Source
Turkey says France 'mischaracterized' presidential phone call over Syria

Turkey early Feb. 28 refuted a French statement about a phone call between President Recep Tayyip Erdoğan and his French counterpart Emmanuel Macron, saying it was "dishonest" and mischaracterized their discussion of a Syria cease-fire, state-run Anadolu Agency reported. 


"Contrary to a statement by the French presidential office regarding a phone conversation between our president and French President Macron referring to U.N. Security Council Resolution 2401 regarding the humanitarian situation in Syria, Mr. Macron did not make reference to Afrin [in northwestern Syria]," Turkish Foreign Ministry spokesman Hami Aksoy said in a written statement.

The French presidential office's statement published on Feb. 26 had said: "The president of the Republic stressed that the humanitarian truce applied to all of Syria, including Afrin, and should be implemented everywhere and by all without any delay to stop the spiral of violence in progress."
Aksoy called the statement "dishonest," stressing that Turkey conveyed to French authorities its displeasure at their "giving false information to the public."
The U.N. Security Council on Feb. 24 passed a resolution calling for a 30-day cease-fire in Syria "without delay."
Turkey has stressed the cease-fire is meant to give relief to civilian areas hit hard by the Bashar al-Assad regime's airstrikes, and is not related to Turkey's ongoing "Operation Olive Branch" in Afrin against the People's Protection Units (YPG).
On Feb. 27, Prime Minister Binali Yıldırım said the cease-fire resolution does not apply to Turkey's operation in Afrin.
"There is a cleaning operation against terrorist organizations to save civilians living there [in Afrin], not an operation against civilians there. The focus of the resolution was not operations against terrorist organizations, but to end the massacre of civilians in Eastern Ghouta," he said.
Turkey considers the YPG a terror group due to its links to the outlawed Kurdistan Workers' Party (PKK), which is considered a terror network by the U.S. and the European Union. Source
Macron tells Erdoğan that Syria cease-fire applies to Afrin as well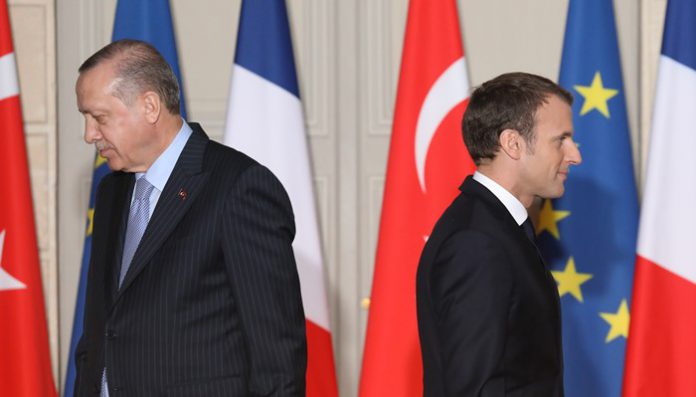 French President Emmanuel Macron on Monday told his Turkish counterpart, Recep Tayyip Erdoğan, that a United Nations Security Council call over the weekend for a cease-fire across Syria also applied to Syria's Afrin region, Reuters reported.

Turkey deployed police special forces to the northwestern Syrian region of Afrin on Monday for a "new battle" in its five-week campaign, known as Operation Olive Branch, against the Kurdish People's Protection Units (YPG) militia, which Turkey sees as the Syrian extension of the outlawed Kurdistan Workers' Party (PKK).
"The President of the Republic stressed that the humanitarian truce applied to all of Syria, including Afrin, and should be implemented everywhere and by all without any delay to stop the ongoing spiral of violence that could lead to a regional explosion and push away any hope of a political solution," Macron's office said in a statement.
Macron told Erdoğan in a phone call on Monday morning that France's monitoring of humanitarian access and chemical weapons was "total and permanent."
The Security Council voted unanimously to demand a 30-day truce to allow for aid access and medical evacuations. Yet while Moscow backed adopting the resolution, Russian UN Ambassador Vassily Nebenzia cast doubt on its feasibility.
Macron also told Erdoğan that he was worried about recent events off the coast of Cyprus, stressing "the need to respect Cyprus' sovereignty," the statement said.
Cyprus accused Turkey on Friday of threatening to use force against a drillship chartered by Italian multinational oil and gas company Eni in a standoff over hydrocarbons rights in the eastern Mediterranean.
Turkey, which does not have diplomatic relations with Cyprus, claims that certain areas in Cyprus's offshore maritime zone, known as an EEZ, fall into the jurisdiction of Turkey or the Turkish Cypriots. Source