The new Turkey
Turkey - NATO relations
30-Apr-2018

30 April 2018 - Turkey 'has right to fight against coup soldiers'
NATO Secretary General Jens Stoltenberg has said Turkey has the right to fight against the organizers of the 2016 coup attempt, adding that the country has a professional army with dedicated officers. 
"The failed coup attempt was a brutal attack against democratic institutions in Turkey," the secretary general said, recalling he had condemned the attempt and expressed solidarity with the Turkish government during that night.
It is known that some officers and some elements of the Turkish army participated to the coup attempt, as F-16s had bombed the parliament and some officers had kidnapped the Chief of General Staff Gen. Hulusi Akar, Stoltenberg recalled.
"So, there were elements of the army that participated in the coup. But, at the same time, I know that despite the fact some elements participated in the coup attempt, Turkey has a professional army with professional soldiers and dedicated officers," he said.
"I see them in NATO operations. I also see what Turkey is able to do when it comes to participating in NATO operations and missions," said Stoltenberg.
On the question of who might be behind the coup attempt, Stoltenberg said it was not his place to discuss it because it is now a judicial matter.
"It is not up to the NATO secretary general to take responsibility for the investigation or any kind of judicial process. Turkey has the right to prosecute those who are behind the coup, based on the rule of law and the independent judiciary," said the secretary general. Source
22 April 2018 - It's time to drum increasingly authoritarian Turkey out of NATO
DAVID A. WELCH
SPECIAL TO THE GLOBE AND MAIL
PUBLISHED APRIL 22, 2018UPDATED 1 DAY AGO
David A. Welch is CIGI chair of global security at the Balsillie School of International Affairs, and a senior fellow at the Centre for International Governance Innovation
The North Atlantic Treaty Organization – better known as NATO – was originally founded in 1949, as founding secretary-general Lord Ismay famously put it, "to keep the Soviet Union out, the Americans in, and the Germans down." Since then, it has grown from 12 to 29 members and is universally considered the most successful military alliance in history.
What makes NATO so successful is that it is much more than a military alliance. It is a club of like-minded states, as the preamble to the North Atlantic Treaty puts it, "determined to safeguard the freedom, common heritage and civilization of their peoples, founded on the principles of democracy, individual liberty and the rule of law." These shared commitments have socialized its members profoundly over the years to identify with each other, cementing bonds of solidarity and reinforcing what are, historically speaking, unusually robust norms of peaceful dispute resolution.
Together with the European Union (EU), NATO must get credit for solving "the Franco-German problem," eliminating war in most of Europe, and creating what political scientists call a "security community" – a region in which the threat or use of force has truly become unthinkable.
But there is an odd man out – Turkey.

In its latest Freedom in the World report, Freedom House dropped Turkey from the "partly free" to the "not free" category, citing President Recep Tayyip Erdogan's "growing contempt for political rights and civil liberties in recent years" and "serious abuses in areas including minority rights, free expression, associational rights, corruption, and the rule of law." With an aggregate score of 32/100, Turkey is a stark outlier in NATO, well behind second-last Montenegro (67) and the overall NATO average (87). Moreover, the trend is bad. Turkey dropped six points from 2017, more than any other NATO member, only three of which dropped three points or more (Hungary, Poland and the United States).
While Turkey's deepening authoritarianism alone should be enough to disqualify it from NATO, its recent behaviour is of at least equal concern. While perhaps not overtly complicit with the so-called Islamic State (IS) as some have charged, it passively enabled it by failing to seal off the flow of jihadists to, and oil from, IS-controlled territory. More recently, it has intervened militarily in Syria for the sole purpose of preventing the most effective anti-ISIS fighting force – the Kurdish YPG, armed and trained by the United States – from consolidating territory along its southern border. Far from contributing to a peaceful solution to the tragic situation in Syria, Ankara is inflaming it.
In 2017, Turkey also broke ranks by purchasing an advanced Russian surface-to-air missile system, the S‑400, over strong objections from fellow NATO countries. The deal not only benefits NATO's chief strategic competitor but threatens to undermine the interoperability on which NATO's military effectiveness depends.
It is possible, of course, that a future Turkish leader will right the ship and bring Turkey back to the fold. Mr. Erdogan himself is entirely to blame. Fifteen years of increasingly authoritarian rule have shown once again the wisdom of Lord Acton, who wrote, "Power tends to corrupt and absolute power corrupts absolutely." But apparently healthy, only 64, and through his own political machinations essentially president for life, Mr. Erdogan could be around for a long while yet.
There are two practical obstacles to pushing Turkey out of NATO. One is the North Atlantic Treaty itself, which provides for accession but not expulsion. All decisions of the NATO Council are by unanimous consent, so Turkey wields a veto. One would have to rely upon Erdogan's sense of shame to induce him to withdraw.
The other is that Turkey holds a metaphorical gun to Europe's head. In 2016, Turkey and the EU concluded an agreement by which Ankara agreed to take in "irregular migrants" trying to make their way from Syria to Europe in return for material and financial support for resettling them in Turkey and liberalized visa processing for Turkish nationals. With more than three million refugees in Turkey, Mr. Erdogan could conceivably, in a fit of pique, unleash a human torrent upon Europe that would make the 1980 Mariel Boatlift look like child's play.
At the end of the day, Turkey's fellow NATO members may not – probably will not – bite the bullet and try to maintain the integrity of the club. But they should at least make clear that Turkey is now a member only by forbearance, not by desert. Source
Erdoğan bashes NATO for not siding with Turkey in Syria
11 March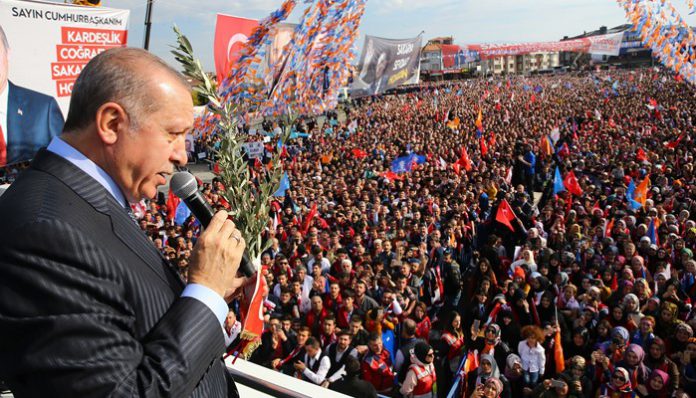 Turkish President Recep Tayyip Erdoğan on Sunday lambasted NATO for not giving support to Turkey, accusing the US of helping terrorist organizations, the state-run Anadolu news agency reported.
"We asked them to fight against terrorist organizations. But they [the US] preferred to be with them [terrorist organizations]. They sent 5,000 truckloads of weapons there [to Syrian Kurdish militant groups]. They sent 2,000 cargo ships of weapons and ammunition. Are we not are friends? Are we not together in NATO?" Erdoğan said during a party meeting in Sakarya province, strongly criticizing American support for the Syrian Kurdish Democratic Union Party (PYD).
"I repeat: Oh NATO! When are you going to side with us? Are we not members of NATO? You called on us for Afghanistan, we came. You called on us for Somalia, the Balkans, we came. Why? Because we are a NATO member. We fulfilled our promise, but you have not. This is Turkey. This is the Turkish nation," he added.
In a speech in Bolu province on Sunday, Erdoğan said Turkish military and Free Syrian Army (FSA) forces have so far taken control of 950 square kilometers (590 square miles) in Syria's northwestern Afrin region.
"In the Afrin region, the owners of the [liberated] lands have started to come back," Erdoğan said, adding that a total of 3,300 Kurdish militants have been "neutralized" in Afrin since the start of Operation Olive Branch in Syria.
The Turkish military and FSA fighters on Jan. 20 launched Operation Olive Branch in the Afrin region of Syria against the PYD, which Turkey sees as the Syrian extension of the outlawed Kurdistan Workers' Party (PKK).
Turkey with Free Syrian Army forces took control of the Jarablus and Al Bab areas in northern Syria during an operation against Islamic State in Iraq and the Levant (ISIL) militants between August 2016 and March 2017.
Erdoğan on Oct. 8 said Turkey would not allow a Kurdish corridor in Syria extending along the Turkish border to the Mediterranean. Source
Erdoğan slams NATO for lack of support in Syria
10 March

Turkey's president on March 10 criticized NATO for not supporting the country's ongoing military operation against Syrian Kurdish fighters in Syria.
"Hey NATO, where are you?" President Recep Tayyip Erdoğan said at a public rally in the southern province of Mersin, accusing the military alliance of "double standards."
Erdoğan said NATO member Turkey sent troops to conflict zones when requested but did not receive support in return.
Turkey launched a military operation against the People's Protection Units (YPG) on Jan. 20 to clear them from Afrin in northwestern Syria.
The country considers the YPG a terror organization, but its NATO ally, the United States, backs the fighters to combat the Islamic State of Iraq and the Levant (ISIL).
Erdoğan urged NATO to come to Turkey's aid, saying its borders are "under threat right now."
'850 square km now under control in Afrin'
Turkish and Free Syrian Army forces have so far seized control of 850 square kilometers during the operation in Afrin, Erdoğan said.
"Up to now 850 square kilometers have been taken under our control. The target is to bring 2,000 square kilometers under our control," he said.
"Our concern isn't the land, our concern is clearing terrorists from there. Wherever there are terrorists, we'll be there," he added, referring to the YPG.
Erdoğan said Turkey will help Afrin to rebuild and repair, including its electricity, water, education, and healthcare systems, "just like it did in Jarablus, Al-rai, Azaz and Al-Bab," after clearing these Syrian cities of ISIL militants during Turkey's previous Euphrates Shield Operation.
The Euphrates Shield Operation began in August in 2016 and ended in March 2017, clearing towns on the Turkish border of both YPG and ISIL militants.
"Then we will also clear Manbij, Ayn al-Arab, Tal Abyad, Resulayn and Kamisli of terrorists," Erdoğan said, naming other Syria cities near Turkey's borders. Source
NATO leaves Turkey alone in fight against terrorism'

NATO leaves Ankara alone in its fight against terrorism, a Turkish security specialist told Anadolu Agency.
"NATO has failed in coordinating the security priorities of its member states and left Turkey alone in its fight against terrorist organizations such as PKK and FETO," Murat Aslan, an academic at Hasan Kalyoncu University, said on Friday.
Like any other NATO countries, Aslan said Turkey took side with the U.S. when it declared war against terrorism, but it was a "debatable" topic how European countries and the U.S. reflected their will on Turkey's security problems.
He added a problem occurred when the EU member countries -- which make up majority of NATO -- took a common position against Turkey while losing their objectivity.
"For example, it becomes accustomed for NATO members in the EU to leave Turkey alone during unfair sovereignty violations by Greece and Greek Cypriot Administration," Aslan said.
He said NATO's preference of staying "passive" while calling on parties to calm, turns collective security into "collective silence".
Aslan believed that Turkey would rather stand on its own legs while ensuring its security instead of relying on NATO.
"Undoubtedly, NATO is a deterrent unity and a security guarantee for member states. However, Turkey wants to benefit from security guarantee like all member countries and demands avoidance of double standards," he added.
Aslan said NATO's collective security should not be turned into Turkey's "individual insecurity". Source
[OPINION] Turkey raising a new army against NATO
By TM February 18, 2018
Against the backdrop of a dangerously expansionist and aggressive mood in Turkey with nationalist euphoria and religious zealotry reaching a new peak, the Islamist regime of President Recep Tayyip Erdoğan is planning to build an independent army to counter what it sees as an intervention by the West in general and the NATO alliance in particular.
That is what Erdoğan's chief aide, Yiğit Bulut, told the audience in TV commentary aired on government broadcasting network TRT on Feb. 13, 2018. "In my opinion, the Aegean Army must be fortified with Russian and Chinese-made fighter jets because one day some NATO countries [read the United States] that provided arms worth $3 billion to the PKK [Kurdistan Workers' Party] may very well consider attacking Turkey," he said, stressing that a non-Western air force fleet would come in handy. He also claimed that one of the reasons Turkey has purchased Russian S-400 long-range missile batteries [at least on paper as of now] is attributed to such a contingency.
The Aegean Army was established in July 1975 with its headquarters in western Izmir province as a separate force of the Turkish army in response to political and military tensions with neighboring Greece. But its roots go back to the 1960s, when Turkey, as a guarantor state, started contemplating a military incursion in Cyprus to defend the rights of ethnic Turks. The Turkish military units stationed in the northern part of Cyprus, officially called the Turkish Peace Force Command and estimated to be close to 30,000 troops, is part of the Aegean Army. The army's jurisdiction covers the entire west coast of Turkey.
If Erdoğan is keen on building a new army on the model of the Aegean, which is detached from the NATO alliance, then Bulut's suggestion is certainly one way to go. Given the track record of Bulut's access to decision-making circles at the highest policy level, one cannot risk brushing aside these explosive revelations on state-run TV.

Unlike many pundits who see this man as a flamboyant, self-aggrandizing advisor who Erdoğan uses as an attack dog with scandalous, off-the-cuff remarks, I view him as a man who has actually helped shape policies coming out of Erdoğan's office. He is among the select advisors who sit in on high-level meetings Erdoğan has with foreign delegations. His ideas such as a sovereign wealth fund and reshuffling the Treasury and the central bank have all subsequently been materialized.
What is more, Bulut represents the personification of the alliance and de-facto coalition between Turkish Islamists in the government and neo-nationalists led by Doğu Perinçek, who actually leads the parallel structure nested in the bureaucracy, judiciary and security forces. In other words, Bulut, a protégé of neo-nationalist ideologue Yalçın Küçük, who was sentenced to 22 years in prison in 2012 only to be released with Erdoğan's intervention a year later, has been planted in Erdoğan's office, among other figures, to drive the policy of disengaging Turkey from the Western alliance. Bulut and his associates have been pushing pro-Russian and pro-Iranian policies in the governance of Turkey.
Over the years the Aegean Army has been the bastion of neo-nationalist commanders such as Çetin Doğan, Hurşit Tolon, Şükrü Sarıışık and Nusret Taşdeler, who were all tried and convicted for their roles in coup plotting schemes but were later released with the Erdoğan government stepping in and derailing the judgments.

The false flag operations such as provoking Greek navy vessels and fighter jets to engage in clashes with Turkish military elements that would bring Turkey to the brink of war with Greece were cooked up by neo-nationalist generals. The espionage cases where highly classified NATO and US documents were leaked to the highest bidders originated in Izmir.

Unfortunately, all these landmark cases were overturned with political interference from Erdoğan, who struck a deal with the neo-nationalists. Having read almost all the indictments in these case files and examined the evidentiary dossiers, I don't buy the claim that these cases were based on fabricated evidence.
Erdoğan's open threats before, during and after a visit to Greece in December 2017 should be understood in light of this new conjecture in the power-brokering deals among Erdoğan and his partners. In 2016, he opened up to debate the long-standing Lausanne Treaty, which decided the border issues of the Turkish Republic in the post-World War I era.

He has increased Turkish intelligence operations targeting the Muslim and Turkish minority in Greece's Western Thrace and in the neighboring Balkan countries. On Feb. 13, 2018 he escalated the tension to a new level by publicly issuing the threat of a military offensive against Greece similar to what the Turkish armed forces has been doing in Syria's Afrin region since Jan. 20, 2018.
Actually, Erdoğan is sending a message to the West and to NATO allies by bullying Greece in its neighborhood while reaping the benefits of hyped-up nationalist sentiments back on the home front that will benefit him in next year's elections.

With plans to build up the Aegean Army with non-NATO assets, Erdoğan believes he will enhance his leverage and bargaining power in dealings with the West, hoping that the move will at least act as a brake on any inclinations on the part of the US and other major NATO allies to come down heavily on his tyrannical government. Whatever the motivations are and their credibility notwithstanding, neither Greece nor other allies have the luxury of accepting such a risk of a sudden and unprovoked attack by the Erdoğan regime.
Having tasted blood in Syria with proxy battles as well as direct engagement, the current Turkish government may very well be willing to take matters to the extreme. The neo-Ottomanist narrative often invoked by Erdoğan and other Turkish officials to threaten others including US troops in Syria suggests we are facing a belligerent and not so rational actor who is bent on pursuing irredentist policies in its neighborhood. Erdoğan's chief aide Bulut's analogy of likening Greece to a "fly" in comparison to Turkey, which he calls a "giant," reveals how a dangerous mindset is ruling the Turkish nation.
Sourcewww.turkishminute.com/2018/02/18/opinion-turkey-raising-a-new-army-against-nato/