The new Turkey
Prisons in Turkey
Last update: 14-Jan-2022
When Recep Tayyip Erdoğan came to power in 2003, there were 59- 60.000 inmates in Turkish prisons. 3 years later this was increased to103.000 and the increase just continued. At the end of 2018 it was about 264,000 prisoners in the Turkish prisons. A total of 281,605 people entered the country's prisons in 2019, when TÜİK recorded its latest data, compared to 74, 404 people in 2009


26 Feb. 2021:

'Prisons are a public health problem'
Turkish Medical Association (TTB) Human Rights Branch held an online panel discussion on "Being a Human in Prison" to raise publicity and concerns about the violations of rights committed in prisons and on the rise especially during the COVID-19 pandemic.
Moderated by Human Rights Foundation of Turkey (TİHV) Chair Dr. Metin Bakkalcı, the panel hosted Peoples' Democratic Party (HDP) Kocaeli MP and human rights activist Ömer Faruk Gergerlioğlu and human rights activist Zafer Kıraç as speakers. The event was also attended by TTB Central Council Chair Prof. Şebnem Korur Fincancı, Central Council member Dr. Halis Yerlikaya and TTB Human Rights Branch members.
'People not seen as subjects of rights'
Making a brief opening speech, 
Prof. Şebnem Korur Fincancı
 said that being a human has become difficult in factories, schools and houses as people are not seen as subjects of rights in Turkey in the last years.
She underlined that prisons are the places where the most serious human rights violations are committed in the country. Taking the floor after the TTB Chair, 
Dr. Metin Bakkalcı,
 the TİHV Chair, said that the TTB had a theoretical-practical accumulation in the light of its human rights-based philosophy of medicine, remembering Dr. Ata Soyer, who wrote "Prison and Human" based on this accumulation.
Dr. Bakkalcı emphasized that the sentence of "Humans are humans with their rights" is valid in the penal system as well and the state has the responsibility in the event of any usurpation of rights. "The issue of prisons is a field of struggle that brings the founding role of human rights," Bakkalcı added further.

'Violations have intensified during pandemic'
Addressing his online audience, HDP Kocaeli MP and Dr. 
Ömer Faruk Gergerlioğlu
 stressed that the state of Turkey's prisons cannot be considered separate from the political state of the country. According to his speech, the state has been planning to open 225 new prisons in the last five years and 193 of them have been built.
While the number of prisoners dropped to 250 thousands after the law on criminal enforcement entered into force, this number has once again neared 270 thousands. Gergerlioğlu emphasized that there is a serious problem with the capacity of prisons in Turkey. The MP also gave examples of human rights violations in prisons, indicating that these violations have intensified after the outbreak of the pandemic.
Gergerlioğlu defined prisons as places where people from wardens to prison administrations, from prosecutors to judges cover rights violations. In the last part of his speech, he specifically focused on the problems experienced by women and child prisoners in Turkey.
'A model isolating from human relations'
Taking the floor after Gergerlioğlu, 
Zafer Kıraç
 indicated that campus prisons constitute a model that objectifies people in every sense of the word and isolates them from all types of human relations.
Drawing attention to the contradiction of the expression "increased capacity" now used for prisons, Kıraç indicated that certain social groups are subjected to much more serious usurpation of rights in prisons; some of these groups are women, babies, children, LGBTI+s, elderly, foreign nationals and the ones sentenced to life imprisonment, according to Kıraç.
Concluding his remarks, Zafer Kıraç said, "The problem of prisons is a public health problem in the sense that it is both a health problem in itself for the ones behind bars and it leads the ones outside to be concerned, thinking 'when I might be imprisoned.'"
Source:
https://bianet.org/english/human-rights/
239985-prisons-are-a-public-health-problem
13 February 2021:

Turkey's inmate population almost quadruples over decade 
Turkey's prisons have recorded a quadrupling in annual inmate arrivals over the last 11 years, Sözcü newspaper reported on Friday, citing figures from the Turkish Statistical Institute (TÜİK). A total of 281,605 people entered the country's prisons in 2019, when TÜİK recorded its latest data, compared to 74, 404 people in 2009, it said.
The country has seen a surge in crimes over the last decade, including murder, theft, sexual abuse and drug-related offences, according to TÜİK. A total of 1,514 people were imprisoned on charges of murder in 2009, with this figure multiplying by six in 2019 to 9,574.  Imprisonment over sexual abuse during this time increased by 10-fold, registering at 5,800 in 2019, up from 562 in 2009, Sözcü said. 
Meanwhile, theft-related incarcerations increased by seven fold during the same time while imprisonment over drug dealing increased by 11 times. Turkey ranked second in the incarceration rate, the number of people in prison per 100,000 of population, with the United States at the top among OECD countries, according to a 2019 OECD report. 
In 2019, the incarceration rate in Turkey was 430 prisoners per 100,000, according to TÜİK.

5 August 2020:

Council of Europe anti-torture Committee publishes two reports on Turkey
From EXECUTIVE SUMMARY
Situation of prisoners held at Imralı Prison
As during previous visits, the delegation received no allegations of ill-treatment of prisoners by prison officers. Further, the health-care services and material conditions of detention remained generally satisfactory. Read more......................
Specific issues related to the prisons visited.


Notwithstanding the expansion of the prison estate and greater use of conditional release and alternative non-custodial measures, the problem of prison overcrowding remained acute, and the steady increase in the size of the prison population already observed in the mid-2000s continued.
Read more..........
With the exception of Diyarbakır Juvenile Prison, the official capacities of all the establishments visited were being greatly exceeded at the time of the visit. Consequently, a large number of inmates in these prisons did not have their own bed and had to sleep on mattresses placed on the floor. Moreover, in some living units, prisoners were even obliged to share mattresses, as no floor space was left for additional mattresses.

The CPT recalls that constructing new prisons is not likely, in itself, to provide a lasting solution to the problem of overcrowding. Addressing this problem calls for a coherent strategy, covering both admission to and release from prison, to ensure that imprisonment – including pre-trial detention – really is the measure of last resort. The Committee once again calls upon the Turkish authorities to take decisive action to curb prison population inflation and to eradicate prison overcrowding, in the light of the remarks made in the visit report and relevant recommendations of the Committee of Ministers of the Council of Europe.

Despite the specific recommendations repeatedly made by the Committee after previous visits, the procedure for medical screening of newly-arrived remand prisoners continued to display major shortcomings. In particular, it was not uncommon for newly-admitted prisoners to be seen by a doctor only after a considerable delay or not to be seen at all, and the screening generally did not include a physical examination of the prisoner.

Moreover, no progress was observed as regards other issues of concern to the CPT, such as the continued lack of respect for medical confidentiality and the recording and reporting of injuries, as well as health-care staffing levels. Further, in several of the prisons visited, the delegation observed that newly-arrived inmates with acute opioid withdrawal signs were left unattended, without receiving painkillers or other symptomatic treatment.

Such a state of affairs is not acceptable. The CPT recommends that the Turkish authorities take the necessary steps to ensure that, in all prisons, newly-arrived prisoners with drug addiction problems are systematically identified and that those suffering from withdrawal signs are promptly provided with adequate treatment (i.e. substitution treatment or treatment relieving the symptoms)
24 July 2020:


Human Rights Association (İHD) İstanbul Branch has released its "Report on Rights Violations in Prisons of Marmara Region." The report has been prepared based on the complaints submitted to the İHD İstanbul Branch about violations rights in 25 prisons in April, May and June.
While a total of 187 applications were made to the association in this period, each application was about more than one right violation. Accordingly, a total of 2,314 violations of rights were reported from 25 prisons in the Marmara Region (Kırklareli, Edirne, Tekirdağ, İstanbul, Kocaeli, Bursa, Sakarya, Bilecik, Balıkesir, Çanakkale and Yalova provinces.)
Of these 187 applications, four were made by women, two by LGBTI+s and 181 by male prisoners. While 12 of these prisoners were ordinary prisoners, 175 were political prisoners. Also, 533 violations of rights were reported in April, 645 in May and 1,136 in June. Read the full article
19 July 2020:

Turkey constructed 94 more prisons over the past 5 years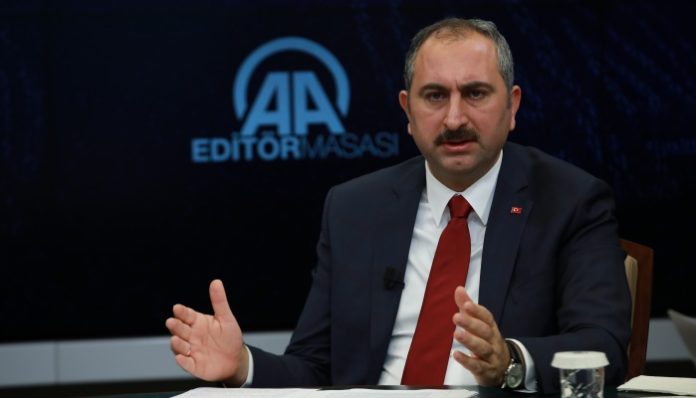 Justice Minister Abdülhamit Gül has announced that Turkey, which has been witnessing mass arrests since a failed coup in July 2016, has constructed 94 more prisons over the past five years, with close to 300,000 inmates currently in these prisons, Turkish media outlets reported.
Responding to a parliamentary question about prison statistics submitted by an opposition deputy, Republican People's Party (CHP) deputy Ömer Fethi Gürer, Gül said there are currently 355 prisons in the country.
The country's prison population comprises 232,342 people who were convicted of crimes and 48,452 others who are jailed pending trial.
Following the coup attempt, the Turkish government launched a massive crackdown on non-loyalist citizens under the pretext of an anti-coup fight, as a result of which more than 130,000 people were removed from state jobs while in excess of 25,000 others are still in prison and some 600,000 people have been investigated on allegations of terrorism.
From Country Reports on Human Rights Practices for 2019 United States Department of State • Bureau of Democracy, Human Rights and Labor. Prison and Detention Center Conditions :

Prisons generally met the UN special rapporteur's standards for physical conditions (i.e., infrastructure and basic equipment), with the notable exception of problems with overcrowding (particularly following the mass detentions after the 2016 coup attempt) that resulted in increased inmate demand for healthcare with fewer resources available to meet inmate needs. This year the government allocated funding for additional prisons. Read more..................
Country Reports on Human Rights Practices for 2019 United States:
Prison and Detention Center Conditions
Prisons generally met the UN special rapporteur's standards for physical conditions (i.e., infrastructure and basic equipment), with the notable exception of problems with overcrowding (particularly following the mass detentions after the 2016 coup attempt) that resulted in increased inmate demand for healthcare with fewer resources available to meet inmate needs. This year the government allocated funding for additional prisons.

Physical Conditions: Prison overcrowding remained a significant problem. According to the Justice Ministry, as of November the country had 353 prisons with a 218,950-inmate capacity and an estimated total inmate population of 286,000. Although no official figures were available, observers estimated the government held 3,000 inmates in solitary confinement during the year. The use of solitary confinement rose, and some observers assessed it contributed to an increase in the suicide rate in prisons, although official figures were not available.

If separate prison facilities were not available, minors were held in separate sections within separate male and female adult prisons. Children younger than six years of age are allowed to stay with their incarcerated mothers. The Human Rights Association estimated that, as of December, at least 780 children were being held with their mothers. Pretrial detainees were held in the same facilities as convicted prisoners.

The government did not release data on inmate deaths due to physical conditions or actions of staff members. According to a September report by a local media outlet, 14 inmates died in an eight-month period at an Izmir prison. The report alleged that overcrowding and lack of proper hygiene and nutrition led to the outbreak of an epidemic that resulted in the quarantine of one ward.

Human rights organizations asserted that prisoners frequently lacked adequate access to potable water, proper heating, ventilation, lighting, food, and health services. In September a member of parliament's Commission for Detainee and Convict Rights affirmed that prisoners with whom he met complained of these problems.

A Ministry of Justice Prison and Correctional Facilities official reported to parliament that as of September, more than 1,300 health workers were serving a prison population of 286,000. Of these, there were eight medical doctors, 65 dentists, and 805 psychologists. Human rights associations expressed serious concern regarding the inadequate provision of health care to prisoners, particularly the insufficient number of prison doctors. According to Human Rights Association statistics, in December there were 1,334 sick prisoners in the country's prisons; 457 of them were in serious condition.

Reports by human rights organizations suggested that some doctors would not sign their names to medical reports alleging torture due to fear of reprisal. As a result, victims were often unable to get medical documentation that would help prove their claims. Chief prosecutors have discretion, particularly under the wide-ranging counterterrorism law, to keep prisoners whom they deem dangerous to public security in pretrial detention, regardless of medical reports documenting serious illness.

Administration: Authorities at times investigated credible allegations of abuse and inhuman or degrading conditions but generally did not document the results of such investigations in a publicly accessible manner or disclose publicly whether actions were taken to hold perpetrators accountable.

The government did not release data on investigations (both criminal and administrative) of alleged prison violence or mistreatment. Some human rights activists reported that prisoners and detainees were sometimes arbitrarily denied access to family members and lawyers. There was at least one report of prison authorities denying access to religious observance.

Independent Monitoring: The government allowed prison visits by some observers, including parliamentarians. The Council of Europe's Committee for the Prevention of Torture (CPT) visited the country in May and interviewed a large number of prisoners at various sites. As of December the government had not approved the public release of the CPT report and findings.

The government did not allow NGOs to monitor prisons. The Civil Society Association in the Penal System published a report on prison conditions in January, based on information provided by parliamentarians, correspondence with inmates, lawyers, inmates' family members, and press reports.

Source: https://www.state.gov/wp-content/uploads/
2020/03/TURKEY-2019-HUMAN-RIGHTS-REPORT.pdf



15 April 2020:

Prisoner releases begin after Turkish parliament implements COVID-19 bill
Prisoner releases have begun in Turkey after a bill was passed that will see as many as 90,000 inmates set free to reduce the coronavirus pandemic's threat to the country's overcrowded prisons. Images published by Turkey's state-run Anadolu news agency saw the first busloads of inmates leaving prisons after parliament approved the bill early on Tuesday.
Opposition parties had vehemently opposed the bill, which was drafted by the ruling coalition, because it excludes tens of thousands of people convicted of or pending trial for terror charges or other crimes against the state that many view as political prisoners. Instead, some 45,000 people will be released with judicial controls and another 45,000 people will be freed permanently with sentence reductions.
The news of the prisoners' release arrived shortly after Justice Minister Abdulhamit Gül admitted that the virus had spread to prisons, infecting dozens of personnel and inmates, one of whom has died.
In the country as a whole, COVID-19 has continued to spread at a steady pace for the past few days, with 4,062 new cases recorded on Tuesday. Although the death toll rose to its highest so far at 107 that day, Health Minister Fahrettin Koca said it was positive that the rate of new infections had remained stable despite the increased number of tests administered this week.

---
14 April 2020:

Turkish intelligence allowed to 'question' prisoners under newly passed bill
A bill passed on Tuesday by the Turkish parliament allows intelligence officers to temporarily take inmates out of prison facilities for "questioning" on terrorism-related crimes, the Cumhuriyet newspaper reported.
The provision was included in a wider legislative package on criminal execution laws, most notably reducing the execution of prison sentences to relieve overcrowded prisons amid the COVID-19 pandemic.
According to the legislation, intelligence agencies will be able to bring prisoners out for interrogation upon request by "relevant authorities" or prosecutors, with the permission of criminal court judges and with the consent of prisoners.
The period of questioning will not exceed four days at a time, and the overall limit will be 15 days per prisoner, according to the report. The health of the inmates will be documented by doctors during the prisoners' time away from the prison facilities.

---
13 April 2020:

Turkey's parliament approved a clause of a prison reform bill that excludes intelligence-related crimes, blocking the release of six journalists arrested for covering the funeral of a high-ranking Turkish intelligence officer who died in Libya, Cumhuriyet newspaper said on Monday.
A prison reform bill proposed by the ruling Justice and Development Party (AKP) aims to relax sentencing and see nearly a third of Turkey's prisoners released on parole or to house arrest, in a bid to counter the coronavirus outbreak
The legal amendments would see the release of significant numbers of inmates, excluding those awaiting trial or found guilty of terrorism, thus keeping in jail journalists, opposition politicians, human rights defenders and dismissed public officials jailed for links to what Turkey calls terrorist organisations.
With the approval of the bill's clause on Saturday that excludes the violation of Turkey's intelligence law, the release of six journalists incarcerated for exposing the identity of the agent was blocked, Cumhuriyet said.
Editor-in-chief for news outlet OdaTV, Barış Pehlivan, a columnist for Yeniçağ newspaper, Murat Ağırel, the managing editor of Yeni Yaşam newspaper, Ferhat Çelik, and its editor-in-chief, Aydın Keser, were arrested on March 8 for reporting on the funeral of a Turkish intelligence agent killed in Libya.

23 March 2020:

Report reveals inmates in Turkish prisons not protected against coronavirus
A report drafted by the Jurists for Freedom Association (ÖHD) has revealed that inmates in Turkey's overcrowded prisons are at high risk of contracting COVID-19, caused by the novel coronavirus, as no measures are being taken to protect them.
More than 300,000 inmates in Turkey's prisons have been a matter of serious concern for human rights organizations and their families since confirmation of the first COVID-19 case in Turkey on March 11.
Rights groups have been calling on the Turkish government to release inmates or put them under house arrest as some countries have done in the wake of the global pandemic, which has so far claimed the lives of 30 people in Turkey.
The ÖHD report, titled "COVID-19," was drafted following inspections of some prisons in Turkey's east and southeast regions.
The report shows that inmates in some prisons are not given disinfectants or cologne to protect themselves against the virus. There are accounts from some inmates who say the prison guards don't care about hygiene when they conduct searches of prison cells, and inmates are taken to meet with visitors without hygienic gloves or masks. The report also showed that despite warnings from officials for social distancing, prison guards and soldiers in prisons tend to congregate in groups.
The report called for the immediate release of ailing inmates and those who are in pre-trial detention.
The Turkish government says it is working on a measure for the release of inmates to avoid an outbreak of COVID-19 in the country's correctional facilities; however, it says those convicted of terrorism will not benefit from the new arrangement.
Thousands of non-loyalist citizens from all walks of life were arrested in Turkey in the aftermath of a failed coup in July 2016 on terrorism charges under the pretext of an anti-coup fight.

From 9 to 21 June 2013 the European Committee for the Prevention of Torture and Inhuman or Degrading Treatment or Punishment (CPT) was on inspection in Turkish prisons. In one of the prisons, they found documents telling what Erdogan planned for the next few years. In their report, they write the following:


According to information provided to the delegation, in total some 60 new prison establishments had been brought into service since 2009, with an overall capacity of about 31,000 places. In parallel, 57 old prisons had been taken out of service and the closure of a further 171 prisons was planned by the end of 2017.

Moreover, the authorities planned to bring into service 207 new prisons (with an overall capacity of some 125,000 places) by the end of 2017, thereby increasing the total capacity of the Turkish prison estate to some 245,000 places. It must be noted, however, that the size of the prisoner population too was expected to further increase to 180 - 190,000 (i.e. an incarceration rate of some 250 per 100,000 inhabitants). Read more..........

---
29 January 2020:

Human rights group's prison report notes increase in torture allegations in central Turkey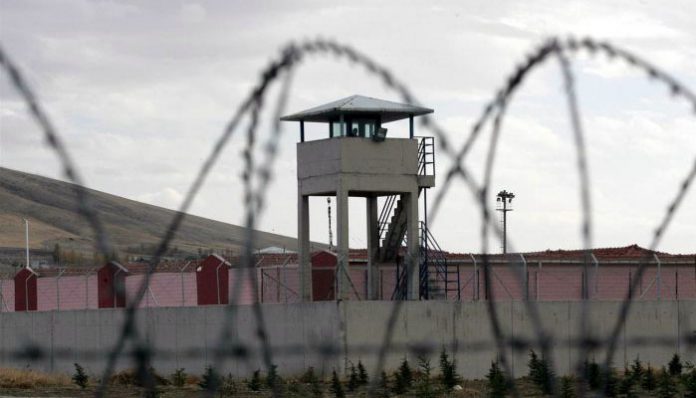 A growing number of inmates have been reporting torture and ill-treatment in prisons located in Central Anatolia, the Artı Gerçek news website reported on Wednesday, citing a report by Turkey's Human Rights Association (İHD). The report, which was released on the association's website on Monday, focused on the situation in prisons located in the region during the last quarter of 2019 and was prepared based on inmates' accounts to their lawyers and applications filed with the association as well as letters sent from prison.
The prisoners said they were subjected to physical and verbal abuse and that strip searches amounted to harassment.
Nurullah Semo, an inmate in a prison in Bolu province, said he was repeatedly subjected to torture in a strip search room and that the doctors filed no reports despite his requests. The report noted that the complaints failed to lead to effective investigations. Of the 73 applications sent to İHD over the course of three months, many of them concerned deprivation of the right to medical treatment, the report said.
The applications also included complaints about restrictions on books and other publications, the blocking of letters, the denial of radios bought from the prison's own canteen and the inadequacy of food served to inmates. Another problem highlighted by the report was the fact that some of the inmates were being held in prisons located at a considerable distance from family members.
Halil Dağ, one of the inmates, said that of the last 26 years he has been in prison, he spent 24 years of it hundreds of kilometers from his family. Dağ also said that at the time his father passed away, he had not seen him for nearly five years. The report called on Turkey's Ministry of Justice, Ministry of Interior, Ministry of Health and the Turkish Parliament's Human Rights Investigation Commission to take action on the allegations.

---
14 December 2019:
Turkey's prison population sees 14 pct increase in 2018 – report
Theft led the way in crimes committed in Turkey in 2018, when the prison population in the country rose by 14 percent, political fact-checking website Doğruluk Payı reported citing figures from  the Turkish Statistical Institute (TÜİK).
Of the 267,000 people behind bars in 2018, 17 percent were found guilty of theft and burglary, 12.4 percent of inflicting bodily injury and 6.7 percent of drug-related crimes, it said. Of the 128,000 people imprisoned in 2011,  a total of 27.8 percent were in pre-trial detention, as opposed to being convicted of a crime. This figure dropped to 14 percent in 2014 before soaring to 36.2 percent in 2016, according to TÜİK figures.
The number of inmates in Turkey soared following the July 2016 coup attempt, after which the government detained tens of thousands in a wide-ranging crackdown on dissent. Turkey ranks second in the incarceration rate, the number of people in prison per 100,000 of population, with the United States at the top among OECD countries, according to a report published earlier this year. As of May 2019, the incarceration rate in Turkey was 318 prisoners per 100,000.
The percentage of those awaiting trial under arrest dropped to as low as 21 percent in 2018, the Doğruluk Payı report found.  Crimes committed by minors aged 12 to 17 quadrupled during the same year, the report said. The number of children who entered Turkish prisons in 2012 was 3,069, with the number soaring to 14,502 in 2018, it said.
---
6 December 2019:

Number of prisoners in Turkey increases by 14 percent in 2018
The prison population in Turkey increased by 14 percent in 2018 compared to the previous year, reaching 264,842, the Turkish Statistical Institute (Tüik) said on its website on Friday. 
Some 78.9 percent of the prisoners were convicted, while 21.1 percent of them were held in pre-trial detention as of Dec. 31, 2018, Tüik said. 
The prison population in Turkey has been increasing steadily since 2013, the institution said. While 188 persons per 100,000 were in prison in Turkey in 2013, that figure reached to 288 in 2017, and 323 in 2018, Tüik said. 
The number of inmates between the ages 12 and 17 at the time they entered prison increased by 1.9 percent compared to 2017, reaching 2,095, while the number of juvenile prisoners according to the age at the time of the crime was committed rose by 22.8 percent in a year, Tüik said. 
---

8 November 2019:

---
---
Turkey holds thousands in solitary in Erdoğan's prisons
Thousands of prisoners are being held in solitary confinement in Turkey under conditions so harsh that some prisoners consider dying by suicide, Deutsche Welle Turkish service reported Tuesday.
There are no official figures on the number of prisoners in solitary confinement or how many people die by suicide in prisons in Turkey, but observers told DW that an estimated 3,000 inmates are being held in isolation.
By law, solitary confinement is reserved for inmates imprisoned for life without parole or convicted of heading terrorist organizations. Prisons can also use solitary confinement as a disciplinary measure. However, there are repeated indications that solitary confinement is ordered arbitrarily in many prisons without justification.
"My living conditions are getting worse by the day, and I feel increasingly poor," Muzaffer Özcengiz wrote from his prison cell. "I have a right to live, and so I demand that I be transferred back to a communal cell."
The 58-year-old teacher took his life on April 27 in solitary confinement at a maximum security prison in the Black Sea province of Çorum. He was kept isolated from his fellow inmates for 14 months "without any justification," he wrote, adding that solitary confinement had made him ill, leaving him no option but suicide.
Those were his last words — Özcengiz died two days after sending the letter to a judge begging him to end his isolation. 
He had been in jail for two years. Özcengiz was sentenced to 12-and-a-half years in prison after he was convicted of membership in the Gülen movement.
The teacher appealed the sentence, but the appellate court has yet to announce a ruling. The farewell letter was made available to DW by Ömer Faruk Gergerlioğlu, a member of parliament for the Peoples' Democratic Party (HDP), which advocates for Kurds and other excluded minorities in Turkey.
Turkey's Justice Ministry did not respond to a request for information on the number of prisoners currently in solitary confinement or the number of deaths. Leyla Usta Şahin, the human rights commissioner for the ruling Justice and Development Party (AKP), was also unable to provide information about the poor conditions in solitary confinement.
The press frequently reports on deaths similar to that of Muzaffer Özcengiz.
For years, government officials have been forbidden from releasing information on the conditions of prisoners in solitary confinement, the HDP's Gergerlioğlu, a lawmaker who advocates improving prison conditions, told DW. There has been a sharp increase in the number of inmates in solitary confinement since Turkey's postcoup state of emergency was declared in 2016. "We do not, however, know the exact number," Gergerlioğlu said.
Prisoners can legally be kept in solitary confinement for a maximum of 20 days — during which time they are also denied fresh air and physical activity — for disciplinary reasons. "But we know that hundreds of prisoners are in solitary confinement for up to 26 months, Gergerlioğlu said. "The state suspends human rights in prison."
Ezgi Yusufoğlu, a sociologist who researches the lives of prisoners serving life sentences, told DW that conditions in solitary confinement are harsh. "Contact with other prisoners is strictly forbidden, and only first-degree relatives are allowed to visit."
Yusufoğlu said she had no new data on the number of prisoners held in solitary confinement. Five years ago, the Justice Ministry reported the number as 1,453. In 2018 about 260,000 prisoners were held in 385 prisons, according to Turkey's Justice Ministry.
Total capacity was reported to be 111,000 inmates — a number that was almost doubled by adding bunk beds and mattresses on the floor. The government has announced that it will build 100 new prisons in the coming years.
---
9 May 2019:


On 10 December 2018, the Human Rights Day,Human Rights Association announced its 2018 Violations of Rights in Turkey
In the chapter "PRISONS, page 13 and 14 they write:
According to data provided by the Ministry of Justice, there were 59,429 inmates in Turkish prisons on 31 December 2002, i.e. when AKP claimed power. This figure has gone up to 260,144 in 385 penitentiary institutions as of November 2018 despite the fact that about 430,000 persons are on supervised release.


According to data offered by the Ministry of Justice during the budget deliberations at the GNAT, a total of 260,144 people were incarcerated in 385 penitentiary institutions as of 16 November 2018. 202,434 of these persons are sentenced prisoners, while 57,710 are prisoners with no conviction. No data has been provided for a long time now on the number of prisoners on remand, i.e. those inmates whose sentences have not been upheld yet. These are shown as being included in the number of sentenced prisoners.

The fact that 431,990 persons are on supervised release as of December 2018 lays bare the over-all atmosphere of the country, in other words, the fact that the society is being fully controlled and an overwhelming part of the population is being restricted or deprived of their liberty.

Read more..............
One can argue that this virtually quintupled number of prisoners only during the rule of this government, an unprecedented occasion in our country's history, accounts for a summary of recent developments in the country on another level as well.

Further, this skyrocketing figure assumes even more gravity when one takes into account the turnover rates, the number of those who were recorded to go in and out of prisons, as has also been covered by the 2017 prison statistics provided by the Turkish Statistical Institute (TSI) on its official website. For instance, 215,761 convicts were recorded to be admitted into penitentiary institutions between 1 January and 31 December 2017, while 193,662 convicts were recorded to be released between the same dates.

When one considers that the current capacity of prisons is 211,766; it can be seen that this constant increase in the prison population has also brought along the deterioration of material conditions in prisons and an increase in cases of deprivation of rights in recent years. Further, torture and other ill-treatment practices against inmates and convicts in prisons have also skyrocketed after the break out of conflict again especially in July 2015 and the quenching of the military coup attempt onwards.

• Practices like beating prisoners for various reasons (strip search, medical examination in handcuffs, forced reporting at standing roll-calls) at the time of and after admission to the prison, labeling those who were imprisoned for political offences as "terrorists" and beating them for this reason, all kinds of arbitrary treatment and disciplinary actions, solitary confinement, banishment, and involuntary transfers have recently reached unprecedented levels.

• Solitary confinement or isolation in small groups, which has been in practice since 2000 and has seriously been impairing the physical and psychological integrity of prisoners, is a deteriorating problem that has also become widespread. One should underline once again CPT's standard principle: "The CPT considers that one should aim at ensuring that prisoners in remand establishments are able to spend a reasonable part of the day (8 hours or more) outside their cells, engaged in purposeful activity of a varied nature. Of course, regimes in establishments for sentenced prisoners should be even more favorable."

Although the circular letter of 22 January 2007 (45/1) by the Ministry of Justice prescribes that 10 prisoners could get together 10 hours a week to socialize is still in force, its provisions are not implemented. 15 The fact that Abdullah Öcalan, who is a sentenced prisoner, has not been allowed to confer with his lawyers since 27 July 2011 and with his family members since 11 September 2016 is a human rights violation and this state of affairs has not changed as of 9 December 2018.

• Other problems that have been going on for a long time include restriction of access to healthcare services, denial of the right to visit the prison infirmary, ill-treatment practices including handcuffed transfers to the Forensic Medicine Institute, courthouses and hospitals, failure to provide timely and effective solutions to prisoners' medical problems. Banishment of a majority of prisoners, who hardly have the opportunity to continue their treatments, to other prisons has severely endangered the right to access healthcare services especially in recent years.

• Sick prisoners account for another significant issue regarding prisons. According to the latest data of 1 March 2018 provided by İHD, there is a total of 401 critically ill prisoners. Not only do these persons have significant problems in gaining access to healthcare services, but also face serious problems in obtaining medical evaluation reports based on independent and qualified examinations including the fact that the Forensic Medicine Institute is neither independent nor impartial.

The phrase "security of the society" found in the provision that stated "those evaluated to be not posing a severe and concrete danger regarding the security of the society" in the amendment of 18 June 2014 introduced to the Code on the Execution of Sentences and Security Measures has completely rendered the release of prisoners dependent on arbitrary decisions even though there existed medical reports showing that sick prisoners faced concrete life-threatening conditions.

• Uniform clothing has been imposed as a compulsory practice for prisoners, sentenced and otherwise, for offenses within the scope of Anti-Terror Code in outbound transfers to hearings with the emergency decree law no. 696 of 24 December 2017. The "imposition of uniform clothing" that has found its way to the agenda recently among the numerous problems in prisons and meant derogatory punishment on its own is likely to give way to highly serious disadvantages today and in the future.

• Further, at least 10 prisoners lost their lives in prisons under suspicious circumstances within the first eleven months of 2018 as far as the Documentation Center at the HRFT was able to ascertain. Although there are allegations about these suspicious mortality cases, no effective investigation processes have been undertaken to the best of our knowledge. Read the report
27 March 2019:


U.S. State Department's 2018 Human Rights report on Turkey page 6-7 -8:

Prison and Detention Center Conditions Prison facilities in general met international standards for physical conditions in many respects, with certain exceptions. Overcrowding (particularly following the mass detentions after the 2016 coup attempt) and lack of access to adequate health care remained problems. Read more.....................


From U.S. State Department's 2018 Human Rights report on Turkey

Torture and Other Cruel, Inhuman, or Degrading Treatment or Punishment.

Reported abuse included severe beatings, electrical shocks, exposure to icy water, sleep deprivation, threats, insults, and sexual assault. The special rapporteur said authorities appeared not to have taken any serious measures to investigate these allegations or to hold perpetrators accountable.

Human rights groups reported in December that torture and mistreatment in police custody occurred at reduced levels compared with 2017, although they contended that victim intimidation may account for reduced reporting. Reports indicated that police also abused detainees outside police station premises. The HRFT reported that, during the first 11 months of the year, it received 538 complaints related to abuse while in custody, 280 of which alleged torture or inhumane treatment. Read more.............
9 May 2018:
Turkey's prisons overcrowded and deadly – CHP deputy head


---
20 March 2018:

Record increase in Turkish prison populations – Council of Europe
Data released in an annual Council of Europe report has revealed an explosion in the prison population of Turkey, with a record increase of 161.7% from 2006-2016. The SPACE report, released on Mar. 20 2018, shows that Turkey had the second highest proportion of prisoners out of the 47 participating member states of the Council of Europe, with 244.6 per 100,000 inhabitants, after Georgia, with 256.3. The average was just over 127 per 100,000.
Turkey also had a very high ratio of detainees who had not received their final sentence, with 90.7 per 100,000 inhabitants, equalling 37.1 percent of their total detainees. Turkey's ratio was hugely greater than the average, 27 per 100,000 inhabitants, and second only to Albania's at 103.2 per 100,000. The annual report, which is co-authored by the Council of Europe and the University of Lausanne, covers data during the period up to Sep. 1 2016.
The figures therefore may have been influenced by arrests carried out during the state of emergency since the failed coup attempt in July that year, and may not accurately reflect current figures after over a year of further emergency rule.
At 27.8 percent, the highest number of custodial sentences are handed out in Turkey for those convicted of theft. Drug offences make up 23.9 percent of custodial sentences, then homicide at 22.2 percent. The daily expenses per inmate in Turkish prisons at 21 euros is far below the European average of 108.59. To read the SPACE 2016 executive summary in full, click here .
---