The new Turkey
Erdoğan advisor likens Turkey purge
to Aborigine, Native American, Armenian cases
18-mar-19
20 January 2018:


Turkish President Recep Tayyip Erdoğan's chief advisor, Mehmet Uçum, has said the Turkish state can apologize to the victims of a post-coup era witch-hunt targeting the faith-based Gülen movement years after the events take place as Australia did for the Aborigines, the US did for the Native Americans and Turkey did for the Armenians.
Uçum's remarks came during a recent program on CNN Türk.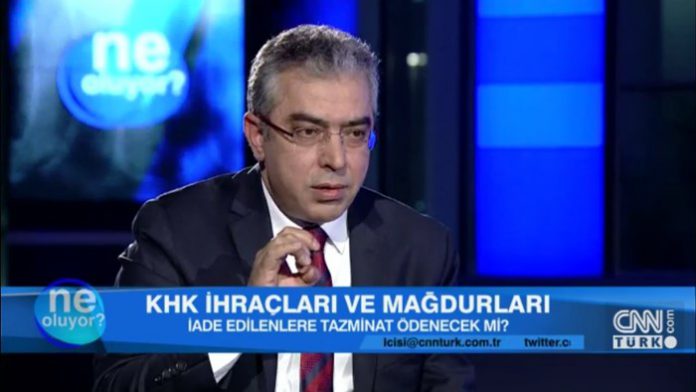 Upon a question of whether the Turkish government should apologize to people who were purged following a failed coup attempt on July 15, 2016, Uçum said: "Apology is a political attitude. The conditions for apology must come into existence. Don't forget that both untimely and belated [apologies] are useless. This state, which has been struggling to strengthen itself and create a democratic mind, will do it [apologize] after reaching a certain phase in the struggle and a certain phase in the reform process for establishing law and order, and after it sees that all necessary conditions have come into existence."
"Saying 'Let's do it [apologize] today' is indeed a call for weakness in terms of the risky areas where the state has been struggling. We have to be careful. Of course it happens in democratic state systems. How many years later did Australia apologize to the Aborigines? After how many years did the US apologize to the Native Americans? How many years did it take Turkey to express condolences to the Armenians?" he said.
The remarks created a debate on social media, with many people evaluating it as an admission of genocide against people linked to the Gülen movement in Turkey.
The Gülen movement is accused by the Turkish government of mounting a coup attempt on July 15, 2016, although the movement strongly denies any involvement.
Turkey has suspended or dismissed more than 150,000 judges, teachers, police and civil servants since July 15 through government decrees issued as part of an ongoing state of emergency.
A total of 62,895 people were detained in 2017 as part of a witch-hunt targeting the Gülen movement.
Turkish Interior Minister Süleyman Soylu said on Dec. 12 that 55,665 people have been jailed and 234,419 passports have been revoked as part of investigations into the movement since the failed coup attempt on July 15, 2016.
Minister Soylu on Nov. 16 had said eight holdings and 1,020 companies seized as part of operations against the movement.
The Justice Ministry announced on July 13 that 169,013 people have been the subject of legal proceedings on coup charges since the failed coup.
According to Ministry of Justice data, there are currently 384 prisons with a capacity of 207,279 in Turkey; however, the total number of inmates was 228,983 as of October 2017.
The Ministry of Justice plans to build 228 new prisons with a capacity of 137,687 in the next five years.
Human Rights Watch on Jan. 18 said in its World Report 2018 that Turkey had increased restrictions on the media, the political opposition and human rights defenders during 2017.
HRW also underlined that prosecutions of individuals charged with being members of the Gülen movement often lacked compelling evidence of criminal activity.
Source: www.turkishminute.com/2018/01/20/erdogan-
advisor-likens-turkey-purge-to-aborigine-native-american-armenian-cases/