The new Turkey
The confiscation of  assets. 
7-dec-20
4 December 2020:
Erdoğan's government puts assets seized on political grounds up for sale

Naksan Holding used to be one of Turkey's largest corporations, operating in the fields of energy, plastics, textiles and carpets. The company's assets were confiscated by the government due to the Naksan family's alleged ties to US-based Muslim cleric Fethullah Gülen.

Naksan Plastic made TL 200 million ($26 million) in profits last year, one-fifth of its sale price, which implies that the factory has been underpriced. Naksan Holding's Royal and Atlas carpet factories have also been put on the market.
The company's partners have objected to the sale on the grounds that the seizure has not yet been finalized in court. However, the state authority in charge of the sale, the Savings Deposit Insurance Fund (TMSF), has not taken any action to halt or annul the decision.
The partners warned in their petition that the sale would be unlawful and that it would lead to irreparable damage. Read the full article

3 August 2019:

UK court paves the way for seizing assets of FETÖ figure
A British court has rejected an appeal by Akın İpek, a prominent member of the Gülenist Terror Group (FETÖ), against the seizure of 60 million pounds ($72.84 million) the Turkish government says he funneled into his U.K.-based company after his businesses in Turkey were confiscated.
The court also ruled for the eviction of his five luxury flats in Britain he is accused of purchasing with funds from his Koza Ltd. Koza Altın is currently run by trustees appointed by Turkey after a court ordered its seizure from İpek.
Akın İpek was detained last year at Turkey's request for his extradition over charges related to the July 15, 2016 coup attempt orchestrated by FETÖ. Last November, a court rejected his extradition to Turkey, to the chagrin of Ankara which pursues global efforts for the extradition of FETÖ members who fled abroad to escape prosecution.
The suspect left Turkey prior to the seizure of his Koza Holding by court order in October 2015. He lost lawsuits filed in U.K. courts for the return of his assets seized by Turkey. Read the full article
-----------------------------
15 July 2019:

885 private companies transferred to TMSF since failed 2016 coup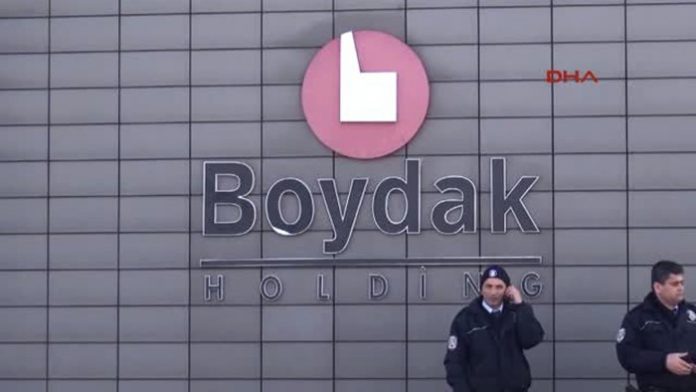 Eight hundred eighty-five private companies have been transferred to Turkey's Savings Deposit Insurance Fund (TMSF) since a 2016 failed coup due to their alleged affiliation with the Gülen movement, according to the Dünya news website. Turkey accuses the movement of orchestrating the abortive putsch, although it strongly denies any involvement.
In addition to these companies, valued at close to TL 60 billion ($10.5 billion), the TMSF seized the shares of 123 companies and the properties of 108 individuals. These companies, shares and individual properties are now controlled by trustees appointed by the TMSF. Among these companies, Boydak, İpek and Aydınlı were the largest with some 20,000 employees.
Jailed businessmen Hacı Boydak and Memduh Boydak, former board members and the owners of Boydak Holding, were given lengthy prison sentences on charges of Gülen links in July 2018. Akın İpek, the founder of İpek Holding, is living in the UK, which recently denied a request from Turkey for extradition.

---

31 October 2018:
Over 1,000 Turkish businesses worth almost 60 billion Turkish lira have been placed under government administration, Turkish Vice President Fuat Oktay has announced.
The 1,004 businesses are spread across 42 of Turkey's 81 provinces, and hold assets worth a combined total of 55.7 billion lira ($9.97 billion), according to Dünya newspaper's report on the vice president's statement. The businesses have a combined annual turnover of 21.95 billion lira ($3.93 billion) and profit worth 1.53 billion lira ($273 million).
Turkey's Justice and Development Party (AKP) government seized a large number of businesses under a state of emergency called in the aftermath of a coup attempt in July 2016. During the state of emergency, businesses with suspected links to the Gülen movement, which the AKP blames for the coup attempt, were seized and put under the administration of the Saving Deposit Insurance Fund of Turkey.
---
2018:

10 December 2018:
Turkish gov't selling aircrafts seized from businessman accused of Gulen links
31 October 2018:
Over 1,000 Turkish businesses worth 55 billion lira under government administration
13 October 2018:
Turkey's Erdoğan to seize opposition CHP's bank stake
3 October 2018:
1,022 companies taken over by state fund due to Gülen links since July 2016
30 July 2018:
The irresistible appeal of seizing property
..............."If necessity forces an individual to seize people's property, this seizure is permissible; in fact, if the individual fears he might die from hunger, cold, or heat, it is not only permissible but also necessary for the individual to seize property to meet his needs," the fatwa reads "It is more important, even preferable, to meet the needs of a society that likely includes Allah's chosen subjects than to fulfil the needs of one individual."..............

19 July 2018:
937 companies under Turkish gov't control after post-coup seizures
12 July 2018:
Turkey taken to tribunal with $5 billion legal claim – report
6 June 20128:
Turkey seized $11 billion of company assets – study
By 5 June 2018:

State of Emergency: Insecure property rights threaten Turkish economy
As announced in the web site of the SDIF, total worth of the seized companies is 49.4 billion Turkish liras and those companies employ 50192 workers.

It has been almost two years since the Turkish government declared a state of emergency in the wake of the attempted coup. Since 21 July 2016, the Turkish government has been using the emergency rule to intervene and restrict all fundamental human rights.
At the very beginning of the state of emergency rule, on 23 July 2016, 934 private schools, 109 dormitories, 35 hospitals, 15 private universities, 16 unions, 104 foundations, 1125 associations were dissolved and all their assets including real estates, chattel goods, bank accounts, intellectual properties and other financial assets were transferred to public treasury. As of today, 4100 profit-oriented or non-profit legal entities were dissolved, and their assets were confiscated under decree laws without any judicial procedure.
According to Mehmet Ozhaseki who is Minister of Environment and Urban Planning, the total value of the real estates confiscated from the dissolved legal entities is 15 billion Turkish Liras. There is not any reliable report available about the value of those entities' other assets such as brand values, intellectual properties, chattel goods etc.
Another aspect of the violation of the right to property is suspending proprietors' rights by assigning trustees to companies and foundations. Erdogan Regime has been using anti-terror laws for it. Article 133 of the Turkish Criminal Procedure Code (TCPC) which was applied only once from the date it entered into force (2005) to 2015; has been being used roughly by Erdogan Regime to exterminate its dissidents since the October of 2015. Under Article 133 of the TCPC, if one of its shareholders or the company itself is being investigated for offences related to terrorism, the company may be seized by appointing the trustee with the decision of the Peace Criminal Judge.
The first victim of the widespread seizing practises was Koza Ipek Holding: a conglomerate of 22 companies, including a media group with two TV channels and two daily newspapers. The holding was seized by Erdogan Regime on the 26th October 2015 and the management of all of its enterprises were given to a pro-government trustee board. According to our survey from October 2015 to 15th July 2016 in the 37 provinces of Turkey 412 enterprises which were being run by 273 separate companies were seized
Under the emergency rule Erdogan Regime's policy of seizing assets of dissidents went into new phase; with new emergency decrees, the company seizing policy was centralized, the Savings Deposit Insurance Fund (SDIF / TMSF) was authorized to run and liquidate (without waiting for the end of jurisdiction) the seized companies.
Since 15th July 2016, 1124 companies were transferred to the SDIF. According to our survey, at least 850 of them were seized after the failed coup attempt. These 1124 separate companies are running thousands of branches. For instance;
• Suvari Giyim Co (clothing company) seized by decision of Adana Peace Criminal Judge has 148 branches in 14 different countries,
• Boydak Holding seized by decision of Kayseri Peace Criminal Judge is running 34 separate companies; only 2 of its 34 companies, Bellona and Istikbal have 1240 furniture (franchise) stores across the world. Boydak Holding employs 13000 workers and creates (indirectly) 110000 jobs.
• Other large companies which are among the largest 500 of Turkey such as Koza, Dumankaya, Akfa, Orkide, Sesli, Naksan were seized and transferred to the SDIF too.
As of today (4 June 2018), the  SDIF controls and manages seized 1124 companies, and also assets of 127 persons. As announced in the web site of the SDIF, total worth of the seized companies is 49.4 billion Turkish liras.

20 May 2018:
Erdoğan and his cronies seize the wealth of critics in Turkey
27 April 2018:
TMSF puts assets of 11 seized media outlets up for sale
27 March 2018:
Jewelry store chain, Istanbul company seized over alleged Gülen links
..................A panel of trustees was appointed to Ikizler Kuyumculuk, a jewelry store chain in Tekirdag province, as well as another company in Istanbul as part of a seizure order for the assets of two businessmen, identified only as K.Ö. and K.G................

21 March 2018:
Major Turkish media group sold to pro-government businessman
19 March 2018:
German firm 'eyes buying two Turkish construction giants seized by state fund'
8 March 2018:
Gov't puts property of 5 shuttered media outlets up for sale
2 February 2018:

Prosecutor demands confiscation of billion-dollar holding over Gülen links.
...................The Kayseri Chief Public Prosecutor's Office has demanded confiscation of Boydak Holding and its related companies for giving financial support to the Gülen movement, the state-run Anadolu news agency reported on Thursday..........................

---
2017:
6 July 2017:
Turkey says assets of seized firms worth $11.3 billion
24 March 2017:
Turkey seized 879 companies since failed coup, worth 40.3 bln lira -state fund
16 March 2017:
Asset volume of seized companies hits over $11 billion in Turkey: Deputy PM

4 January 2017:
Erdoğan journalists call on gov't to seize assets of all Gülen movement followers to pay US fine
1 January 2018:
493 detained last week, 62,895 in 2017 over Gülen movement links.
................ Minister Soylu on Nov. 16 had said 48,739 people had been jailed and 8 holdings and 1,020 companies seized as part of operations against the movement........................
---
2016:

21 November 2016:
7 Turkish firms seized in FETO-linked probe transferred
30 October 2016:
New law broadens Turkish state authority to appoint trustees to companies

22 October 2016:
Kaynak Holding transferred to state-run TMSF
20 October 2016:
Millions in cash, thousands of properties reveal FETÖ's wealth
1 October 2016:
Trustees appointed to Gülen-linked furniture company
17 September 2016:
Turkey seizes business figures' assets in FETO probe
6 September 2016:
Companies seized post-coup attempt create $1.7 billion risk for banks: Turkish deputy PM

6 September 2016:

Turkey downplays risks from Gulen-linked companies as new firm seized
2 September 2016:

Companies under trusteeship for terror links to be transferred to Turkish state fund
All companies that have been submitted to the control of trustee panels due to their alleged ties with terror organizations will be transferred to the Saving Deposit Insurance Fund (TMSF), according to a new state of emergency decree.


The decree, which was published in the Official Gazette late Sept. 1, also stipulated that bankruptcies cannot be suspended during the state of emergency. 

Publicly traded companies such as Boydak Holding, Koza Gold and Koza Mining have all been put under the control of trustees for their alleged links to the Fethullahist Terror Organization (FETÖ), which has been blamed for the failed coup attempt of July 15.

After the companies are transferred to the TMSF, the trustees' services will no longer be required, according to the decree. 

"The services of the trustees, who have been appointed to all companies as a result of their ownership, connection or links to terror organizations in accordance with Article 133 of the Criminal Procedure Law No. 5271 dated Dec. 4, 2004, will end after the law becomes effective," said the decree numbered 674. 

"If it is seen that the related companies cannot be sustained due to their poor financials, partnership structure, other problems or market conditions, the TMSF will be able to sell or abolish these companies or their assets," added the decree. 

Turkish authorities have seized hundreds of businesses as part of a probe into the failed July 15 military coup attempt, issuing detention orders for dozens of businesspeople, some of whom have been arrested. 

The authorities said 4,262 companies and institutions have been shut for alleged ties with FETÖ. 

Companies in Turkey have also been banned from demanding any suspension of bankruptcy as long as the current state of emergency continues.

If any suspension of bankruptcy decision was made during the state of emergency, these decisions will immediately be annulled, according to the decree.


28 August 2016:
Hundreds of companies seized in probe into Turkey's failed coup attempt
12 August 2016:
Turkish court orders confiscation of Gülenist terror-cult leader's properties

---