The purge on Gulen movement/FETÖ
Since 15 July 2015

*

:

Dismissed: 151.967

Arrested: 64.358

Academics list jobs: 5.822

Detained: 132.668

Schools, dormitories and universities shot
down: 3.003

Media outlets shut down: 189

Judges, prosecutors dismissed: 4.463

Journalists arrested: 319
Police arrest more than 100 FETO suspects across Turkey
23 March 2018

Police arrested 123 FETO suspects during early morning operations across Turkey on Friday.
Out of the total, 12 suspects, including eight active and former soldiers were arrested during police operations in 15 Turkish provinces. According to Van Police Department, simultaneous operations were carried out in Van, Isparta, Bitlis, Ankara, Manisa, Izmir, Antalya, Tokat, Balikesir, Bingol, Konya, Kocaeli, Kastamonu, Hakkari and Sirnak provinces.
Separately, police arrested 38 FETO suspects in the capital, according to Chief Public Prosecutor's Office in Ankara. The suspects were affiliated to a labor confederation closed under a decree-law for its FETO links.
Also, Ankara police arrested 24 other FETO suspects as part of their anti-terror operation against FETO's setup within the Turkish police.
Ten others were arrested in Mediterranean provinces of Adana and Mersin, and northwestern provinces of Istanbul and Balikesir.
Police also arrested 25 suspects who were employees of a FETO-linked publishing company, Isik Publishing.
A police source told Anadolu Agency that Istanbul police also launched a simultaneous operation to catch 55 suspects in 13 provinces, including Istanbul. So far, they nabbed 25 suspects out of the total, the source who spoke on condition of anonymity due to restrictions on talking to the media, said.
Seven suspects, including a dismissed civil servant were also arrested as part of a FETO probe in Samsun, Kirikkale and Ordu provinces, Samsun police said. The suspects were accused of working for FETO-linked firms and using ByLock, an encrypted cellphone app said to be used by FETO members to communicate during and after the defeated 2016 coup.
One more FETO suspect was held in central province of Eskisehir. During a search of suspect Yilmaz Y.'s home, police seized many books by Fetullah Gulen.
Additionally, six FETO suspects were arrested in central Kayseri province. The wanted suspects were said to be hiding in safehouses.
The Fetullah Terrorist Organization and its U.S.-based leader Fetullah Gulen orchestrated the defeated coup of July 15, 2016, which left 250 people martyred and nearly 2,200 injured.
Ankara also accuses FETO of being behind a long-running campaign to overthrow the state through the infiltration of Turkish institutions, particularly the military, police, and judiciary.
Reporting by Necat Hazar, Zafer Fatih Beyaz, Sertac Bulur, Omer Yildiz and Yusuf Koyun:Writing by Can Erozden. Source
8 ex-military officers sentenced to life
A court in southern Turkey on Friday handed down aggravated life sentences to eight former Turkish military officers, over their links to the Fetullah Terrorist Organization (FETO), the group behind the July 2016 defeated coup, according to a judicial source.
Mersin's 7th Heavy Penal Court convicted the officers of attempting to violate the constitutional order on the night of the defeated coup, said the source, who asked not to be named due to restrictions on speaking to the media.
Among the convicts were Cdre. Nejat Atilla Demirhan, then-commander of Mediterranean region, and Col. Tayfun Ergi. The court also gave 13 FETO convicts jail terms ranging from seven-and-a-half-years to 15 years. The convicts -- including former police personnel -- were charged for aiding the coup attempt and being members of an armed terror group. Source
---
FETÖ leader Gülen's cousin arrested in Istanbul over terror charges
Turkish police on Friday arrested a cousin of Fetullah Gülen, the U.S.-based leader of the Gülenist terror group (FETÖ), who masterminded 2016's botched July 15 coup attempt.
On Thursday, an Istanbul court had released Kemalettin Gülen while imposing a ban on him from leaving the country, said a police source, who asked not to be named due to restrictions on talking to the media.
However, over a prosecutor's objection, the court issued an arrest warrant for Gülen, who was later arrested during an anti-terror operation in Istanbul. Source

---
21 soldiers linked to FETÖ arrested, more putschists face life in prison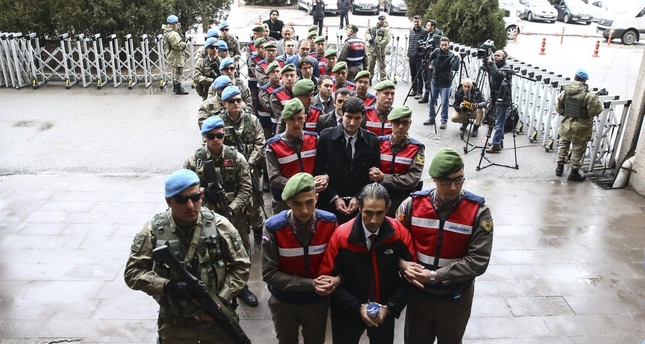 In the latest operations against the Gülenist Terror Group (FETÖ), security forces detained 21 military officers in 16 cities yesterday. Elsewhere, prosecutors asked for 18 defendants to be sentenced to life for their roles in the 2016 coup bid by FETÖ's infiltrators in the military. The defendants were accused of attempting to take over the headquarters of the army's elite Special Forces in the capital Ankara and murdering Ömer Halisdemir, an officer who confronted them and shot dead the leader of the putschists during the takeover
Last week, the chief prosecutor's office in Muğla, a southwestern city where President Recep Tayyip Erdoğan was vacationing during the insurrection attempt, issued arrest warrants for 36 soldiers who managed to hide their ties to FETÖ long after the deadly attempt.
15 officers were arrested last week, and the rest were nabbed in yesterday's operations held in cities spanning from Istanbul to Diyarbakır in the southeast and to Artvin in the northeast. Suspects manage to dodge detection in the post-coup purge against FETÖ and are accused of staying in contact with their civilian handlers in the terrorist group via payphones. Read the full article

---
537 detained in one week over alleged Gülen links
The Turkish Interior Ministry announced on Monday that 537 people have been detained in the past week due to alleged links to the faith-based Gülen movement, the state-run Anadolu news agency reported.
The Interior Ministry announced on March 12 that 740 people had been taken into custody the previous week due to alleged links to the movement.
Turkish police detained a total of 4,725 people over alleged links to the movement in the first two months of 2018. Read the full article

---
24 more military personnel detained over Gülen links
Twenty-four more military members, including 12 active duty, 10 purged and two suspended, have been detained on Monday over alleged links to the faith-based Gülen movement, as part of investigations launched by the Zonguldak Chief Public Prosecutor's Office, the state-run Anadolu news agency reported. Read the full article

---
15 officers detained for FETÖ links
Turkish security forces yesterday detained 15 military officers linked to the Gülenist Terror Group (FETÖ).
The suspects were among 36 officers with outstanding detention warrants, and the manhunt to capture the other suspects was underway when Daily Sabah went to print.
Almost all suspects are on-duty officers. Warrants were issued by the chief prosecutor's office in the southwestern province of Muğla as part of a probe into the group's network in the army. Read the full article