Media in Turkey
UN: Approximately 300 journalists arrested, detained in Turkey in 2017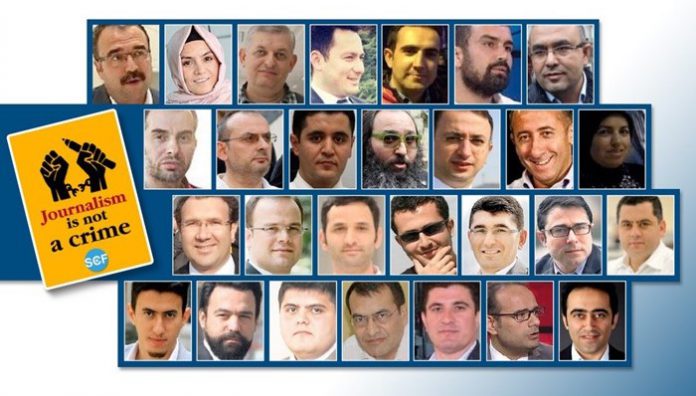 The Office of the United Nations High Commissioner for Human Rights (OHCHR) on Tuesday stated that it had received reports on the arrest and detention of approximately 300 journalists and the closure of 100,000 websites in Turkey in 2017, calling on the Turkish government to immediately release journalists, writers, judges and academics.
In a 28-page report issued on Tuesday, the OHCHR documented the crackdown on the Turkish media last year:
"OHCHR received reports on the arrest and detention of approximately 300 journalists on the alleged grounds that their publications contained apologist sentiments about terrorism or other similar 'verbal act offences', or for 'membership' of armed organizations. OHCHR documented cases of collective arrests of journalists, who remained unaware about the specific reasons for their arrests and continuing detention. Read the full article


Arab network likely to suffer after suspending Turkish dramas – Financial Times
Shareholders of the Saudi-owned Middle East Broadcasting Center (MBC), the Middle East's largest private broadcaster, may regret the network's decision to take all Turkish television shows off the air, as the move will likely drive away viewers, the Financial Times reported on Wednesday.
Television dramas have become one of Turkey's most significant cultural exports, particularly in the Arab region where they are hugely popular and have helped bolster Turkish soft power for the past decade.
Yet as Turkey's foreign policy drove it away from Saudi Arabia and its Arab allies, talked turned to the unwanted influence the television shows were having, with one Saudi commentator describing them as the spearhead of the Turkish ruling Justice and Development Party's "neo-Ottoman imperial dream".
No explanation was given for the suspension of the Turkish serials, but industry executives assume it was a political decision made in Riyadh, which is in full control of MBCs business decisions after holding MBC chairman Waleed bin Ibrahim al-Ibrahim under arrest in the Riyadh Ritz-Carlton last November, said the Financial Times report.
However, with Turkish programmes readily available from other sources, including internet broadcasters such as Netflix, MBC may have achieved little more than damaging its own brand.
"In a region where the media is largely government-controlled, the broadcaster had learned to balance Saudi government interests while catering to its viewers," said the article referring to the business model that turned MBC into the Middle East's largest private broadcaster. The reversal of that is likely to lose the network its credibility and viewers. Source
Turkish media sale was 'inevitable' - FT
The sale of Turkey's biggest media company is being carried out in difficult times and was inevitable, the Financial Times reported citing an official at the company.
The sale of Doğan Holding's outlets deals a blow to a media landscape now dominated by newspapers and television channels loyal to President Recep Tayyip Erdoğan, the FT said.
"This is a historic moment for the Turkish media," the official said, according to the FT. "These are difficult times. Everyone is sad. But I think people recognise that it was inevitable."
Doğan Holding, owned by secular business tycoon Aydin Doğan, is to sell units including CNN Türk and Hürriyet, Turkey's best-selling newspaper, to Demirören Holding, owned by a businessman with close ties to Erdoğan.
An official at Demirören told the FT that talks were "progressing and an agreement has been made on the acquisition".
The sale represents the departure of one of the few remaining media owners who was not intimately linked with Erdoğan.
Demirören is owned by Erdoğan Demirören, a businessman best known for a leaked recording that captured him sobbing on the phone as he was berated by Erdoğan for a story, the FT said.
Doğan, 82, began to face criticism from Erdogan after Erdoğan's Justice and Development Party (AKP) won power in 2002. In 2009, his company was slammed with a huge tax penalty that was widely seen as politically motivated.
Since then, columnists and reporters at Hurriyet and CNN Turk seen as too critical of the government have been sidelined or sacked. Two journalists who said they planned to vote no in a referendum on extending presidential powers for Erdoğan last year lost their jobs.
The Turkish media have long held deep conflicts of interests because of overlaps between politics and business. But the model has changed during the AKP era, the FT said.
"Instead of newspaper groups leveraging the government, as used to be the case, the government imposed newspaper ownership on its friends as a tax for doing business," said Andrew Finkel, a journalist and press freedom campaigner. "The new newspaper owners were people who weren't really interested in media but felt they had to buy newspapers in order to do with the business with the government." Source
Turkish Parliament approves new law regulating internet
The Turkish Parliament approved late on Wednesday a bill giving the Turkish Radio and Television Supreme Council (RTÜK) the authority to regulate all kinds of internet broadcasting.
According to the new legislation all broadcasters that want to provide radio, television, and other types of broadcasting services on the internet will have to obtain a licence from RTÜK, while broadcasters on other platforms will also require a transmission authorisation from RTÜK for their internet broadcasts. Previously, RTÜK licensing and regulation was necessary only for conventional radio and television broadcasters.
RTÜK will be able to file a legal complaint to demand blocking access to broadcasters which do not have licence or authorization or whose licence or authorisation have been cancelled. The courts will have to decide on RTÜK's application within 24 hours.
The details of the legislation will be set via a directive to be issued by RTÜK in the following six months. 
The new legislation is widely criticized as it is expected to further the suppression on the freedom of expression and press,  while the government backs the new regulation saying its aim is to ensure conformity of internet broadcasts to the values of the country and its moral codes.
The new legislation was first brought up following the head of Turkey's Religious Affairs Directorate's criticism against Adnan Oktar, the leader of a notorious religious cult, who owns A9 channel famous for its sexual content. 
However, the new law will mainly effect digital platforms like Puhu TV and Blu TV, as well as many independent journalists who switched to internet broadcasting due to government's extensive control on mainstream media.
---
Doğan Holding announces official talks on sale of media group
Turkey's Doğan Holding, which also owns the Hürriyet Daily News, said on March 22 that it started talks with Demirören Holding on the sale and transfer of its visual and print media components in an official announcement to the Public Disclosure Platform.
"We initiated the talks regarding the sale of all of our components which operate in print and visual media on an operating value of $1.1 billion and a share value of $890 million in case of a discount related to debts," it said in its statement.
"These components include YAYSAT, the company performing distribution of media and non-media products, Doğan Gazetecilik [Posta, Fanatik], Doğan News Agency, Doğan TV Holding, DTV News and Visual Broadcasting, Doruk TV and Radio Broadcasting [CNN Türk], Hürriyet Gazetecilik ve Matbaacılık and Mozaik Communication Services [Dsmart]," it added.
Doğan Holding also added that when there are developments regarding the sale, it will notify the public within the scope of the relevant legislation. Source

---
ECHR rules against Turkey over jailed journalists
The European Court of Human Rights has published a legal decision ordering Turkey to pay 21,500 euros in compensation to professor and commentator Mehmet Altan and journalist Sahin Alpay for "explicitly violating" their rights and freedom to express their opinions.
The court made the rulings during sessions held on February 19-20 and published them on Tuesday. Only one of seven judges opposed the decision; the Turkish judge and Justice Ministry employee, Ergün Ergül.
Following the court's decision, attention will turn to Ankara regarding Altan and Alpay's situations. Altan was sentenced to life imprisonment on Feb. 16 in a decision widely criticised by human rights groups and the European Union. He has the right to appeal the sentence. Alpay, 73, has been released conditionally, following an Istanbul court ruling on Friday. Read the full article
---
Turkish version of 'Orange Is the New Black' faces censorship for terror propaganda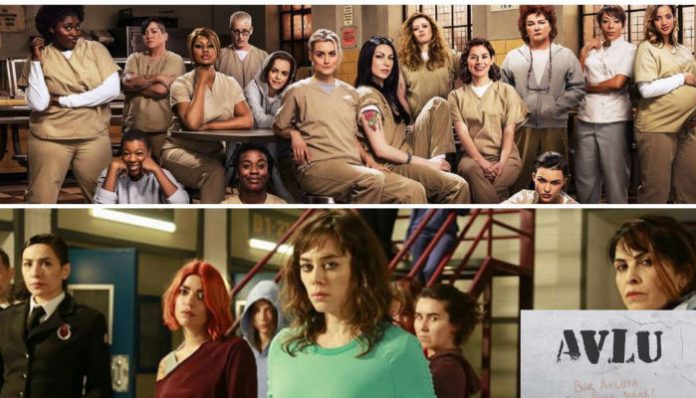 The Turkish adaptation of US TV series "Orange Is the New Black," Avlu (The Yard), faces censorship over some of its scenes considered to be spreading propaganda on behalf of terrorist organizations.
Starring Turkish actress Demet Evgar as the lead character, the new TV series is set to debut on March 29.
The Cumhuriyet newspaper reported Monday that Justice Ministry officials have asked the Radio and Television Supreme Council (RTUK) to "take necessary measures" for some scenes that allegedly make prison officials look like torturers and prisons appear to be torture centers.
"To create such a perception of prison facilities would serve terrorist groups' interests," the ministry said in its request. Source
---
Prosecutor seeks 15 years for Cumhuriyet executives, journalists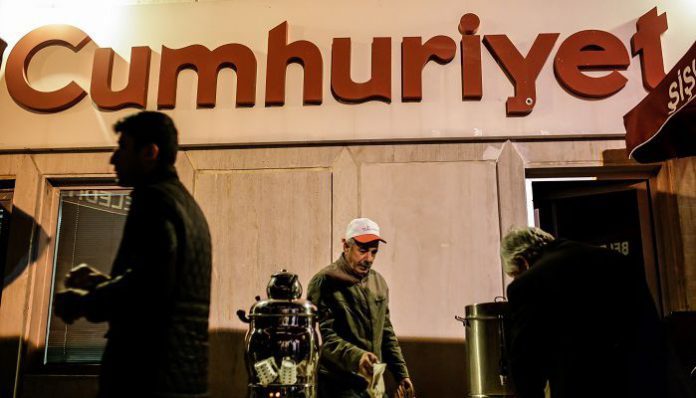 The prosecutor overseeing an ongoing "terror" investigation into executives and writers from Turkey's Cumhuriyet daily on Friday demanded the imprisonment of all defendants for 15 years each.
The İstanbul 27th High Criminal Court near Silivri Prison decided on Friday for continuation of the imprisonment of Cumhuriyet CEO Akın Atalay and Ahmet Kemal Aydoğdu, who stands accused of having maintained a popular Twitter account known as @Jeansbiri, which was allegedly affiliated with the Gülen movement.
According to a report by the pro-Erdoğan Daily Sabah, 13 Cumhuriyet employees, among whom are also journalist Ahmet Şık and the daily's editor-in-chief Murat Sabuncu, are accused of "aiding an armed terrorist organization while not being a member of it." The prosecutor read out the indictment during the hearing.
A court had previously ordered the conditional release of Sabuncu and Şık, who were accused of links to the Gülen movement. Atalay was ordered by the same court to remain in prison. Read the full article

---
Turkish gov't cancels journalist Zaman's press card over her political views
The Turkish General Directorate of Press, Publishing and Information (BYEGM) has decided that well-known journalist Amberin Zaman is a threat to national security and cancelled her press card based on her political views, the left-leaning Evrensel newspaper reported.
Zaman's press card was cancelled due to "writing pieces against Turkey at every opportunity in a variety of places overseas," the BYEGM said, and her journalism "was a cause of the conveying of hatred and enmity and polarisation among the people," a crime under Turkey's hate crimes laws.
The BYEGM's statement cited Zaman as saying on social media that the Syrian Kurds were the most effective force against the Islamic State in Iraq and the Levant  (ISIL) in Syria, which "openly displayed her sympathies for a terrorist organisation."
"Zaman carried out propaganda against Turkey through her false analysis," and her press card had been cancelled on national security grounds, the BYEGM said. Read the full article