News from Turkey
26-Apr-2018 12:10

The Maarif Foundation, which was established by the ruling Justice and Development Party (AKP) government in 2016, has taken over 76 schools linked to the Gülen movement in 10 countries, the state-run Anadolu news agency reported on Tuesday.
According to the report, the Maarif Foundation took over Gülen movement schools in Guinea, Somalia, Sudan, People's Republic of the Congo, Mali, Mauritania, Niger, Tunisia, Senegal and Chad with their 8,506 students. The foundation also signed an agreement to take over Gülen movement schools in Afghanistan, which have more than 8,000 students.
The foundation also has opened 32 new schools in 11 countries: Gambia, Sierra Leone, Djibouti, Sao Tome and Principe, the United States, Kosovo, Afghanistan, Georgia, Bosnia and Herzegovina, Tanzania and Macedonia, having a total of 1,127 students. The Maarif Foundation is claimed to have been established to spread President Recep Tayyip Erdoğan's Islamist ideology abroad. Read the full article

Presenter fails to attend court after threatening secular neighbourhoods
The trial of a Turkish presenter who made implied threats to kill secular citizens during a filmed broadcast has been delayed after the defendant failed to show up at court, Turkish newspaper Hürriyet reported on Tuesday.
Ahmet Keser, a presenter for the Islamist news channel Akit TV, resigned fro his position in late February after his remarks drew public outrage.
Keser erupted during a filmed broadcast into a furious response to accusations that the Turkish Armed Forces had killed civilians while fighting Kurdish forces in the northwest Syrian enclave of Afrin.
"If we were to kill civilians, we would start in Cihangir, Nişantaşı, Etiler, and the Turkish Grand National Assembly," he said, referring to secular opposition-dominated areas of Istanbul and the Turkish parliament.
Days after he made his comments, a criminal court in Istanbul accepted a prosecutors' indictment against Keser with a maximum four-and-a-half-year prison sentence for inciting hatred in the public through the media.
During the court hearing on Tuesday, the lawyers of opposition People's Republican Party deputy Eren Erdem and businessman Şecaattin Çelikler presented requests to add their own indictments against Keser to the case, for "threat, insult and incitement" and "insulting (Turkish Republic founder) Mustafa Kemal Atatürk", respectively. The presiding judge has rejected both requests.
Doğan Kasadolu, a Jewish businessman, also made an appearance at the court to act as a character witness for Keser, whom he had met while appearing as a guest on Akit TV.
Keser had made the statements due to the excitement caused by the Afrin military operation, said Kasadolu, who added that while attending Akit TV he had never experienced any discrimination as a Jew.
Keser's lawyer Ali Paççi said that his client's statements had been misconstrued in order to mislead the public, and that the resulting "lynching" that Keser had endured had forced him to take a break from his work.
A judical summons has been issued for the presenter. Source

Turkish court orders to continue detention of two Greek soldiers
Turkey on April 25 ordered the continued detention of two Greek soldiers who "inadvertently" strayed across the countries' border last month. The Edirne Second Criminal Court of Peace ruled against a petition by the soldiers' lawyers to release them from remand.
Later on April 25, the soldiers' lawyers appealed to the Edirne First Criminal Court of Peace.

After hearing their arguments, the court rejected their appeal and decided to continue their detention. 
---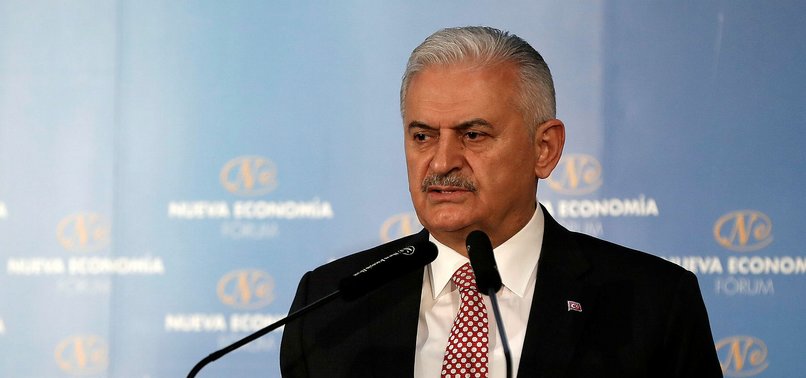 "We are NATO members. We are from a country that has been waiting for EU membership for more than 60 years. Everyone who applied after us gained membership. There is an ideological approach to Turkey," Turkish Premier Yıldırım said in his speech during the Nueva Economia Forum held in Spanish capital Madrid.
The Turkish prime minister said Wednesday Ankara is still committed to getting membership in the EU, adding that a thaw in relations with Russia is not an alternative to Europe.
Binali Yıldırım's remarks came at the Nueva Economia Forum held in Madrid, Spain, where he arrived Tuesday on an official visit. Read the full article

Russia starts production of S-400 missiles for Turkey
25 April 2018

Russia began production of S-400 missiles destined for Turkey, Hürriyet newspaper said citing the head of the company exporting the weapons.
"We have begun implementing the agreement," said Aleksandr Miheyev, head of Russian arms manufacturer Rosoboroneksport, the newspaper reported.
Russia has agreed to sell four batteries of the air defence missiles to the Turkish government, helping to cement a new alliance grounded in common interests in Syria and developing economic ties. Russian firms are also building a nuclear power station on Turkey's southern coast, causing further disquiet among Western allies who are concerned that Turkey, under President Recep Tayyip Erdogan, is distancing itself from its commitments to NATO.
There are further processes and stages to come before Russia delivers the missiles, Miheyev said, according to Hürriyet.
The order for the missiles from Russian firms subject to U.S. sanctions has raised the prospect that Turkey may be confronted with the same fate. U.S. senators have already warned that Turkey is crossing a redline for making the purchase.
Relations between Turkey and its traditional Western partners have deteriorated sharply over the past two years due to the emerging Russian relationship, the circumventing of U.S. sanctions on Iran by Turkish officials and the continued presence of Islamic preacher Fethullah Gulen, blamed by the Turkish government for masterminding a failed military coup in July 2016, in the United States. Erdogan's increasing authoritarianism has frayed ties further. Source
Turkey has told a European rights body "to mind its own business" after it voiced concern on Tuesday over the freedom and fairness of Turkish snap elections and recommended they be postponed.
President Tayyip Erdogan announced the June 24 parliamentary and presidential elections last week, saying Turkey needed to switch quickly to a new executive presidency system that was narrowly approved in a referendum last year.
The Council of Europe Parliamentary Assembly (PACE) Monitoring Committee said the legitimacy of the elections was at stake after Turkey extended a state of emergency imposed following a failed military coup in mid-2016 and introduced a new electoral system last month. Read the full article
---
Germany bans Turkish presidential campaigning
The German government has clarified that Turkish politicians will not be allowed to campaign in the country in the run-up to snap parliamentary and presidential elections, Chinese news agency Xinhua said.
It quoted the German foreign ministry as saying that all foreign officials needed to obtain the permission of the federal government before campaigning in Germany.
President Recep Tayyip Erdoğan announced on Wednesday that Turkey would be going to the polls on Jun. 24.
"As a matter of principle, no approval is granted within three months of the date of the election or referendum," spokesman Rainer Breul said. Source
---
Bosnia court rejects extradition of Turkish national over FETÖ links
A Bosnian court has dismissed a request for extradition to Turkey of a Turkish national, one among several wanted for alleged links to the Fethullahist Terrorist Organization (FETÖ), the network of U.S.-based Islamic preacher Fethullah Gülen.
The court's final ruling comes at a time of increased pressure by Turkey on its allies to deport people believed to be linked to schools financed by the Gülen network, which is widely believed to have carried out the coup attempt on July 15, 2016.
The Appeals Chamber of Bosnia's state court last month ruled against the extradition of Hümeyra Gökçen on the grounds that she had requested asylum in Bosnia before Turkey had asked for her extradition. The ruling was not made public. Read the full article
---
The North Atlantic Treaty Organization – better known as NATO – was originally founded in 1949, as founding secretary-general Lord Ismay famously put it, "to keep the Soviet Union out, the Americans in, and the Germans down." Since then, it has grown from 12 to 29 members and is universally considered the most successful military alliance in history.
What makes NATO so successful is that it is much more than a military alliance. It is a club of like-minded states, as the preamble to the North Atlantic Treaty puts it, "determined to safeguard the freedom, common heritage and civilization of their peoples, founded on the principles of democracy, individual liberty and the rule of law." These shared commitments have socialized its members profoundly over the years to identify with each other, cementing bonds of solidarity and reinforcing what are, historically speaking, unusually robust norms of peaceful dispute resolution.
Together with the European Union (EU), NATO must get credit for solving "the Franco-German problem," eliminating war in most of Europe, and creating what political scientists call a "security community" – a region in which the threat or use of force has truly become unthinkable.
But there is an odd man out – Turkey. Read the full article
[OPINION] Europe braces itself for Erdoğan's new push for the Turkish diaspora
Abdullah Bozkurt
23 April 2018
Ahead of both president and parliamentary elections on June 24, 2018, Turkey's Islamist rulers led by President Recep Tayyip Erdoğan and their neo-nationalist partners have geared up to mobilize diaspora communities especially in Europe where pro-Erdoğan groups, financed by off-the-book contributions from secret slush funds and other schemes, are ordered to campaign to secure the votes of Turkish expatriates.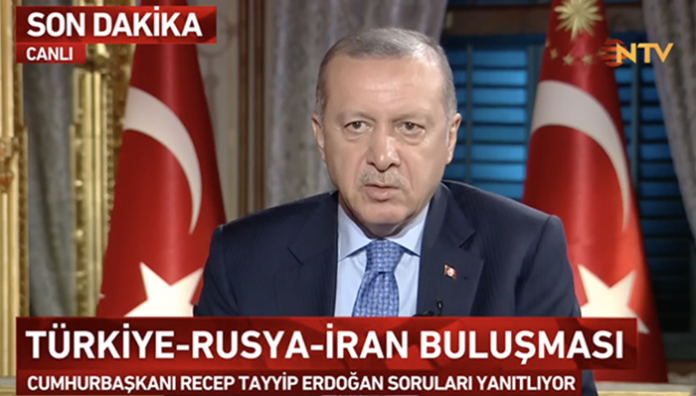 Erdoğan is intent on pulling out all the stops to push the envelope in raising tension with European allies during this election period in order to milk each and every vote by campaigning on religious fervor and nationalist euphoria. We'd likely see a fresh escalation of conflict, perhaps on a bigger scale than in the past, between Turkey and other countries where sizable Turkish communities exist. Instead of making compromises by working out deals that would be acceptable to both sides, the Turkish Islamists deliberately triggered tensions in the past with the Netherlands, Austria, Belgium and Germany. This time, they seem intent on taking it to a new level with a harsher diatribe and firebrand rhetoric.
Judging from remarks Erdoğan made during a prime-time interview on Turkish TV on April 21, the Turkish president is looking for new ways to provoke Europe, interfere in the domestic affairs of other countries and mobilize his supporters in the diaspora. Stating that his plans for a campaign abroad are finalized, Erdoğan said, "God willing, I will address my fellow Turkish citizens in a sports hall that has a capacity of 10-11,000 people in a country whose name I will not disclose at the moment, while attending the meeting of an international organization there. And most likely, we'll convene all [supporters in] Europe there, and we'll deliver our speech with God's permission."
Asked about the position of several European countries that announced their opposition to Turkish political campaigns in their territories, the Turkish president responded by saying that his government efforts for a campaign would not easily be hindered. "They may cut off the ways at one point, but you make use of other ways," he stressed, suggesting that methods to bypass restrictions would be employed by Turkey. This is the troubling mindset of the Turkish leadership that Europe is facing, and it would be an uphill battle to fend it off with so many Turks living in these countries. Erdoğan's tactics were actually displayed in the Netherlands, where President Erdoğan personally ordered Fatma Betül Sayan Kaya, the minister for family and social policy, to go after the Dutch government on March 11, 2017 revoked the landing rights of Turkish Foreign Minister Mevlüt Çavuşoğlu, effectively barring his visit to the Netherlands.
The diaspora in the Netherlands as well as in neighboring countries was clandestinely mobilized by Erdoğan's cronies to create a fait accompli for the Dutch government, which was forced to take extraordinary measures to contain the situation, when the far-right political movement was challenging mainstream parties. Thousands of Erdoğan fans clashed with Dutch police in Rotterdam, where 12 suspects were detained and at least seven were wounded. Adding insult to injury, two Turkish brothers who defied the police instructions and took part in a brawl were brought to Turkey by the Turkish government for a hero's welcome. On April 5, 2017 Erdoğan personally hosted one the brothers in his palace in Ankara to honor him.
In last night's TV interview, Erdoğan also lashed out at Austrian Chancellor Sebastian Kurz, who said on April 20 that "[Erdoğan's] Turkish leadership has been trying to exploit Europe's communities of Turkish origin for many years," adding, "Turkish election campaign appearances in Austria are unwanted, and we will therefore no longer allow them." The furious Turkish president vowed that Austria would pay a price for this position, signaling further steps to block Austrian initiatives on international platforms. Turkey has already blocked Austria-NATO partnership in the alliance where a consensus is needed to move forward. This shows how far Erdoğan is willing to go in exploiting the domestic politics of Turkey to poison the country's ties with allies and partners. In fact, in the same interview Erdoğan blatantly described strategic partners, the US and other NATO allies, as a "priority threat" to Turkey.
The most vulnerable countries for Erdoğan's long arm in mobilization of the diaspora are Germany (1.4 million eligible voters), France (326,375), the Netherlands (252,841), Belgium (137,675) Austria (108,561), Switzerland (95,263) and Sweden (37,857). According to an April 2017 referendum that gave Erdoğan huge powers without checks and balances, his overall support among diaspora voters was 59,46 percent, which is substantial. In Germany, he received 63.07 percent of votes cast in the referendum. His support was 73.24 percent in Austria, 74.99 in Belgium, 64.85 in France, 70.94 in the Netherlands, 47.14 in Sweden and 38.08 in Switzerland.
The numbers clearly show Erdoğan is hugely popular among expatriate Turks in Europe, where the religious and nationalist policies of his government have made significant inroads into the diaspora, with huge resources available to the Turkish government. The disarray among opposition groups and the lack of a formidable challenger to his government, partially attributed to the decimation or co-opting of most opposition parties under Erdoğan's 15 years of rule, have played a role in this picture as well. Let's not forget that non-Turkish Muslim diaspora groups from the Middle East, Africa and Central and Southeast Asian countries were also lobbied by the Erdoğan regime. Rallies and town hall meetings organized by Erdoğan and his associates in Europe often draw Egyptians, Palestinians, Somalis, Bangladeshis, Uyghurs, Uzbeks, Azerbaijanis and other Muslims.
It is clear by now that Erdoğan has no intention of leaving power through democratic channels and will insure that he gets favorable results in the upcoming elections using each and every available means at his disposal. Free and fair elections under the state of emergency is no longer possible, and there is no independent or critical media left in Turkey with the exception of few newspapers with low circulation and limited reach. The election commission is in Erdoğan's pocket, and the judiciary is completely subordinate to his autocratic regime. The opposition political parties lack robust financial resources and is crippled by problems in grassroots organizations, and civil society is severely repressed.
Nevertheless, Erdoğan would not want to risk his chances of getting re-elected even though the prospect of losing the election looks very dim under the current circumstances. As a result, he will mobilize all the assets he has invested in the diaspora to make sure of a win. This is not only about receiving votes from expats but also projecting Turkey's perceived might to a domestic audience by bashing and bullying countries that are host to sizable Turkish communities. In any case, European countries should brace themselves for the worst from a man who has proven himself not hesitant to even use intelligence services to plot schemes in the middle of Europe. Source

Berlin will not let Erdoğan campaign in Germany for Turkish elections
Following a statement by Turkish President Recep Tayyip Erdoğan that he would hold an election rally in a European country, Berlin declared that no election campaigns would be allowed in Germany, Deutsche Welle reported.
"Our position on this topic is clear. No election campaigns will be allowed in Germany three months prior to an election in a foreign country," German Foreign Minister Heiko Maas told reporters in Toronto on Sunday. Underlining that what had been experienced between Turkey and Germany last year over a referendum campaign crisis was not useful to either side, Maas said he hopes it will not be repeated.
Maas is expected to raise the issue during his first meeting with Turkish Foreign Minister Mevlüt Çavuşoğlu in New York in the sidelines of UN meetings on April 24-25.
Erdoğan in a recent television interview said he plans to meet with Turks in Europe before snap presidential and parliamentary elections on June 24. Erdoğan did not name the country where this was to take place. Source
---