Economy
Lira Plunges to Records as Asia Traders Sell on Trade Fears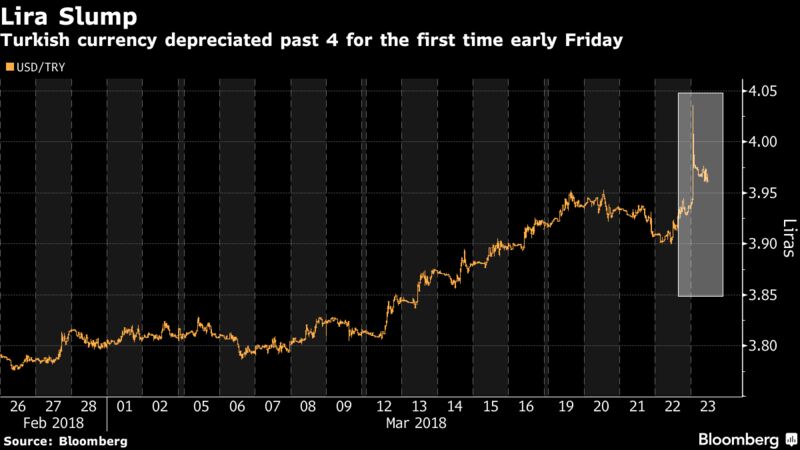 Turkey's lira weakened to a record low Friday as investor concern mounts that U.S. President Donald Trump is taking steps to initiate a global trade war.
The currency tumbled past 4 per dollar for the first time, falling to as low as 4.0361 before trading 0.7 percent lower at 3.9614 at 12:30 p.m. in Istanbul. It plunged as much as 3 percent against the yen and also hit a new record 4.9778 against the euro. The drop during Asian trading hours was probably due to stop-loss orders from Japanese retail investors holding lira trades against the yen, said Koji Fukaya, chief executive officer at FPG Securities in Tokyo. Read the full article

---
Turkish economic growth to slow to 4.6% in 2018 – agency
Turkey's economic growth will probably slow this year, according to a survey of 17 economists by the country's state-run Anadolu agency.
Growth is likely to decline to 4.6 percent in 2018 from 7.3 percent last year, below a government target of 5 percent, the survey showed. Estimates for the economic expansion varied between 4 percent and 5.5 percent.
Turkey is due to publish fourth-quarter economic growth data on March 29. Estimates for quarterly growth, on an annual basis, varied between 4.5 percent and 9.5 percent, Anadolu said. Source

---
Turkish house sales slide as mortgage lending slumps
Sales of housing in Turkey slid in February, led by a slump in mortgage lending as interest rates rose, according to data provided by the Turkish Statistical Insitute (TUIK).
Sales fell 5.4 percent from a year ago to 95,953 units. The number of houses purchased with a mortgage slumped 28 percent to 27,916 units, the institute said on Wednesday. The decline for the first two months was 24 percent compared with a year earlier.
Turkey's government is seeking to stimulate economic growth before presidential and parliamentary elections, which are due to be held by November next year. The ruling Justice and Development Party (AKP) has said it may introduce indirect financial support for house-buyers as part of those measures.
Interest rates on home loans have risen to almost 15 percent annually, the highest level in 8.5 years, according to data provided by Bloomberg, which also showed a decline in house prices in Istanbul. Source
---
What happens to interest rates if dollar/lira rate exceeds the 4-lira mark?
At a time when ministers and advisors are still talking about lowering interest rates, the U.S. dollar/Turkish Lira rate hit 3.92 last week. One wonders how interest rates could be lowered if the local currency keeps depreciating. 
Do you recall that those who said a couple of months ago that the U.S. dollar/lira rate would increase above 4 liras were labelled as over-pessimistic or "apprehensive people." But nowadays everybody suggests that the exchange rate may hit 4 liras or exceed this level. Almost all bankers argue that the trend for the exchange rate is upward and said that "the rate would have already passed the 4-lira mark, if it had not been [Donald] Trump's political nonsense." Read the full article 

---
Turkish Lira weakens to record low against euro as economy worries mount
The Turkish Lira weakened to a record low of nearly 4.84 against the euro on March 19 and hit the lowest level since early December against the dollar following investor concerns over the macroeconomic outlook and the prospect of U.S. interest rate hikes.
Against the U.S. currency, the lira weakened as far as 3.94, closing in on a record low of 3.98, which it hit in late November, according to Reuters data. The main share index fell 0.85 percent.
Fed Chair Jerome Powell will hold the first press conference on March 21 amid expectations of a faster pace of U.S. rate hike. The dollar edged higher against a basket of rivals on March 19 after posting four consecutive weeks of gains as financial markets braced for the first rate hike of the year from the Federal Reserve. Source

---
Turkish firms have expanded their defense partnership with Doha in a number of deals signed to deliver products for Qatar's land, maritime and air forces at a defense exhibition in the country's capital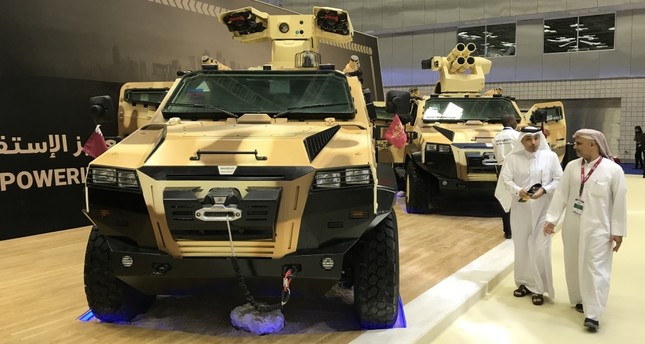 Under coordination of the Undersecretariat of Defense Industry (SSM), 33 Turkish defense firms participated in the 2018 Doha International Maritime Defense Exhibition and Conference (DIMDEX).
The fair, which ran from March 12 to March 14, yielded fruitful outcomes for Turkish defense firms that signed deals worth approximately $800 million. The value of the deals, which were made to respond to the needs of the Qatari security forces, corresponds to 46 percent of Turkey's annual defense exports worth $1.74 billion.
Baykar, the maker of the Bayraktar TB2 Unmanned Aerial Vehicle (UAV), made its first export deal on Friday. Read the full article

---
President Recep Tayyip Erdoğan's senior economic adviser suggested on Friday that overvalued currencies may create a "ticking time bomb" in the guise of hot money nestling in a nation's economy.
In a slightly panicked response to persons he described as "economic hit men" taking aim at the country's economy, Cemil Ertem offered no immediate solution to ensure that the growing stock of such money in Turkey – ten of billions of dollars of short term portfolio inflows to the country's stocks and bonds – would not exit the country as quickly as it arrived. Read the full article