Economy
27-May-2018 13:50

Erdoğan threatens finance sector over faltering lira
Turkish President Recep Tayyip Erdoğan, who is presently fighting a snap election campaign set for June 24, has threatened the finance sector with indeterminate sanctions if it does not rescue the flagging lira at a rally in the northeastern Turkish city of Erzurum, independent news site T24 said .
Turks were the servants of Allah, not Hungarian-American businessman George Soros, Erdoğan said "Hey finance sector, if you play these types of games with our investors, know that you will pay a heavy price!" he said.
Although the markets were initially rattled by Erdoğan's insistence to investors in London that he would override the independence of Turkey's Central Bank to force through low interest rates, he and his party officially claim that foreign political rivals are seeking to manipulate exchange rates in order to damage his chances in the upcoming elections.
"The interest lobby are upon us," Erdoğan said, in reference to a recent dive in the value of the lira to as low as 4.92 to the dollar. ""My brothers who have dollars or euros under their pillows, go and invest your money in the lira. We will foil this plan all together."
Erdoğan criticised European countries, saying they were denying his party the right to campaign there while allowing his pro-Kurdish rivals in the Peoples' Democratic Party (HDP) to hold meetings.
He reserved special bile for his main presidential rival, Muharrem İnce of the Republican People's Party (CHP), who has promised to cancel Erdoğan's scheme to build a canal in parallel to the Bosphorus if elected.
"You have never done anything in this country in your life, anyway," Erdoğan said. "In any case, on June 24 my glorious nation know who to tell to get on their bikes. In this country, they know who will carry out investments. Can you have employment without investments?"
The AKP had carried out improvements in education, health, justice, security, transport, and energy, and had maintained its strong foreign policy, all in the face of internal opposition, Erdoğan said. Source

Turkey currency crisis a warning for US – Nobel-winning economist

The eccentricities of the present U.S. leadership will be tolerated by the markets only for as long as the economy remains unhit by major economic shockwaves, as the case of Turkey shows, according to Nobel prize-winning economist Paul Krugman writing in the New York Times.
"What's happening in Turkey is a classic currency-and-debt crisis, of a kind we've seen many times in Asia and Latin America," Krugman said.
"External factors cause a loss in confidence, which causes a country's currency to drop, but the falling currency causes the domestic value of those foreign debts to explode, worsening the economy, leading to further declines in confidence, and so on."
Then, the credibility of a country's leadership begins to become important for investors, Krugman said. Emerging markets with leaders the markets trusted were thus not facing the problems of President Recep Tayyip Erdoğan's Turkey.
Although the dollar is unlikely to undergo a classic currency crisis, he added, there were plenty of other things that could go wrong – and if U.S. President Donald Trump were, like Erdoğan, to add fuel to the fire rather than damping it down, it would be a big mistake. Source
Turkey will not 'get obstinate' with markets, Şimşek says

Turkey will not oppose the investors and markets, whose concerns about the economy are understood by the government, said Deputy Prime Minister Mehmet Şimşek on May 25.
"Turkey will solve all of its problems staying within the boundaries of the market economy and without getting obstinate with the markets. We understand the concerns of the markets and the nervousness of the investors. Our policy framework aimed at easing nervousness is clear. We have taken the necessary steps and we will continue to do so," he told private Turkish broadcaster NTV.
"We will not step back from a rule-based market economy. Stepping back from the independency of the Central Bank, the rule-based market economy or the floating exchange rate regime has never appeared on our agenda," he added. Read the full article
Exchange rate volatility is artificial and inflated – Turkish spokesman
Turkish presidential spokesman İbrahim Kalın called the Turkish lira's fall against the dollar artificial and inflated, and said the government was taking the appropriate measures, state-run Anadolu news agency reported .
The nation's currency reached a record low against the dollar on Wednesday over worries about persistent inflation and political interference in central bank decision-making. The fall comes ahead of June 24 presidential and parliamentary elections in which opinion polls say the economy is the number one issue for voters.
Government supporters have blamed the lira's fall on what they say is an international conspiracy against President Recep Tayyip Erdoğan, who has ruled Turkey since 2003.
"Today and tomorrow, all economic institutions, including the central bank will take the necessary steps so that the economy can might have a relief, the dollar might have a relief. Because this rise is not natural, it is artificial and inflated," Anadolu quoted Kalın as telling Best FM. 
"The Turkish economy is strong. If it were weak, it would have collapsed immediately after the July 15 coup attempt," Kalın added referring to a failed coup attempt in 2016. Source

Turkey's economy at risk as currency hits record low
Turkey is trying desperately to halt a collapse in its currency that could trigger an economic crisis just as the country prepares to vote in an election.
The lira has plunged about 20% against the US dollar since the start of the year, hurt bya broader move by investors to switch money out of emerging markets and into the United States.
But the currency crisis escalated rapidly earlier this month after Turkish President Recep Tayyip Erdogan indicated he wanted to take control of setting interest rates, which he described as "the mother and father of all evil."
As investors stampeded out of the lira in response, driving it to a record low of about 20 US cents, the Turkish central bank on Wednesday announced an emergency hike in interest rates to 16.5% from 13.5%.
More pain to come?
After a modest bounce following the rate hike, the lira fell again. Experts say there's more pain to come.
"We think the ... emergency rate hike was the bare minimum," said Oxford Economics in a research note on Thursday, adding it expected another rate hike to around 19.5% in early June.
Inflation was already running around 11% but the plunge in the currency is pushing prices even higher. Residents told CNN they're already feeling the effects of the currency crisis and are having to tighten their belts.
"Generally I can see the prices are going up. And that impacts us negatively," Yasemen Atan, a university student, told CNN.
The country imports hundreds of billions of dollars worth of goods each year, including cars, clothing and fridges. Those items are getting more expensive by the day.
After hiking rates, the central bank said it wanted to achieve a "significant improvement" in the outlook for inflation.
Erdogan, who is seeking reelection on June 24, also appeared to back away from his threat to interfere in monetary policy.
"Turkey is a country that complies with all free market rules and institutions," he said in an address on Wednesday that was posted online.
But experts say the moves were too little, too late. The damage has already been done.
"[Erdogan's previous] comments are still fresh in investors' minds and political leaders will need to ease concerns that monetary policy will be determined by politicians," said Per Hammarlund, chief emerging market strategist at Swedish bank SEB.
A wider economic crisis?
Experts are worried that surging inflation could put a drag on economic growth.
They're also concerned that money and investment could drain out of the country fast.
Turkey has a high current account deficit, above 5% of GDP. That means it imports more than it exports and needs foreign finance to make up for the difference.
It relies on short-term debt to keep the economy functioning, but this comes with the risk that the supply of funds can dry up quickly if investors want to get out.
"Turkey becomes very vulnerable since most of the funding is done on a less than one-year basis," said Hammarlund. "Investors will be expecting additional measures to be taken to reduce vulnerabilities in the Turkish economy."
Experts want the central bank to consider more rate hikes to rein in inflation and rising domestic borrowing, and put the currency on a more solid footing.
They also want the government to pull back on lending programs and economic stimulus measures.
Erdogan said on Wednesday that if reelected, his government would "take the necessary steps to reduce the current account [deficit] and lower inflation" and make financial stability a priority.
Trouble for Erdogan?
Erdogan announced last month that Turkey would hold snap parliamentary and presidential elections in June, more than a year earlier than expected. This follows a referendum last year that transformed Turkey's parliamentary democracy into a powerful executive presidency, with the next president set to be handed sweeping new powers.
The winner of June's vote will be able to use those powers sooner than planned. Erdogan was the leading favorite.
But some analysts are starting to think his reelection isn't guaranteed.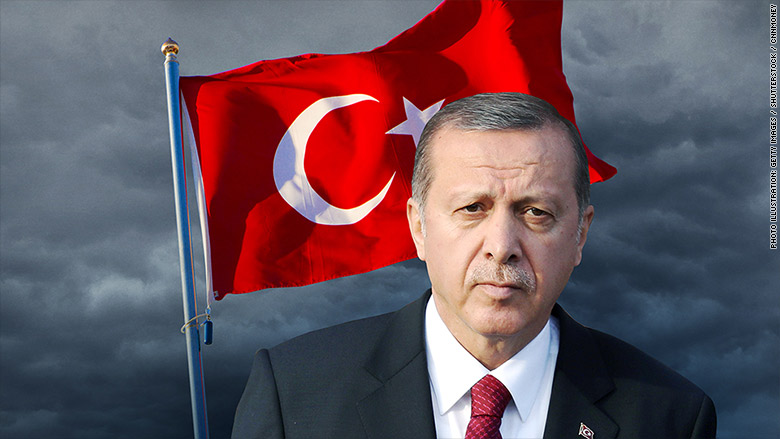 Turkish President Recep Tayyip Erdogan called snap elections for June.
"This could really hurt Erdogan at the polls," said Timothy Ash, a Turkey expert and senior sovereign strategist at BlueBay Asset Management. "Turks really care about the exchange rate," he added, noting that the lira's crash could lead voters to question the president's economic competence.
Erdogan, who served as prime minister from 2003 until he was elected president in 2014, has always boasted about his economic achievements, which benefited his lower and middle income electoral base.
On Wednesday, he tried to shift the blame for the currency's woes.
"The exchange rate fluctuations are due to global factors and are not related to Turkey alone," he said, according to state news agency Anadolu. Source
Prices do not rise when there is depreciation – Turkish pro-government columnist
The 25-percent devaluation of the Turkish lira this year has not affected prices as Turkey does not use constant exchange rates anymore, pro-government columnist Ali Karahasanoğlu said on Thursday in the Islamist Yeni Akit newspaper.
According to Karahasanoğlu devaluation and depreciation affect the daily lives of citizens in different ways. Karahasanoğlu said that, when exchange rates were constant and the lira was devalued every two months, people stocked goods till devaluation and the prices of goods rose afterwards. He said that, at those times, people could not understand why the prices of goods produced in Turkey also rose.
"Since the start of the year, there has been a 25-percent devaluation against the dollar, if we use the terms in the old system, the price of dollar increased by 25 percent but in my daily life I bought bread at 1.25 lira at the start of the year. I still buy it at the same price. We need vegetable oil, I buy it at the same price as at the beginning of the year. The price of water I use is the same. The price of natural gas is the same, so is the price of electricity. There is a slight difference in the price of gasoline/diesel fuel …. So, why should we care about the dollar, or the rise in the price of the dollar?," Karahasanoğlu asked.
According to the Turkish Statistical Institute's April 2018 Consumer Price Index, prices of food and non-alcoholic beverages increased by 5,84 percent between January-April 2018. The prices of housing, water, electricity, gas and other fuels increased by 4.65 between Dec. 2017 and Ap. 2018. Source

Turkish nation sees game being played over the dollar - gov't spokesperson
Turkish government spokesman Bekir Bozdağ said on Tuesday the Turkish nation was aware of the game being played against the country through the U.S. dollar, in responding to Wednesday's plunge of the nation's currency, secular Cumhuriyet daily reported.
The Turkish currency dropped to a record-breaking of 4.92 per dollar on Wednesday, falling about 5 percent and leading to growing fears of economic instability as the country heads towards parliamentary and presidential elections on June 24.
"Those who think they can change the outcome of these elections by manipulating the dollar after damaging the pockets of the people or the people themselves are deceived," Bozdağ said. "The nation sees the game and they see the player, too. The nation has seen both the puppet and the puppet master … God willing, June 24 will be a new day, as well as the beginning of a new era." Source
Lira may slide to 6 per dollar – Commerzbank analyst
A meltdown in the lira could intensify unless the central bank takes action to arrest the currency's decline, according to Tatha Ghose, an economist at German bank Commerzbank AG, Sputnik reported.
The lira could slide to as low as 6 per dollar from a record of 4.92 on Wednesday, Ghose warned, according to thewebsite.
Turkey's central bank could have intervened weeks ago to steady the lira at 4 per dollar. An intervention now would only bring the currency back to 4.3-4.5, he said.
The lira has slid to record lows almost on a daily basis amid a general sell-off in emerging markets and as the central bank failed to intervene with rate increases. Turkey's economy is overheating, according to ratings agencies and the IMF, and President Recep Tayyip Erdogan, facing re-election in snap polls on June 24, has opposed hikes in interest rates claiming they are inflationary. Source

Turkey's economic management team meet to discuss economy as lira plunges
The Turkish government's economic management team met at the beginning of this week to discuss potential measures, including possible steps by the Central Bank, economic officials told Reuters on May 23.
Deputy Prime Minister Mehmet Şimşek and Central Bank governor Murat Çetinkaya also attended the meeting on May 21, according to the officials.
The meeting came after rising concerns about the monetary policy and a greenback rally, as the Turkish Lira has been gripped by a sell-off.
Over the week, the top mover in the currency market was the lira, which fell more than two percent early on May 23 to a record low of 4.8450 after rating agencies sounded the alarm on May 22 over plans by Erdoğan to tighten his grip on monetary policy. So far, the lira has fallen around 15 percent this month. Source

Lira woes could quickly sour Turkey's finances: S&P
S&P rates Turkey at BB-, already lower than rivals Moody's and Fitch following a downgrade this month, but one of its most senior sovereign analysts, Frank Gill, told Reuters it could potentially act again if the market rout continued.
The lira touched a record low on Tuesday, having dropped around 18 percent this year on investor concerns over plans by President Tayyip Erdogan to tighten his grip on monetary policy.
Asked whether S&P would reconsider the 'stable' outlook it put on Turkey's rating as part of the downgrade if there was no let-up in the pressure, Gill said "potentially".
"The concern is that the balance of payments situation worsens and that really starts to hit growth and the fiscals pretty quickly, and the banks."
He added that higher oil prices were not being passed on at petrol pumps, meaning that the government's tax income was falling there too, while the large amounts of dollar loans given by the country's banks were becoming more expensive to repay due to the lira's slump.
Since September, when the combination of problematic politics and fast rising inflation began to unnerve investors, The currency has dropped almost 30 percent.
"A lot will ultimately depend on what the central bank does - if anything," Gill said.
At the same time, he said Ankara had some "substantial buffers" and there is "absolutely a way out of this," if authorities did take firm action.
"We think the government has some fiscal space but obviously if you do see a hard economic landing and demand really starts to weaken off from arguably overheated levels, that is going to affect the fiscal position pretty quickly."
The comments came alongside another warning from Fitch on Tuesday, which rates Turkey two notches higher than S&P at BB+.
It said Erdogan's "explicit threat to curb the central bank's independence increases risks to the policymaking environment and to policy effectiveness."
Erdogan is hoping to strengthen his grip on power in presidential and parliamentary elections on June 24. Source