The new Turkey
Turkey - US
relations
May 2018
03-Jun-2018
30 May 2018 - No agreement with Turkish government over Manbij, says US State Department
The United States and Turkey have not reached a deal over the northern Syrian city  of Manbij despite reports in Turkish press that the U.S. and Turkey will provide security for the Syrian Democratic Forces (SDF) that will be withdrawing from the region , US State Department Spokesperson Heather Nauert told reporters on Tuesday.
Turkey and the United States have been negotiating over fate of Manbij - captured by U.S.-backed Syrian Democratic Forces (SDF) from Islamic State (ISIS) in August, 2016  - for months; Turkey's ongoing military operation into Syria has taken the sides on a collision course over the Syrian city, where the U.S. maintains military presence.
 ''Here's what I can tell you.  We don't have any agreements yet with the Government of Turkey… We're continuing to have ongoing conversations regarding Syria and other issues of mutual concern,'' Nauert said.
 US Department of State spokesperson said that the two sides had outlined the contours of a roadmap for further cooperation, and that includes on Manbij and added that U.S. Secretary  of State Mike Pompeo is looking forward to hosting his Turkish counterpart Mevlüt Çavuşoglu on in Washington on June 4 to further discuss the matter.
Nauert also responded to Turkish Interior Minister Süleyman Soylu's statemen t that the U.S. ambassador to Turkey John Bass was responsible for the flow of drugs and refugees from Afghanistan, saying, ''I think it's an absolutely ridiculous accusation.'' Source
28 May 2018 - American pastor standing trial in Turkey 'a totally innocent man,' says Trump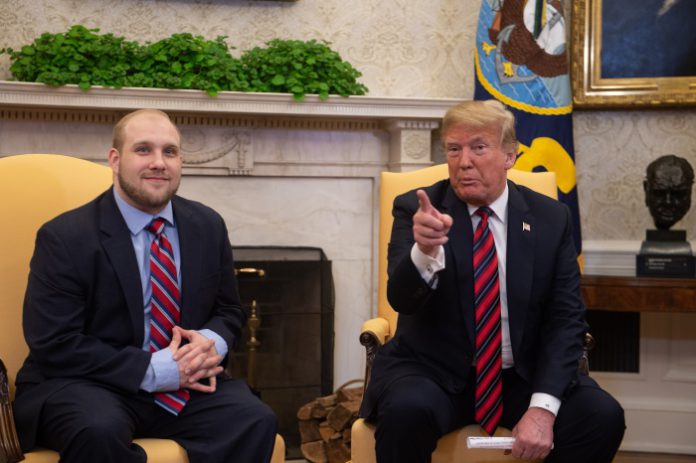 An American pastor standing trial in Turkey on allegations of aiding terrorist groups is "a totally innocent man," US President Donald Trump said on Saturday, The Daily Caller reported.
"We have Pastor [Andrew] Brunson, a wonderful Christian pastor, and he's right now in Turkey. He's been there a long time. And they say he's a spy, but he's not a spy," Trump said during a meeting in the Oval Office.
Trump made the remarks during a meeting to celebrate the release of Joshua Holt, a Utah man who was jailed in Venezuela in 2016 on accusations of being a CIA spy. Holt, 26, had traveled to Venezuela to marry a woman he met online.
Trump said his administration was also fighting hard for Brunson, who the Turkish government has also accused of being a CIA spy.
"Pastor Brunson — I hope you can hear us — we'll be helping you at some point. We've been working on it for a while. He's been there a long time, and he's a totally innocent man," Trump said.
"We're going to all work, and we've been working for his release. He's having a hard time. There's a trial going on, but the trial is not so much of a trial. And we're talking to the folks in Turkey about doing something about it," the president added.
Brunson, a North Carolina native, is currently standing trial on charges of aiding the outlawed Kurdistan Workers' Party (PKK) as well as supporters of Fethullah Gülen, a Muslim cleric who has been living in self-imposed exile in the US since 1999.
He faces up to 35 years in prison if convicted on charges that also include espionage.
Gülen is accused by the Turkish government and President Recep Tayyip Erdoğan of orchestrating a July 15, 2016 coup attempt, a claim strongly denied by Gülen and the movement he inspired. Erdoğan has pressed the Obama and Trump administrations to return Gülen, but American authorities have said they have yet to see evidence showing the imam was involved in the putsch.
Brunson is being held as leverage to obtain Gülen's extradition, Erdoğan has publicly stated.
"The US should look at the steps it has taken and comply with the extradition treaty if it wants American Pastor Brunson," Erdoğan said in an interview with a Turkish television outlet.
"Give us the pastor back,' they say. You have one pastor as well. Give him [Gülen] to us. … Then we will try him [Brunson] and give him to you. The [pastor] we have is on trial. Yours is not — he is living in Pennsylvania. You can easily give him to us. You can hand him over right away" Erdoğan had said in a speech last year.
Brunson was arrested along with his wife in October 2016 in Izmir, Turkey, where the couple ran a small Christian church.
Turkish authorities refused for months to reveal details of the case against Brunson, who had lived in Turkey for 23 years when he was arrested. A secret witness had evidence Brunson helped Kurdish groups and groups that support Gülen, Turkish authorities have claimed. Source
24 May 2018 - US Senate defense bill would bar Turkey from buying F-35 jets
A United States Senate committee passed its version of a $716 billion defense policy bill on May 24, including a measure to prevent Turkey from purchasing Lockheed Martin F-35Joint Strike Fighter jets. 
The amendment to the National Defense Authorization Act, or NDAA, from Democratic Senator  and Republican Senator Thom Tillis, would remove Turkey from the F-35 program over its detention of U.SJeanne Shaheen. citizen Andrew Brunson, Shaheen's office said.
Brunson, a Christian pastor who could be jailed for up to 35 years, denied terrorism and spying charges in a Turkish court this month. He has been in pre-trial detention since 2016.
It also faults NATO ally Turkey for its agreement with Russia in December 2017 to buy S-400 surface-to-air missile batteries. Ankara wants the system to boost its defense capabilities amid conflicts across its borders in Syria and Iraq.
According to Shaheen's office, the intention to purchase the Russian system is sanctionable under U.S. law.
"There is tremendous hesitancy [about] transferring sensitive F-35 planes and technology to a nation who has purchased a Russian air defense system designed to shoot these very planes down," said Senator Shaheen.
Relations between Ankara and Washington have been strained over a host of issues in recent months, including U.S. policy in Syria and a number of legal cases against Turkish and U.S. nationals being held in the two countries.
Turkey has said it would retaliate if the U.S. enacted a law halting weapons sales to the country.
Turkey plans to buy more than 100 of the F-35 jets, and has had talks with Washington about the purchase of Patriot missiles.
The move to buy S-400s, which are incompatible with the NATO systems, has unnerved NATO member countries, which are already wary of Moscow's military presence in the Middle East, prompting NATO officials to warn Turkey of unspecified consequences.
The NDAA is several steps from becoming law. The House of Representatives passed its version of the legislation earlier on May 24. The Senate must still pass its version of the billand the two versions must be reconciled before a final compromise bill can come up for a vote in both the House and Senate later this year. Source
18 May 2018 - Turkey faces two sanctions threats from US
Proposals to prevent the United States from selling Turkey weaponry have been made in both houses of Congress, putting a large order of fighter jets and bilateral relations more generally into jeopardy.
The United States House Committee on Armed Services approved a draft bill containing a clause that would stop the sale of arms to Turkey until the U.S. defence secretary provided Congress with a report on the United States' relationship with Turkey.
The bill, on the topic of the U.S. defence budget for 2019, was approved by 60 votes to 1, and will be debated in both houses.
Another bill, proposed in the U.S. House of Representatives, is calling specifically for Turkey's order of over 100 F-35 fighter jets and technology transfer to the country to be cancelled.
"The Ban F-35 Joint Strike Fighter Sales to Turkey Act prohibits the sale or transfer of F-35 aircraft and any related intellectual property or technical data to Turkey," a press release by David Cicilline, who is proposing the measure, said.
"We cannot turn a blind eye to Turkey's thuggish, reprehensible behavior… It's important that we hold NATO members to the same standard we would hold any other country."
Cicilline, whose Rhode Island constituency is home to thousands of Armenian-Americans, received a Gratitude Medal from the country in March this year. Source
18 May 2018 - Turkey recalling ambassador not to diminish relations: US State Department spokesperson
U.S. State Department spokeswoman Heather Nauert said on May 17 that Turkey recalling its ambassador from Washington is not likely to affect the relations between the two countries. 
"We are aware that Turkey has recalled its ambassador. That is within Turkey's right to do so. And I don't see that as diminishing our relationship with the government of Turkey," Nauert told reporters in a briefing on May 17.
"They [Turkey] continue to be an important NATO ally. That is being maintained and we look forward to our next conversations with the government," she added.
Turkey on May 14 declared a three-day national mourning following the killings of dozens of Palestinians by fire opened by the Israeli forces along the Gaza border and has recalled its ambassadors to the United States and Israel for consultations.
The Israeli ambassador to Ankara and the Israeli consul general were also told to leave the country temporarily.
President Recep Tayyip Erdoğan initiated phone diplomacy with leaders of Organization of Islamic Cooperation (OIC) member countries, inviting them to an extraordinary meeting of the organization on May 18.
No agreement yet on Manbij 
During the presser, Nauert also said that talks on Manbij were ongoing and nothing had been concluded.
"This is something that we addressed at NATO when the secretary had met with his counterpart in Brussels as well, and so we just don't have any new updates on that," she added.
"We do have a new secretary, and so he has the ability to have conversations with the government of Turkey, and then they can decide a new way forward if they should want to," Nauert said.
Foreign Minister Mevlüt Çavuşoğlu is expected to meet with U.S. Secretary of State Mike Pompeo for a long awaited meeting in Washington on June 4.
Ankara has long been upset with the U.S.'s partnership with the Syrian Kurdish People's Protection Units (YPG) in the fight against the Islamic State of Iraq and the Levant (ISIL). Turkey considers the group a terrorist organization and has long been asking its NATO ally to cease its cooperation with the group.
Turkey recently cleared Syria's Afrin district of the YPG and has turned its focus to Manbij, where YPG militants and U.S. troops have long been stationed together.
After their meeting in Brussels, Çavuşoğlu expressed optimism that the two countries will soon approve the road map and will begin to implement it.
Jailed pastor Brunson case 
At the press briefing Nauert also brought up the case of jailed U.S. pastor Andrew Brunson.
"His case is one that we watch very carefully, very closely, not just here at the State Department. I know the vice president has been keeping a close eye on it," she said.
"This is also something that the president [Donald Trump] has watched very closely and carefully. It's something that this administration continues to bring up in its bilateral meetings with the government of Turkey, and at the next opportunity. Congress is also following this very carefully and very closely," Nauert added.
A court in the Aegean province of İzmir on May 7 decided to keep Brunson in jail up until the next hearing on July 18.
Brunson was arrested in October 2017 and now faces up to 35 years in jail on terror and spy charges.
Trump and the U.S. State Department have repeatedly called on the Turkish government for his release. Source
Trump selling Turkey F-35s could be his biggest mistake
U.S. President Donald Trump could be making the biggest mistake of his term if he sells stealth F-35 fighter jets to Turkey, according to Michael Rubin, a former Pentagon official and resident scholar at the American Enterprise Institute.
Turkey, a NATO member, is a security risk because President Recep Tayyip Erdoğan, an Islamic authoritarian, supports radical groups such as Hamas and the remnants of al-Qaeda and his senior officials pass on important intelligence to Washington's enemies, Rubin wrote in the Washington Examiner.
Former President Jimmy Carter may be excused for selling F-14 jets to Iran in the 1970's because no one saw the Islamic Revolution coming. But Turkey is not Iran and its revolution has been slow burning, taking years rather than days or weeks, Rubin said.
"If Trump and his administration or, more broadly Congress, allow delivery of F-35s to Turkey, they will be betraying U.S. intelligence to America's enemies and putting American lives at risk," he said. "That is not how anyone on either side of the aisle can claim to be making America great."
Relations between Turkey and the United States have taken a nose dive over the past year after Turkey invaded northern Syria and threatened to attack U.S. troops there should they continue to support Kurdish fighters. Legal proceedings against senior Turkish officials, including bankers, for breaking sanctions on Iran and the continued presence in the United States of Islamic preacher Fethullah Gulen, who Turkey blames for a failed coup in July 2016, have also strained ties severely.
Time is running out to cancel delivery of the fighters – F-35s designated for Turkey made their first test flight in Texas last week. Turkey is due to receive the first of up to 100 of the planes in just over a month, according to a delivery schedule.
Although three U.S. senators have threatened to block the handover so long as Erdoğan holds a U.S. pastor in a Turkish jail, the dangers of providing the aircraft to Ankara run far deeper than the Turkish president's hostage diplomacy, Rubin said.
Turkey has ordered S-300 air defence missiles from Russia, held unannounced air force war games with China and Erdoğan has urged war against Israel and personally backed an al-Qaeda financier, Rubin said. Turkish intelligence chief Hakan Fidan also allegedly revealed the identities of Israeli agents spying on Iran's nuclear programme, he said.
"Under President Recep Tayyip Erdoğan, there is hardly an American enemy to which Turkey did not leak intelligence or partner with in order to subvert U.S. security," Rubin said. Source
15 May 2018 - Halkbank trial could completely destroy U.S.-Turkish relations, says Erdoğan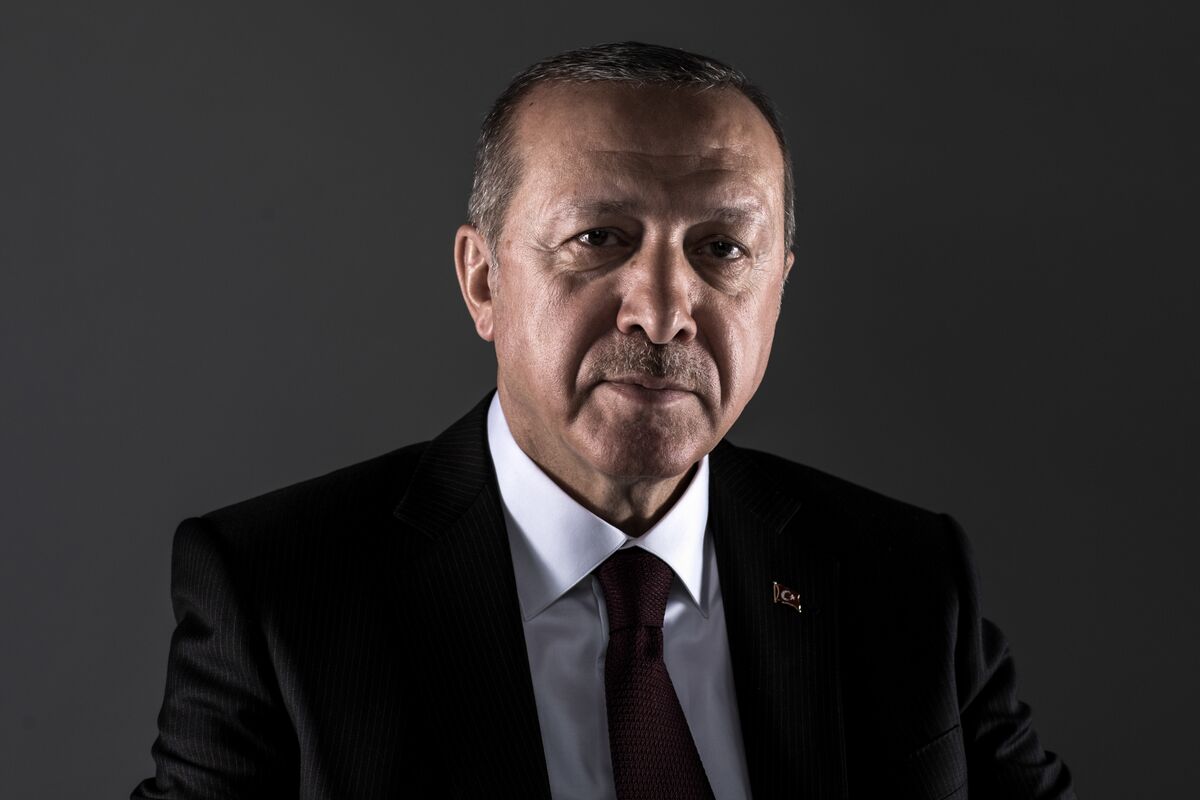 The outcome of a trial in the United States which uncovered a sanction-breaking scheme involving Turkish state officials and bankers could "completely destroy" relations between the two countries, Turkish President Recep Tayyip Erdoğan suggested during an interview with Bloomberg TV on Monday.
"Of course, right now a great injustice is being done to HalkBank," Erdoğan told Bloomberg TV's Guy Johnson, referring to the Turkish state-owned bank embroiled in the scheme to break U.S.-sanctions on Iran.
The New York Southern District court was told last December that Iranian money had been moved through HalkBank until 2016 using mechanisms designed by the trial's defendant, HalkBank executive Mehmet Hakan Atilla set up gold transfers and imaginary food exports.
"Hakan Atilla is a friend of ours who has been regularly visiting the U.S. and has been detained in his last, or his sixth visit, without any crime existing. There should be no such injustice," said Erdoğan.
After star witness Reza Zarrab, a Turkish-Iranian gold trader, gave testimony implicating Erdoğan and Turkish former finance minister Zafer Çağlayan during an eventful trial, Atilla was convicted on five of six charges last January and is currently awaiting sentencing. Prosecutors have recommended a sentence of at least 15 years.
Erdoğan maintains that Atilla is innocent, but admitted he did not know what the final result of the court would be.
"I hope it doesn't yield a result that will completely destroy Turkish-U.S. relations," he said, later adding that "if Hakan Atilla is going to be declared a criminal, that would be almost equivalent to declaring the Turkish Republic a criminal."
With the United States expected to level a substantial fine at HalkBank, speculation has mounted over whether the Turkish state will step in to pay any fine.
Turkish Deputy Prime Minister Mehmet Şimşek said in January that while HalkBank would be responsible for paying any possible fine, the Turkish government would step in to provide assistance in the event that a ruling puts the bank into serious financial trouble.
As the country's economy continues to stutter and the lira's value plunge, there is a good chance that the fine will be high enough to cause a crisis in Halkbank, Andy Birch, an economist at IHSMarkit, told Ahval TV on Tuesday.
Pressed by interviewer Guy Johnson on the issue of the fine, Erdoğan refused to guarantee that the government would intervene to pay the fine, but said the bank would "do what the laws require (it) to do." Source
Turkey to take economic measures against United States
Turkey is to respond to tariffs imposed on metal imports by the United States with countermeasures, Economy Minister Nihat Zeybekçi was quoted by Islamist newspaper Akit as saying.
The United States put a 25 percent tariff on imports of iron and steel and 10 percent on aluminium, but excluded various countries including those in the European Union and South Korea, Brazil, Mexico and Canada from the measures.
Steel-exporting countries including Turkey, India and China stand to lose out as a result.
"We said that Turkey needed to be kept out of this business," Zeybekçi said.
"At last, from this week, we are saying that Turkey will take countermeasures and inform them of it. We said that we too, in the same way, would take measures against them on the same basis they have set out in terms of our imports from them."
From now on, the balance of trade between Turkey and the United States would alter in Turkey's favour, Zeybekçi predicted.
Turkey is the sixth-largest exporter of steel to the United States, providing the country with 6 percent of its steel imports, worth $1.2 billion. Source
8 May 2018 - U.S. Congress aims to rein in Turkey-U.S. relations


The United States Congress' Armed Services Committee released on Friday a "FY19 National Defense Authorization Bill," in which the chairman calls for a halt on weapons sales to Turkey. 
The $717 billion bill needs to be approved by the floor and Chairman's call is unlikely to be dropped in the final bill. 
Turkey and the United States have had a rough patch in their relations since the Jul. 15 2016 coup attempt. Turkish President Recep Tayyip Erdoğan has demanded the extradition of Turkish cleric Fethullah Gulen, who has been living in Pennsylvania, due to his alleged leading role in the failed coup. Erdoğan's government has also expressed anger at the U.S. administration's policy with regards to the Syrian Kurdish groups such as the People's Protection Units (YPG), which have been allies of the United States in northern Syria against the Islamic State militants since the late 2014. 
The Armed Forces committee bill requires "the Secretary of Defense, in consultation with the Secretary of State, to submit a report on the U.S.-Turkish relationship to" the congressional committees, "not later than 60 days after the date of the enactment" of the bill.
The legislation also prohibits to deliver military sales to Turkey "until the required report is delivered to the specified congressional committees."
Ankara has been a joint partner for the F-35 fifth generation fighter jets and is projected to receive over 100 F-35s in upcoming years.
Turkey is also in the process of buying the S-400 air defence system from Russia, a deal which the U.S. government have threatened to sanction the country over. Turkish Foreign Minister Mevlüt Çavuşoğlu, after his first meeting with U.S. Secretary of State Mike Pompeo in Brussels two weeks ago, stated that the purchase of the S-400 systems is a done deal. Çavuşoğlu is expected to visit Washington to meet with Pompeo in May.
According to the "findings" of the bill, the recent "strained" relationship between Turkey and the U.S. government is "due to several provocative actions taken by the Government of Turkey. The potential purchase by the Government of Turkey of the S-400 air and missile defense system from the Russian Federation has led to tension with the relationship."
The U.S. bill says these actions of the Ankara government "could negatively impact common weapon system development between the United States and Turkey." What is more, the same bill says, the Ankara government's actions "could impact current bilateral agreements between the United States and Turkey."
The legislation prohibits delivery of weapons until the report has been prepared. In the report, "an assessment of United States military and diplomatic presence in Turkey, including all military activities conducted from Incirlik Air Base or elsewhere" has been requested. 
İncirlik, in southern Turkey, is the site of a major U.S. airbase that services operations around the Middle East region and acts as a vital transit link to areas as far afield as Afghanistan.
The bill also asks other U.S. institutions to prepare "an assessment of the potential purchase by the Government of Turkey of the S400 air and missile defense system from the Russian Federation and the potential effects of such purchase on the United States-Turkey bilateral relationship, including an assessment of impacts on other United States weapon systems and platforms operated jointly with Turkey to include—
(i) the F-35 Lightning II Joint Strike aircraft, to include co-production;
(ii) the Patriot surface-to-air missile system;
(iii) the CH-47 Chinook heavy lift helicopter; 
(iv) the AH-1 Attack helicopter;
(v) the H-60 Black Hawk utility helicopter; and
(vi) the F-16 Fighting Falcon aircraft." Source
Turkey may take serious steps if US applies sanctions
The chairman of the powerful U.S. House of Representatives Armed Services Committee drafted a law that asks the Trump administration to provide a comprehensive report on the Turkish-American defense relationship and submit it to the Congress. The proposed legislation blocks the delivery of military equipment to Turkey until the report is submitted in 60 days after the enactment of the bill.
The possible U.S. embargo may trigger a new crisis between the two countries. Ankara closed U.S. bases in the 1970s, including İncirlik Air Base in southern Adana province, following a U.S. arms embargo to Turkey due to the Cyprus intervention in 1974.
Chairman Mac Thornberry's (R-Texas), House Armed Services Committee, released on Monday his own mark for the fiscal 2019 defense bill, or known as the National Defense Authorization Act (NDAA).
The bill seems to alleviate Congressional concerns over Turkey's purchase of S-400 air defense systems from Russia, which received repeated objections from U.S. officials, citing the interoperability problems with NATO defense architecture and the current Congressional sanctions against the Russian defense industry.
Instead of imposing sanctions against the Turkish defense industry, the committee chairman seems decided to send a signal to the Turkish government by inspecting the whole Turkish-American defense relationship and meanwhile symbolically blocking the delivery of some goods for a short time.
Haluk Görgün, chairman of the executive board of ASELSAN, leading Turkish defense contractor, said that it is not possible to impose a sanction to Turkey because the F-35 program will be collapsed if the U.S. blocks deliveries of the fighter jets to Turkey. "I think these [senators] are individual opinions. Turkey is an important partner in the project," he said.
Washington's decision to impose an arms embargo on Ankara in the 1970s brought bilateral relations on the verge of rupture. Following a Greek Cypriot coup, which was followed by violence of paramilitary groups against the island's Turks, Ankara made an intervention as a guarantor power. The intervention triggered a U.S. arms embargo on Turkey. A year later, Ankara responded by closing 21 bases and facilities belonging to the U.S. in Turkey, including İncirlik. Washington backtracked and removed the arms embargo after three years of strained relations. In 1980, following the Sept. 12 coup in Turkey, U.S. bases were taken into service again.
Also, the Turkish Armed Forces Strengthening Foundation (TSKGV) was founded after the embargo, which aimed to reduce the defense industry's dependence on imports, with investments made to form the Turkish Aerospace Industries (TAI), ASELSAN, İŞBİR, ASPİLSAN, HAVELSAN, and ROKETSAN, a group defense contractors.
The section of the bill requires the Secretary of Defense to submit a report that assesses U.S. military and diplomatic presence in Turkey, including all military activities conducted from Incirlik Air Base or elsewhere. The report would also include a detailed analysis of the S-400 sale and its effects on the Turkish-American relationship and NATO. The proposed legislation mandates the defense secretary to evaluate the Russian S-400 systems potential impact on joint systems and platforms operated by Turkey, that including the F-35 Lightning II Joint Strike aircraft, to include co-production; the Patriot surface-to-air missile system; the CH-47 Chinook heavy lift helicopter; the AH-1 Attack helicopter; the H-60 Black Hawk utility helicopter; and the F-16 Fighting Falcon air-craft.
The House Armed Services Committee will finalize its version of the legislation on Wednesday. Source
7 May 2018 - Secret witness testifies against US pastor Andrew Brunson in Turkey
A secret witness testifying anonymously against U.S. pastor Andrew Brunson in Turkey has claimed that he helped outlawed Kurdistan Workers' Party (PKK) militants and aimed to create a Christian Kurdish state.
The trial of Brunson, who faces up to 35 years in jail on terror and spy charges, resumed in Turkey on May 7.
Brunson rejected the claims in the second session of his trial on May 7, insisting that he "never permitted politics in church."
The leader of a small Protestant Christian church in the western city of İzmir named "Yeniden Diriliş" (Resurrection), Brunson was detained in October and was recently described by U.S. President Donald Trump as a "fine gentleman."
Prosecutors accuse Brunson of activities on behalf of the PKK as well as the network led by U.S.-based preacher Fethullah Gülen, an ally turned nemesis of the government accused of being behind the July 2016 coup attempt.
Brunson, who has lived and worked in Turkey for over two decades, is also accused of espionage for political or military purposes.
He rejected all the accusations directed against him during the first hearing last month in the town of Aliağa, north of Izmir, and from time to time broke down in tears.
"I haven't done anything against Turkey. On the contrary I love Turkey. I have been praying for Turkey for 25 years," he told the judge.
U.S. embassy charge d'affaires Philip Kosnett as well as Sandra Jolley, vice chair of the US Commission on International Religious Freedom, were present at the May 7 hearing.
The case has further inflamed tensions between Turkey and the United States. Trump said the pastor was on trial and being prosecuted for "no reason," in a strong tweet after the Turkish court ruled to keep him in jail.
"They call him a Spy, but I am more a Spy than he is. Hopefully he will be allowed to come home to his beautiful family where he belongs!" Trump said.
The State Department then said it had seen "no credible evidence" that Brunson was guilty of a crime.
Top U.S. officials have raised the pastor's case in meetings with Turkish authorities and have called for Brunson's release.
Turkish Foreign Minister Mevlüt Çavuşoğlu, who will soon meet with U.S. counterpart Mike Pompeo in Washington, said Brunson's case was a legal one.
"They say 'the government should release him.' Is it up to me? This is a decision the judiciary will make," Çavuşoğlu told broadcaster CNN Türk in an interview on May 6. Source
7 May 2018 - Turkey's dangerous game of 'hostage diplomacy' in Brunson trial
Andrew Brunson, the U.S. pastor detained in Turkey, has become a political pawn, wrote reporter Diego Cupolo in The Atlantic magazine.
Brunson, who lived in the Turkish city of Izmir for two decades, was detained in 2016. Brunson, in his trial, which started in April, faces charges of espionage and working for terrorist organizations.
More than a year and a half in prison has taken its toll on Brunson. Following a visit in August 2017, his daughter Jacqueline Furnari described Brunson as, "Kind of weak and broken and desperate."
Sandra Jolley, vice-chair of the U.S. Commission on International Religious Freedom who also visited Brunson last year expressed shock at his condition, "As we proceeded … he expressed his fears of dying alone there. Not being able to see his children in his country again. His deepest fear was that he would be abandoned at some point and that the world would actually believe the charges that had been fabricated against him."
Many consider the charges against Brunson, which may result in a 35-year jail term, to be groundless.
Much of the evidence presented by the prosecution in the first hearing of his trial on April 16th was provided by anonymous witnesses.
"In Turkey, if there's an investigation that lacks evidence, it's kind of the custom now to fortify the case with secret witnesses that have no credibility, no link to reality," said Ismail Cem Halavurt, Brunson's lawyer.
Halavurt also suggested the charges against Brunson are related to humanitarian work he was involved with in southeastern Turkey in 2014, when he and his congregation assisted refugees who fled to Turkey from Syria during the siege of Kobani .
"There is no way that the charges levied against him would have kept somebody in jail in the United States for more than a day," said North Carolina Senator Thom Tillis, who attended the first session of Brunson's trial and co-authored a bipartisan letter  signed by 66 U.S. senators, urging Turkish President Recep Tayyip Erdoğan release him.
Brunson's detention, however, serves a clear political purpose, says Cupolo. With snap elections scheduled for 24th June, Erdoğan wishes to rally support by capitalizing on the nationalist mood in Turkey following recent military operations in Syria. One way to do this is by seeking confrontations with Washington and the Brunson case offers such an opportunity.
"The fact that the U.S. is outraged, the fact that there's discussion of sanctions  … reinforces the very things that many Turks find attractive about Erdogan," said Howard Eissenstat, non-resident senior fellow at Washington-based think tank POMED.
Erdoğan has also suggested exchanging Brunson for Fethullah Gülen , a Turkish cleric based in the US who Turkey believes to be behind a failed coup attempt in Turkey in 2016.  
But in seeking to galvanize support through antagonizing the United States, Erdoğan runs the risk of exposing Turkey to undesirable consequences. Relations between the two countries are already strained over a host of issues including a Turkish deal to buy a Russian air defence system, a brawl in Washington involving Erdoğan's bodyguards and the New York trial of Mehmet Hakan Atilla, a Turkish banker convicted of helping Iran evade sanctions.
In these circumstances, the detention of Brunson can act as a focal point for anger directed against Turkey in the US congress, suggested Aaron Stein, senior resident fellow at the Atlantic Council, a Washington-based think tank. The result may be that the Brunson case pushes Washington adopt a harsh line with Ankara, that may include the imposition of sanctions.
For now, all Brunson and his supporters can do is wait and hope.
"I want to stay hopeful," said Halavurt, "and I am hopeful he might be released. But in cases like this, it's not all about law. There are other things that are in play." Source
6 May 2018 - Turkey says will retaliate if U.S. halts weapons sales
Turkey will retaliate should the United States enact a proposed law halting weapons sales to the country, Reuters quoted Foreign Minister Mevlüt Cavuşoğlu as saying on Sunday.

Çavuşoğlu's comments arrive after lawmakers in the U.S. House of Representatives on Friday released details of a $717 billion annual defense policy bill, which includes a measure to temporarily halt weapons sales to Turkey, the agency reported.

The proposed law would affect Turkey's plans to buy more than 100 of Lockheed Martin's F-35 Joint Strike Fighter jets from the U.S., a purchase which Washington has said would be affected if Turkey pushes forth with its purchase of Russian S-400 missile systems.

The Turkish Foreign Minister said the measures in the bill were ''wrong, illogical and not fitting between the NATO allies.''
"If the United States imposes sanctions on us or takes such a step, Turkey will absolutely retaliate, What needs to be done is the U.S. needs to let go of this," Çavuşuğlu is quoted as saying.


Turkey signed an agreement with Russia in December of last year to buy S-400 surface-to-air missile batteries, and delivery of the system is expected as early as the end of next year.

Turkey's purchase of S-400s, which are incompatible with the NATO systems, has heightened tensions with NATO member countries which are concerned about Moscow's increasing military presence in the Middle East.
Cavuşoğlu ignored NATO warnings last month on the purchase, saying it was a ''done deal'' and Turkish relations with Russia were not alternative the country's relations with the United States. Source
5 May 2018 U.S. lawmakers propose halting weapons sales to Turkey - Reuters
A $717 billion annual U.S. defense policy bill, whose details were released on Friday, include a measure to temporarily halt weapons sales to Turkey, Reuters news agency reported.
The annual National Defense Authorization Act (NDAA), which authorizes the level of defense spending and sets policies controlling how the funding is used in the US, is set be debated in the House Armed Services Committee next week, Reuters said.
The legislation is to ask the Defense Department to provide Congress with a report on the relationship between the United States and Turkey, blocking the sale of major defense equipment until the report was complete, the agency said.
Relations between two NATO allies - the United States and Turkey - have been turbulent lately with Turkey becoming increasingly worried about U.S. backing for Kurdish fighters in Syria, whom Turkey has launched an ongoing military offensive against, supported by the Free Syrian Army (FSA).
Washington maintains that Kurdish fighters play a pivotal role in the fight against the Islamic State (ISIS) in the region.
The defense policy bill includes provisions on Russia and China as well.
The proposed NDAA for fiscal year 2019 includes provisions such as imposing new sanctions on Russia's arms industry in response to treaty violations, ''improving Taiwan's defense capabilities and barring any U.S. government agency from using "risky" technology produced by Huawei Technologies [HWT.UL] and ZTE Corp, which a committee statement describes as "linked to the Chinese Communist Party's intelligence apparatus.''' Reuters reported. Source
5 May 2018 - Charges against Brunson contain a strange mix of conspiracy theories —
and a food video
 When a friend or relative sends a video of an exotic food, most Americans figure it is evidence that either the sender really liked the dish or has too much time on their hands, or both
In the alternative universe that is the trial of American missionary Pastor Andrew Brunson in Turkey, it is evidence of espionage or aid to a terrorist group.
The 62-page indictment of Brunson that is the starting point for the trial cites a video of a Middle Eastern dish called maklube that Brunson's daughter sent him from the United States as evidence of his sympathy with a group the Turkish government blames for a 2016 coup attempt.
Maklube "is a dish cooked by members of the organization at meetings and religious gatherings at the FETÖ/PDY armed terrorist organization's cell houses," the indictment says.
The passage is one of many odd accusations Brunson, who has roots in Black Mountain, and his defense team are being asked to answer in a trial that began April 16 and resumes Monday. He denies the criminal charges, which could carry a 35-year sentence.
RELATED: US pastor Andrew Brunson denies terror links, spying in Turkish court
RELATED:Turkey indicts missionary from Black Mountain
The indictment also says all Christian churches in the U.S. are directed by an organization called CAMA that also includes the FBI and CIA as members, that Mormons make up nearly 40 percent of members of the United States' armed forces serving overseas, and that information someone gathered about gas stations in Turkey shows Brunson was involved in an effort to overthrow the Turkish government.
Whenever people from one culture examine those from another, there is a good chance of misunderstandings.
But Brunson's supporters and others say the sometimes nonsensical accusations made in the indictment underline what they've been saying since not long after Brunson was first taken into custody in October 2016: That Brunson has done nothing wrong and the Turkish government wants to trade his freedom to attempt to get things -- or people -- it wants from the United States.
Brunson's imprisonment "looks like a form of a hostage taking," Robert Pearson, a former U.S. ambassador to Turkey, told the Middle Eastern news outlet Ahval recently.
Turkey wants the United States to extradite Fethullah Gülen, a former ally of Turkish President Recep Erdogan living in Pennsylvania. It regards Gülen, a Muslim cleric, as the ringleader of the 2016 coup.
It has also objected to prosecution of two Turkish nationals indicted on charges of using gold to buy Iranian oil in defiance of restrictions on trade with Iran. One of the men pleaded guilty and testified against the other, who was found guilty in January in federal court in New York.
Testimony at trial suggested the scheme involved people in high places in the Turkish government.
Prayer, Fire and Meteor
Brunson grew up the son of missionaries overseas and spent time in Black Mountain when he was young. Several members of his family, including his parents, live in the Swannanoa Valley today.
A member of the Evangelical Presbyterian Church, Brunson had been in Turkey for more than 20 years when he was taken into custody. He was leading a small Christian church in Izmir, one of Turkey's largest cities, located in the southwestern part of the country.
Brunson's indictment says that the church welcomed Kurdish members and that Brunson had contact with Gulen followers. Turkey says Gülen is head of what it calls a rebel group, known by its initials FETÖ, and a related group called PDY.
Gülen denies involvement in the coup and denounced it.
Kurds are an ethnic minority who live in eastern Turkey and parts of Iraq, Iran and Syria. Many want their own Kurdish nation. Turkey has targeted an armed group that has fought for Kurdish independence, the PKK, and Brunson's indictment alleges that he has had contact with PKK members.
Brunson has denied helping either group and says he either did not know people the indictment says he had contact with or did not know they were, according to the Turkish government at least, affiliated with FETÖ or the PKK.
Brunson's indictment is in Turkish. A conservative Christian group in the United States organizing Brunson's defense, the American Center for Law and Justice, provided a translation to the Citizen Times. Some parts have apparently been redacted.
The indictment relies heavily on the testimony of three secret witnesses given aliases that translate in English as Prayer, Fire and Meteor.
They and other evidence cited in the indictment allege a number of contacts between Brunson and supposed members of FETÖ and the PKK. But what the indictment says little about, however, is just what aid prosecutors contend Brunson gave to either group.
One passage says Brunson had contact with someone important enough in FETÖ to have a code name, "that he and Brunson they are close enough to solve legal problems and collaborate with each other" and therefore Brunson and FETÖ "are sharing the same purpose and acting in accordance with it."
What those acts supposedly are is not precisely stated. Ironically, the passage is based on testimony of a witness who has a code name of their own, Prayer, or Dua in Turkish.
Who's the anti-Christ?
Other curiosities in the indictment include:
--A lengthy discourse on the alleged influence of Mormons in Turkey followed by the allegation that all churches in the United States are connected to an organization called CAMA. Mormon or evangelical missionaries aren't allowed to leave the U.S. unless CAMA -- it isn't stated what the initials supposedly stand for -- gives the OK, the indictment says.
This would all be news to Mormons and evangelical Christians, who do not see eye-to-eye on many theological matters.
The indictment also says CAMA "holds sway over all the churches" in America. 
"I've been a Christian all my life and I've never heard of that organization," said CeCe Heil, an official with the ACLJ, the U.S. group supporting Brunson. "It's really just outlandish, unfounded, outrageous accusations."
More: Jailed missionary with local ties living 'dark days' in Turkey
--The allegation that some employees of the CIA, FBI and National Security Agency are "known as the 'Mormon Gang' by the US public, and this term ... is used often in American social media."
A Google search by the Citizen Times turned up on a few online references to Mormon gangs. The most prominent refer to groups of teenagers or young adults or to actions during conflicts with Native Americans in the 19th century -- not powerful government agencies.
--Some websites of Protestant groups say Erdogan is the anti-Christ and will play a role in events leading to the apocalyptic battle of Armaggedon in the Middle East, forecast in the book of Revelation in the Bible.
There are some accusations to this effect on the internet, although the number of people who adhere to the idea is almost surely tiny.
The indictment attempts to suggest that theory might be a motive for Brunson to help coup plotters. Brunson has denied any interest in overthrowing the Turkish government.
And Erdogan is not the only one to get the anti-Christ label. There are also websites that accuse President Donald Trump, former President Barack Obama, German Chancellor Angela Merkel and French President Emmanuel Macron of being the anti-Christ.
In fact, it appears they far outnumber those spinning end-of-times theories about Erdogan.
And, there are a few accusations out there in cyberspace, probably satirical, that Mickey Mouse is the anti-Christ too.
--Someone has gathered information on the location of gas stations and on some railroad workers in Turkey. It isn't clear who or what their connection to Brunson supposedly is.
The indictment says perhaps the stations were destined to be logistics centers in case of an occupation of Turkey.
It quotes the secret witness as saying, "I was not able to make any sense of" the significance of the railroad information.
--That the video of maklube is somehow evidence against Brunson because people in the PKK eat it.
The dish is a sort of layer cake in which chicken, rice and vegetables are piled over each other and cooked. It's flipped over so the meat is on top when it's served.
Heil, the ACLJ official, said Brunson's daughter grew up in Turkey, saw someone eating the dish while in the United States and thought her father would enjoy seeing it.
The indictment says her video was found on Brunson's mobile iPhone.
Food writers describe maklube, sometimes spelled maqluba, as a special dish prepared by people in several Middle Eastern countries.
An internet search shows that you can order it at a restaurants in Turkey or in other countries including Spain, Germany and Austria.
Sen. Thom Tillis, R-N.C., who attended the first day of Brunson's trial April 16, recounted the role maklube plays in Brunson's prosecution in remarks on the Senate floor April 25.
"I'm telling somebody who's traveling to Turkey: Be careful what you eat and be careful what you like and don't put it on Facebook because you too could find yourself in a Turkish prison," he said.
Tillis seemed to sense that some people might find the idea outlandish.
Twice he told his audience, "I'm not making this up."
Freedom for Brunson said to be unlikely soon
BLACK MOUNTAIN – An independent observer and an official with an organization supporting the defense of Pastor Andrew Brunson say they have little hope that the American missionary will get a fair trial or be released soon.
Brunson's trial on charges of espionage and aiding a tourism organization resumes Monday in Turkey, where he has been held since October 2016.
CeCe Heil, senior counsel at the American Center for Law and Justice, says Brunson's Turkish attorney said political trials there often convene and recess multiple times and years can go by before they are completed.
The attorney thinks the Brunson trial will probably last "two years at the very least."
Given what she said is the absurdity of the charges against Brunson, "I think there is zero percent likelihood of a fair trial."
Gönül Tol, director of the Center for Turkish Studies at the Middle East Institute, was equally pessimistic. The institute is a nonpartisan Washington think tank that seeks to improve understanding of the Middle East among Americans.
A panel of three judges will decide Brunson's fate and the Turkish judiciary is "under the complete control of Erdogan," Tol said, referring to Turkish President Recep Erdogan.
Heil and Tol both said Erdogan is clearly looking to swap Brunson for a political enemy in the United States he blames for a July 2016 coup attempt, a Turkish national involved in a money laundering scheme that allegedly involved officials high in the Turkish government or for other concessions.
Tol said early signs from the Trump administration gave Erdogan the false impression that he could obtain the extradition of Fethullah Gulen, who now lives in the U.S.
Michael Flynn had worked on Turkey's behalf and called for Gulen to be sent to Turkey before Trump was elected. He served briefly as Trump's national security advisor before being forced to resign because, the administration said, he was not forthcoming about his ties to Russian officials.
Some news outlets have reported that Flynn is under investigation for an alleged scheme that would involve kidnapping Gulen for Turkey. He denies any such plan.
President Donald Trump initially had warm words for Erdogan despite the Turkish leader's erosion of civil liberties there, but he and other administration officials have also repeatedly pressed for Brunson's release.
Erdogan has talked about the possibility of trading Brunson for Gulen, which Tol said will make it harder for him to release Brunson now for fear of losing face.
"At this point it's very difficult to walk back from that statement," she said.
And, Tol said, Brunson's freedom is one of a relatively small number of incentives Turkey thinks it can use to affect American actions on other issues.
"There's just a lot that Turkey wants from the U.S. and yet it doesn't have that much leverage," she said.
More: Turkey shouldn't get fighter jets while it holds missionary, senators say
As much as she would like to see Brunson released, Heil rejected the idea of an exchange of prisoners.
"That isn't what the United States does. We don't trade and we don't deal with terrorist threats like that," she said. "I think that would make every American a target" for kidnapping or imprisonment by those who want something from the U.S.
Instead, she says the Trump administration has been persistent in pressing for Brunson's freedom and needs to keep up those efforts.
Eventually, she hopes Turkish officials will decide the Brunson case is so poisonous to U.S.-Turkey relations that their best course is to let Brunson go without getting someone they want in return.
"That would do a lot more to establish good relations with the United States" than any trade, she said. Source
2 May 2018 - Syria's Kurds hurt by U.S. betrayal after Turkish invasion - analysis
There is a growing sense of anger and frustration among Kurds in northern Syria towards the United States due to its failure to stop Turkey's attack and capture of the Syrian Kurdish town of Afrin, The Times said.
Video of the desecration of the body of a female Kurdish fighter by Free Syrian Army (FSA) forces allied to the Turkish army had come to "symbolise not only the savagery of the Kurds' enemies in this latest chapter of Syria's war, but also the sense of a huge betrayal at the hands of their Western coalition allies," Anthony Loyd wrote in the British newspaper.
The video shows an FSA fighter, surrounded by jeering comrades, standing on the chest of the young woman whose breasts had been removed and stomach slashed.
The battle for Afrin was the worst defeat for the Kurds in Syria, resulting in the deaths of at least 820 Kurdish fighters, the newspaper said.
The United States maintains that Kurdish forces are vital in its battle against the remnants Islamic State in the region, but the Kurds feel betrayed by U.S. inaction in Afrin and confused by U.S. President Donald Trump's policy in Syria.
The Kurds are "baffled by the seesaw contradictions of U.S. strategy in northern Syria and unsure how to read President Trump's recent comments alluding to a U.S. withdrawal from the country altogether," Loyd wrote. "Syria's Kurds, key to defeating ISIS in Syria, are beginning to question if they have any real allies."
When asked about U.S. strategy in Syria, Abdulqarim Omer, the head of the Kurds' foreign relations committee in Syria, said: "We don't know what it is! And the Americans don't know either!"
Despite U.S. claims of having "decimated" ISIS, Kurdish commanders say the extreme jihadist group still has at least 10,000 fighters, including 1,500 foreigners, in the east of Syria.
The Kurdish-led offensive against ISIS stopped in early February after commanders were forced to divert many key units to defend Afrin against the Turks and FSA, The Times said.
"The Turkish attack on Afrin cost us our momentum against ISIS at a key stage," Roni Walat, a senior Kurdish commander said.
"What will happen to us after we defeat Daesh? Will the coalition just sacrifice us for others?" Walat asked, using the Arabic acronym for ISIS.
Trump said in mid-April that U.S. troops would soon be withdrawn from Syria, but the U.S. ambassador to the United Nations, said shortly afterwards that U.S. troops would not be removed until ISIS was defeated. Source
.