The new Turkey

Turkey - US relations. Some articles from february 2018.
17-Feb-2018
Pentagon spokesman responds with concern to Erdoğan tirade
A Pentagon spokesperson has responded to criticism from Recep Tayyip Erdoğan after the Turkish president took offence to his remarks about civilian casualties in the ongoing Turkish offensive in northwest Syria, Operation Olive Branch.
Pentagon spokesperson Major Adrian Rankine-Galloway's response emphasised the United States' significant concerns around the fighting in Afrin and reiterated the call for measures to prevent civilian casualties in Olive Branch, which has slowly advanced towards the town centre of Afrin since it was launched on Jan. 20 this year.
Rankine-Galloway's previous comments about civilian casualties earlier this week prompted an indignant reaction from the Turkish president.
"The thing that upsets us the most is the hypocrisy and insincerity of some of our partners, of some countries with which we have profound political and military relations," responded Erdoğan during a speech on Friday, accusing Washington of double standards for ignoring the Syrian regime's atrocities elsewhere in Syria while criticising Turkey's operation in Afrin.
"We are very concerned about the situation in northwest Syria, and we call on all parties to remain focused on defeating ISIS, de-escalating and resolving the Syrian conflict, and protecting innocent civilians," wrote Rankine-Galloway in an email response to Ahval's questions regarding Erdoğan's comments.

Pentagon spokesperson also said that Syrian President Bashar al-Assad's regime "continues to commit atrocities against the Syrian people, abetted by international backers", and highlighted the regime's attacks in Eastern Ghouta, Bayt Jinn, and Idlib province which he said were in violation of international agreements.

The fighting in Afrin is particularly damaging for U.S.-Turkey relations since Turkey's considers the People's Protection Units (YPG), U.S. allies against ISIS, as its adversary. Erdoğan also repeated his threat to take the fight against the YPG to the nearby area of Manbij, where U.S. special forces are deployed.

Rankine-Galloway addressed the complicated situation between the two NATO allies and the Syrian Kurdish forces in the email, saying that the United States recognised the Afrin operation as Turkey's right to secure its border. He went on to say that the "armed Kurdish groups" defending Afrin were not partners with the United States.

Source: https://ahvalnews.com/us-turkey/pentagon-
spokesman-responds-concern-erdogan-tirade
U.S. caution grows over Turkish F-35s – lobbyist
20 February 2018

U.S. opposition is increasing to the sale of F-35 stealth fighter jets to Turkey, a purchase that would upset power balances in the Aegean Sea, according to Endy Zemenidis, executive director of U.S.-based Greek lobby group, the Hellenic American Leadership Council (HALC).
A growing number of officials in the U.S. foreign policy establishment and Congress are seeing Turkey as an unpredictable and unreliable ally, Zemenidis said, according to Greek website Ekathimerini.


Last week, HALC and the Armenian National Committee of America (ANCA) began a campaign to block the sales of the fighter jets, saying Ankara is using U.S. weapons against allies and strategic partners. Turkey's planned purchase of Russian S-400 defence missiles, which U.S. officials say is not compatible with NATO protocol, has also increased opposition to selling the aircraft to the country.
"Turkey's provocations occur consistently and steadily more dangerous," Zemenidis said, referring to tensions in the Aegean and around the gas-rich island of Cyprus. "Allowing them to marry these provocations with the latest in American military technology is a recipe for disaster.
"There will be very strong opposition in Congress – which already acted against small arms sales to Turkish security forces – and in which measures challenging the F-35 transfer have been circulated. Turkey's critics are prominent, vocal and growing in numbers."
Turkey approved an initial order for two F-35s in May 2014 and is to take delivery of 10 aircraft per year after they enter service in 2018, with 100 F-35s on order. The country has invested $195 million in the program since 1999.
The Turkish military has launched an offensive against Kurdish militant in Syria who are allied with the United States in its fight against Islamic State (ISIS). Germany has also put the sale of some armaments to Turkey on hold citing a crisis in relations and the country's human rights record.
The State Department "has reached its wits end with regard to Turkey and may be both unwilling and unable to change minds on Capitol Hill," Zemenidis said. Source
U.S.-Turkey averted a crisis – Senior Advisor to Erdogan
19 February 2018

A senior advisor to the Turkish president Recep Tayyip Erdoğan said, in an interview, that U.S. Secretary of State Rex Tillerson's visit last week averted a break in U.S.-Turkey ties.
"It was an earnest visit, as Tillerson was making every effort he could to try to reach an understanding regarding Turkey's concerns," told Gülnur Aybet, Senior Advisor to the Turkish President and a professor of international relations, "It is fair to say that we were heading towards a collision and that has been averted."
"Until the visit, U.S.–Turkey relations could be described as frustrating, and on the part of the U.S. inconsistent, as there were promises given to us on various occasions since last May that were not fulfilled. " said Aybet, adding that Tillerson made "every effort he could to try to reach an understanding in which Turkey's concerns and frustrations could be met by the American side."
The advisor said that both sides agreed to establish working groups to deal with two separate issues, one concerning Turkey's worries about a U.S. based cleric, Fethullah Gülen, that Turkey claims to be the mastermind of 2016 coup attempt, and the other one regarding the risk of NATO allies colliding in Syria's Manbij region. The U.S. has some forces in Manbij, working with the local militia to fight against ISIS. Turkey considers some of the groups that the U.S. is cooperating in Syria, to be connected to a domestic insurgent movement.
The senior advisor said that the "results-oriented work groups" will try and find a solution to the "Manbij problem."
Answering the reporter's question about a possible lack of coordination between Washington and Ankara in Syria, Aybet said: "All aspects of the U.S. government are concerned that they should not be on a collision course with a NATO ally and all of them look very positively at results-oriented mechanisms."
Source: https://ahvalnews.com/us-turkey/us-turkey-averted-crisis-senior-advisor-erdogan
"We gave U.S. one more chance" - Turkish foreign minister
18 February 2018

Unless Turkey and the U.S. find a way to normalise relations, bilateral ties will grow even worse, Turkey's foreign minister Mevlüt Çavuşoğlu said on Sunday.
"Our relations with the U.S. have been going through a critical period. Either we are going to normalise relations, put them back on track, or they will get even worse," said Çavuşoğlu, speaking to journalists during his official visit to Amman, Jordan.
'US must keep its promises' Çavuşoğlu said stressing that the normalisation of ties between NATO allies depends on the U.S. keeping its promises. "You can say that we gave the U.S. another chance to bilateral relations, one more chance," he said, "the U.S. needs to take advantage of this chance. We are determined. We are committed to (moving our forces) to Manbij. "
Çavuşoğlu said that Turkish and American officials would hold their first working group meeting in the first half of March under the new mechanism.
"Let's see how they're going to deliver," he said, warning that if they do not deliver, "then we have to deal with that."
Turkish foreign minister said that U.S. and Turkish officials agreed to establish two mechanisms, to address issues of disagreement between the countries during U.S. Secretary of State Rex Tillerson's visit to Ankara last week. The first mechanism, Çavuşoğlu said is regarding Turkish side's demands about a U.S.-based cleric, Fethullah Gülen, who Turkey accuses of orchestrating the coup attempt in July 2016.  The second mechanism is concerning Syria, "how they are going to meet our concerns, how the YPG is going to leave Manbij, and how we coordinate this together, and how those [Syrian] towns and cities are going to be governed, by whom, and who is going to ensure the security of these cities and towns," Çavuşoğlu said.
Relations between the two countries allies have been tense over U.S. support for the Kurdish militia, PYD in northern Syria. The U.S. has been working with the group that in the fight against ISIS, despite strong Turkish objections.
On Jan. 20, Turkey launched a military action, nick-named Operation Olive Branch, aiming to remove terrorist groups, including PYD from northwestern Syria.
Source: https://ahvalnews.com/us-turkey/we-gave-
us-one-more-chance-turkish-foreign-minister
Turkish president's spokesman cautions against U.S. long-term plans in Syria
17 February 2018

In an opinion piece published on Saturday 17th February, Turkish presidential spokesman Ibrahim Kalın questioned the U.S.'s long-term intentions in Syria.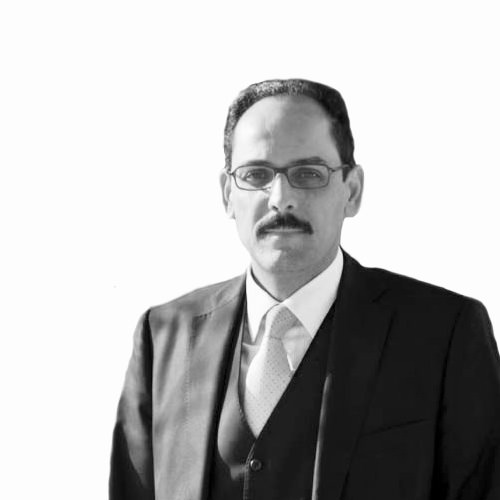 Writing in the Turkish daily Sabah, Kalın implied that U.S. activities in Syria do not align with goals shared by major stakeholders involved in the ongoing conflict, namely clearing Syria of terrorists, maintaining the country's territorial integrity and establishing a legitimate and inclusive government.
Rather, Kalın suggests continued U.S. collaboration with groups in Syrian associated with the Kurdistan Workers Party (PKK), such as the Democratic Union Party's (PYD) and People's Protection Units (YPG) undermines efforts to achieve these shared objectives, and is rather motivated by U.S. geo-political ambitions in the region.  
"The issue for the U.S. is no longer defeating Daesh or keeping Bashar Assad in power for Iran, but rather grabbing geo-political positions in Syria. U.S. officials do not hide the fact that they will stay in Syria for the foreseeable future as a countervailing force against Iran. Thus, Syrian territories are turning into a proxy war scene between the U.S., Israel and some Gulf countries on the one hand, and Iran, Russia and Hezbollah, on the other. This does not bode well for anyone. There will be no winners in this show of power."
Kalin also repeated the Turkish government's frequent, and so far largely unheeded, calls for the U.S. to withdraw support from the YPG and to ensure the YPG relinquishes its control of the Manbij, a strategically important Syrian city that has been under its control since 2016, much to Turkey's annoyance.
"The U.S. should start the process of disengaging from the YPG and move it out of Manbij and to east of Euphrates. Turkey and the U.S. forces working with local people can insure the Manbij area. There is a model that has worked for this purpose in the area between Jarablus and al-Ray, cleared from Daesh by Turkey's Operation Euphrates Shield, which has no Daesh, no YPG and no regime forces. And it poses no threat to anyone. The same can easily happen in Manbij."   
Source: https://ahvalnews.com/syria/turkish-
presidents-spokesman-cautions-against-us-long-
term-plans-syria
Turkey proposed Turkish, US troops station together in Syria's Manbij: Report
16 February


Turkey has proposed to the United States that People's Protection Units (YPG) militants withdraw to east of the Euphrates River in Syria and that Turkish and U.S. troops be stationed together in the country's Manbij area, Reuters reported on Feb. 16, citing a Turkish official.
The official, who declined to be identified because the information had not been made public, said the United States was considering the proposal, which was made to U.S. Secretary of State Rex Tillerson during his two-day visit to Ankara, the agency's report read. 
Tillerson arrived in Turkey on Feb. 15 for two days of what officials have said would likely be uncomfortable discussions between the NATO allies, whose relations have frayed over a number of issues, particularly U.S. support for the YPG, seen as terrorists by Turkey for its links to the Kurdistan Workers' Party (PKK) which the U.S., too, considers a terrorist organization.
Tillerson and Turkish President Recep Tayyip Erdoğan on Feb. 15 had a "productive and open" discussion on improving ties, a U.S. State Department spokesman travelling with Tillerson said. Source