The new Turkey
Turkey - Germany
relations
April - May 2018
25-May-2018
24 May 2018 - Spyware scandal underscores German double standards on Turkey: Ahval series "Business as usual"
A little-known company's supply of spyware to the Turkish authorities to eavesdrop on opposition activists underscores how business relations with Turkey's authoritarian government diverge from Berlin's political discourse.
Although the number of German companies operating in Turkey declined since President Recep Tayyip Erdoğan stepped up a crackdown on his political opponents in 2013, Berlin is approving key military and civilian contracts that strengthen his autocratic regime.
"Finspy", software developed by Munich-based Finfisher, has been deployed by Erdoğan's government to spy on members of the main opposition Republican People's Party and other activists, German media said. The software was primarily used in July last year, during a three-week protest against Erdoğan's rule organised by CHP leader Kemal Kılıçdaroğlu. Fake Twitter accounts led protesters to a website where they could download an app that promised to update them about the demonstrations, the reports said, but instead installed spyware on their devices.
No one was available for comment at Finfisher when contacted by telephone.
While the German government has pledged an investigation – opposition MPs have called on the coalition to urgently clarify the situation – the acts of Chancellor Angela Merkel's coalition instil little confidence that its approach will change.
Merkel's right-left alliance has approved about $30 billion of weapons sales to foreign powers between 2014 and 2017, one-fifth more than its predecessor. Sales to countries outside the European Union have jumped 47 percent to $15 billion.
Erdoğan's Turkey is among the beneficiaries of this lax German policy. When Erdoğan decided to invade Syria in January to battle Kurdish fighters – NATO's most effective allies in ridding the country of Islamic State (ISIS) -- it was German-made tanks that rolled in. 
While Merkel has given in to political pressure to delay upgrades to 354 Leopard 2 tanks supplied via Kiel-based Krauss-Maffei Wegmann Maschinenbau between 2005 and 2011, opposition parties are sceptical that this marks a real change in Berlin's contradictory policies towards Turkey and other autocratic regimes.
The two countries are seeking to normalise relations after a crisis caused by Erdoğan's inflammatory remarks towards Berlin ahead of a nationwide referendum on enhanced presidential powers in April last year. And it was Merkel, hungry for Turkey's support in curbing refugees from Syria, who visited Erdoğan just prior to general elections in November 2015, providing him with an important photo-op that was criticised by the German press.
MPs including the Green Party's Omid Nouipour say the government is not taking the required action.
"It would be enough if the German government stuck to its own guidelines, but they don't," he said.  
Finfisher, established in 2008, is among tens of thousands of German small and medium-sized enterprises known as the 'Mittelstand', which are privately owned, often family-run businesses. The firms are not publicly traded, allowing them to do business in countries such as Turkey without the scrutiny afforded to their larger listed counterparts.
On its website, Finfisher boasts of its close relations with police and intelligence agencies across the globe, which it says it uses "to effectively prevent and investigate terror and crime". The firm has also come under scrutiny for its dealings with the governments of Ethiopia, Bahrain and Egypt. It markets its products through Gamma International Ltd., a British-based firm run by ex-security personnel.
Another German-Turkish partnership is helping Erdoğan construct the country's own battle tank, the Altay. Erdoğan wants to complete the project by Turkey's centenary in 2023 to demonstrate his government's success 
Rheinmetall, the German partner, will produce the first 100 to 200 tanks of some 1,000 planned. Rheinmetall and Turkish vehicle maker BMC, owned by Erdoğan business ally Ethem Sancak since last year, also signed an agreement in January to upgrade the Leopards. 
The Daily Sabah newspaper reported that from Dec. 18 until Jan. 24, just prior to Turkey's invasion of Syria, Germany issued 31 permits to supply military armaments to Turkey.
The business approach of German parcel company DHL, whose largest shareholder is the German state, provides more evidence of how Germany is profiting from the autocratic and economically questionable policies of Turkey's president.
DHL has signed a 60-million-euro agreement to make Istanbul's third airport a regional logistics hub connecting Asia, the Middle East and Europe. The project will use up 42,000 square metres of land at the new facility, it said in March.
The $10.2-billion airport, which will be the world's largest if it reaches full capacity, is the flagship of Erdoğan's national investment programme, which also includes bridges, roads and hospitals.
The sprawling airport, still under construction, is yet to be named, though widespread speculation suggests that it will carry the name of the president himself. It is a centre-piece of Erdoğan's campaigning for the June elections in political rallies across the country.
Erdoğan has used such investments, largely made up of private-public partnerships, to drive economic growth, further his popularity among Turkish voters and strengthen his government's influence abroad. 
His latest goal is to replace Turkey's parliamentary democracy with a full presidential system of government following snap elections on June 24.
DHL has signed the investment agreement with airport operator IGA. The consortium is owned by five other firms with very close business ties to Erdoğan -- Cengiz Insaat, Kolin, Mapa, Kalyon and Limak. Between them they run a large share of Turkey's biggest development projects.
For example, Cengiz, Limak and Kolin are also partners in the construction of a $2.3-billion highway skirting Istanbul and connecting the new airport to a third bridge over the Bosporus. Mehmet Cengiz, the owner of Cengiz Insaat and a close family friend of the Erdoğan's, paid for the president's two daughters to attend university in the United States, according to Turkish press reports.
While Merkel has joined a chorus of criticism of Turkey's fast-deteriorating democracy record under Erdoğan, DHL and other German firms are seeking to promote the country's interests in Europe.
Last week, DHL's Turkey chief Klaus Lassen said Turkey should benefit more from its customs union agreement with the European Union, as well as other connected free-trade deals. Merkel opposes Turkey's full membership of the bloc but calls for other alternatives that exclude it.
Around 6,000 German companies are active in Turkey. They have made more than $10 billion of investment since Erdoğan's government came to power in 2002. German exports to Turkey totalled 21.5 billion euros in 2017, while imports were about 15.6 billion euros, according to Germany's state statistics agency.
Not all German firms are sticking with the country, however.
Erdoğan's imposition of emergency rule after a failed military coup in 2016 and his increasing stranglehold on the nation's press has prompted Axel Springer, Germany's largest media company, to exit its Turkish investments earlier than planned. Axel Springer is selling its remaining 7 percent stake in Doğan TV for 160 million euros after the German company had "become disheartened by developments in the past few years", Chief executive Officer Matthias Doepfner said in early May. The decision followed the sale of the company's main parent to another business ally of the president, Erdoğan Demiroren, in late March. Pro- Erdoğan media owners now control about 90 percent of the industry.
Still, in terms of big investments, Axel Springer's pull-out appears to be an isolated case. 
The Federation of German Industries (BDI), while warning of Turkey's democratic decline since Erdoğan crushed public protests against his rule in 2013, is still encouraging its members to invest, pointing to the fast-expanding population of some 80 million and growth rates that exceeded China's last year.
Some German companies, however, may get their fingers burned by Erdoğan's strident economic policies and business approach. A recent slump in the lira against the dollar – the central bank was forced into an emergency rate hike this week as the currency's freefall threatened a full-blown crisis – is raising the spectre of a recession in the country.
The lira's crash – it has lost about 20 percent of its value this year -- follows a series of economic stimulus measures by Erdoğan that have focused on the construction sector and investment incentives in particular. The depreciation threatens to put many Turkish conglomerates under severe financial pressure. Firms owe about $227 billion in foreign currency debt, which must be serviced and repaid as the currency loses value.
The owners of the new airport are among those seeking new financing. They are holding discussions with creditors for an extra 1 billion euros ($1.2 billion) to complete the first phase of the project, Bloomberg reported last month. The government claims an existing airport to Istanbul's west will be closed and flights transferred to the new facility in October. 
Turkish banks awarded an initial 16-year 4.5 billion-euro loan to the consortium in 2015. The extra money will help it finish construction of the six-runway airport, designed to handle 90 million passengers in its first phase.
As of April, only a terminal building and one runway had been completed, with taxiing areas, connecting roads and control towers still to be built, according to observers who visited the site and asked to remain anonymous. Source
22 May 2018 - Turkish deputy PM slams Germany's election campaign ban
Turkish Deputy Prime Minister Recep Akdağ on May 21 slammed Germany for imposing an election campaign ban, saying Turks living in the country have a democratic right to be informed by politicians of Turkish parties.
"Almost three million Turks live in Germany. It is the democratic right of these people to be informed in the election campaign of politicians of all Turkish parties about their goals and ideas," Akdağ told German newspaper Deutsche Welt.
He said Germany should allow the campaigning of Turkish politicians in Germany and not violate this "democratic right."
The deputy premier recalled that Turkey was allowed to carry out election campaigns in Germany in previous elections and the Turkish government could not understand why the same was not being done for the upcoming early elections.
On June 24, Turkey will hold both presidential and parliamentary early elections.
Turkish expats will vote for the upcoming presidential and parliamentary elections in 60 countries.
According to data obtained from the Presidency for Turks Abroad and Related Communities (YBT), Turkish citizens who have registered in the foreign electoral roll will be able to vote at 123 representations from June 7-19 or at customs stations from June 7-24.
A minimum of 500 voters should be registered at a foreign representation for a polling station to be established, as per election rules.
With 13 representations, Germany has the highest number of polling stations.
Turkish voters in Germany, France and Austria will vote from June 7-19. Source
17 May 2018 - German embassy slams Turkey for denying access to former HDP co-leader's case
The German embassy in Ankara has said foreign diplomats have not been allowed to follow a public hearing of former Peoples' Democratic Party (HDP) co-chair Figen Yüksekdağ, expressing concerns over the state of the rule of law in Turkey.
"Diplomats from Sweden, Germany, the Netherlands and the EU delegation have been trying in vain to be admitted to the public hearing against former HDP co-chair Figen Yüksekdağ in Sincan. In clear breach of Turkish law and the Vienna Convention on diplomatic relations, foreign diplomats are once again denied access to a public hearing," read a written statement issued by the German embassy on May 17.
"The Turkish Ministry of Foreign Affairs and the Ministry of Justice have been made aware of the situation, but refused to act on the matter. This situation is unacceptable and bodes ill for the current state of the rule of law in this country," it added.
A statement released by the HDP explained that the foreign diplomats were not allowed to follow the hearing on the grounds that they were not accredited.
Yüksekdağ was arrested on Nov. 4, 2016 over "terrorist propaganda" and "defaming the Turkish Republic" along with nine other HDP lawmakers, and has been in prison since then. Source
16 May 2018 - Turkish expat from Germany detained in Turkey on insult charges
A Turkish expatriate living in Germany who travelled to his hometown of Afyonkarahisar in Turkey for a vacation has been detained in the province on charges of insulting Turkish President Recep Tayyip Erdoğan and Mustafa Kemal Atatürk, the nation's founder, the t24 news website reported on Wednesday.
B.A. allegedly insulted Erdoğan and Atatürk on social media. The man was detained by gendarmes last Thursday, and t24 said B.A. was later released but that a travel ban was imposed on him, meaning that he will not be able to travel to Germany, where he resides.
Hundreds of people in Turkey including high school students face charges of insulting President Erdoğan. Even the slightest criticism is considered insult, and there has been a rise in the number of cases in which people inform on others claiming that they insulted the president, the government or government officials.
In April, a groom named Rahat Akbaba was arrested for insulting Erdoğan on henna night, a customary celebration before a wedding, in Turkey's Diyarbakır province, causing the wedding ceremony to be held with just the bride.
The Ankara Chief Public Prosecutor's Office in April prepared a summary of proceedings against main opposition Republican People's Party (CHP) leader Kemal Kılıçdaroğlu for the removal of his parliamentary immunity so that he can be tried on charges of insulting Erdoğan.
If Kılıçdaroğlu's immunity is removed, he will face a 14 to 56-month jail sentence.
In March, renowned Turkish singer Zuhal Olcay was handed down a prison sentence of 10 months by a court on charges of insulting President Erdoğan.
One of the co-founders of the ruling Justice and Development Party (AKP), Abdüllatif Şener, was indicted in March on charges of insulting President Erdoğan on Twitter. The indictment seeks a jail sentence of up to 54 months for Şener.
The US-based Freedom House, an independent watchdog organization dedicated to the expansion of freedom around the world, named Turkey as among the countries that have a "not free" press, in a report released on April 28. Source
12 May 2018 - Germany favors opposition parties - AKP's MP
The German government favors the opposition parties in Turkey and the ban against Turkish politicians election campaigns in Germany is only implemented against the ruling Justice and Development Party (AKP), Mustafa Yeneroğlu, a member of the parliament and the head of the AKP's election coordination abroad, Deutsche Well Turkish reported . 
"The German government is becoming a party in a campaign for elections to be held in a foreign country," Yeneroğlu said to German news agency dpa.
Yeneroğlu also said that, while the German government banned the election campaign events of AKP, it ignored similar events organized by opposition parties. According to Yeneroğlu, AKP has prepared a list of nine events organised by opposition parties in Germany in April and May.
"Social Democrat Party, as well as the Greens and the Left support those meetings organised by opposition parties, with the attendance of the members of the Parliament from Turkey," Yeneroğlu said.
German Foreign Minister Heiko Maas in April said Turkish politicians would not be allowed to carry out election campaign rallies in Germany ahead of upcoming parliamentary and presidential polls on June 24.
Last year, German federal governments banned several election rallies organised by AKP for the constitutional referendum held on April 16, 2017.
In June 2017, the German government introduced a legislation prohibiting election campaigns activities of foreign politicians from non-EU countries during the last three months before the date of elections in those countries. Source
Petition for the release of German citizen detained in Turkey
28 April 2018

A petition campaign has been launched in Germany for the release of German citizen Patrick Kraicker, who was detained in the city of Şırnak in southeast Turkey in March, after he allegedly tried to cross the border into Syria to join Kurdish militants fighting against Turkey, Deutsche Welle reported .
Kraicker has been detained for "aiding and abetting a terrorist organisation" and was allegedly trying to join the People's Protection Units (YPG) , which Turkey recognises as an extension of Kurdistan Workers' Party (PKK), an armed group which has been fighting inside Turkey for more than thirty years. 
His brother told DW that they had launched the petition to put pressure on German authorities to take initiative for the release of Patrick Kraicker and that they would submit the signatures to German Foreign Minister Heiko Maas. So far, 1,200 people signed the petition. 
The family and the friends of Kraicker said that he had been in Şırnak for hiking, not for joining the Kurdish militia by crossing the border. The family also denied the allegations in Turkish media that Kreicker was a former soldier who had spent four years in the German military. Source
Federal parliament opposes Turkish FM's participation to German arson memorial

28 April 2018
German North Rhine-Westphalia (NRW) federal government announced that Turkish Foreign Minister's speech to be delivered at the commemoration of the Solingen arson attack would not take place, Deutsche Welle reported , as to prevent the event from being politicized.
In 1993, the house of a Turkish family living in Solingen was set fire by German young men with Neo-Nazi ties and five members of the family were killed.
The plans for Mevlut Cavusoglu's participation to the memorial event on May 29 was made before the Turkish government announced that snap elections would be held in Turkey on Jun. 24. 
Several European countries, including Germany, stated last week that they would not allow Turkish politicians elections rallies. 
Spokesperson of the NRW federal government Christian Weimar told DW that the anniversary of the attack "could not be turned into a struggle between political parties neither in Germany nor in the election campaign in Turkey". Source
Germany bans Turkish presidential campaigning
21 April 2018

The German government has clarified that Turkish politicians will not be allowed to campaign in the country in the run-up to snap parliamentary and presidential elections, Chinese news agency Xinhua said.
It quoted the German foreign ministry as saying that all foreign officials needed to obtain the permission of the federal government before campaigning in Germany.
President Recep Tayyip Erdoğan announced on Wednesday that Turkey would be going to the polls on Jun. 24.
"As a matter of principle, no approval is granted within three months of the date of the election or referendum," spokesman Rainer Breul said.
The ruling, he confirmed, applied to all countries with diplomatic representations in Germany but excluded fellow members of the European Union (EU).
Federal government spokesman Steffen Seibert said to Germany's knowledge, Erdoğan had no plans to visit.
Germany's announcement, which echoes that of Austria on Friday, was made after Turkey's ruling party announced that it would seek permission for rallies in Europe and America. Source
German national arrested in Istanbul – report
17 April 2017


Turkish police arrested a German-Turkish national in Istanbul, the latest in a series of detentions of German citizens that have strained diplomatic relations.
Police stormed an apartment in Turkey's largest city as Adil Demirci, a social worker and part-time journalist for the left-wing Turkish ETHA news agency, was visiting relatives, Fox News reported citing a report by the Associated Press.
The German Foreign Ministry said confirmation of Demirci's arrest by the Turkish authorities is still pending, according to Fox.
Relations between Germany and Turkey went into a tailspin after Turkey arrested several German citizens for alleged terrorism crimes and Turkish President Recep Tayyip Erdogan slammed the German government for "Nazi tendencies" during campaigning for a referendum last year. Germany, along with other European Union countries, has expressed grave concern about Turkey's human rights record and Erdogan's growing authoritarianism since a failed coup in July 2016.
German-Turkish journalist Deniz Yucel was released by a Turkish court in February after political pressure by German Chancellor Angela Merkel's government. German Foreign Minister Sigmur Gabriel reportedly met secretly with Erdogan to secure Yucel's release. Source
[OPINION] Dutch, German intelligence agencies uncover Turkish kidnapping, murder plots
16 April 2016

The secret intelligence cabal directly controlled by the head of Turkey's notorious National Intelligence Organization (MIT) under direct orders from the Turkish president has planned to assassinate a leading critic in Germany and execute a plan to kidnap another critic in the Netherlands, sources familiar with the cases told me this week.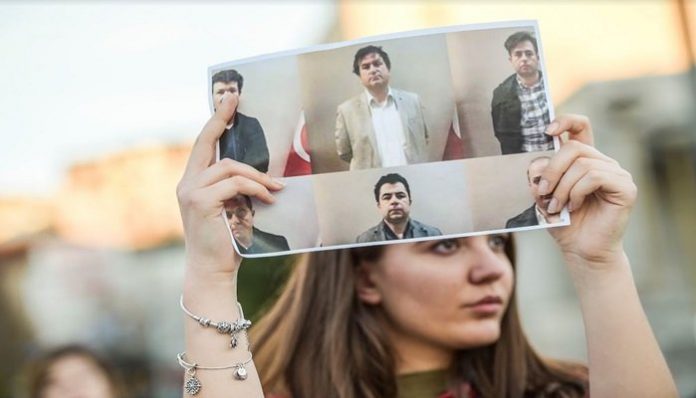 The plans were revealed by the German and Dutch intelligence agencies, which warned people who were targeted in these stunning plots after the operatives tripped the alarm set by intelligence agencies to monitor Turkish President Recep Tayyip Erdoğan's long arm in Europe. Both men who were targeted by MIT with murder and kidnapping schemes are affiliated with the Gülen movement, the most outspoken critic of the Erdoğan regime and which is led by US-based Turkish Muslim scholar Fethullah Gülen. The case in the Netherlands involved drugging and abducting a critic to a freighter that was destined for a Turkish port.
That means Erdoğan has set up Turkey, supposedly a NATO ally, to infringe on the sovereign rights of alliance members by authorizing illegal operations in countries that are not welcoming of the Turkish government's moves to punish dissidents and Erdoğan's critics stemming from his personal vendetta. A special department was set up in MIT to coordinate these hits and abductions. A priority list was drawn up from a long list of critics, dissidents and opponents. Identified names were divided into sub-categories for which murder, kidnapping or harassment to intimidate were suggested for individual targets depending on the profile of the victim and the circumstances of the country in which he or she lives.
MIT has been able to snatch 80 members of the Gülen movement, mostly math and science teachers who worked in Gülen schools abroad, one of the best performing network of schools that operate in some 160 countries around the world. In many cases, these people had been living overseas for decades before being forcibly returned to Turkey in cooperation with the host countries' authorities, often in exchange for bribes and other perks. Kosovo, the only example in Europe, witnessed the abduction of a doctor and five teachers with secret cooperation from the intelligence service and interior ministry that bypassed the Office of the Prime Ministry. This rendition sparked a political crisis in Kosovo, prompting the EU to condemn the kidnappings
However, Erdoğan has failed to secure the extradition of movement participants on false charges of terrorism from countries that enjoy robust democratic credentials, strong rule of law and respect for fundamental rights and freedoms. He has then resorted to employing tactics rarely used in foreign countries by intelligence agencies. That suggests MIT has become a hostile intelligence agency filled with a posse that wants to take Erdoğan's critics dead or alive under the stewardship of the rogue regime of President Erdoğan. It also shows that the Turkish president does not care much about jeopardizing intelligence cooperation with Western allies as long as he maintains the campaign of fear for his critics at home and abroad. His bragging at public rallies about how 80 people who have never been involved in any criminal activity were snatched from other countries with a promise of more to follow indicates he does not care about international complications, legal or diplomatic.
Therefore, European intelligence agencies must brace themselves for the worst and expect that Erdoğan's thugs are willing to undertake practically any and every thing to deliver what the Turkish president has demanded. Their promotion within the ranks and handsome rewards depend on how well they perform this task of murdering and kidnapping critics and opponents. Perhaps that is also the only way to stay away from the ongoing purge that has taken away the livelihoods of some 150,000 people on farcical terrorism charges in one-and-a-half years. Most of these people were prosecuted and many were arrested and put behind bars on dubious charges and without any credible evidence. Those purged and arrested include intelligence officers as well.
Let's not forget the motivation of the radical Islamist ideology promoted by the Erdoğan regime in justifying this witch-hunt in Turkey and abroad which helps stimulate new recruits who mostly come from an Islamic background to fill the growing vacancies. In a sense, this is a jihadist campaign for some who think they will be rewarded by God in the afterlife because they are going after infidels and non-Muslims as Erdoğan describes members of the Gülen movement. Just like he claimed this week the Free Syrian Army (FSA) militia, backed by the Turkish military, is going after "godless and faithless" Kurds in Syria, Erdoğan whips up his operatives in the intelligence agency with religious zealotry.
A case in Switzerland where Erdoğan allegedly tried to whisk away a critic sheds a light on the Turkish government's secret plans and corroborates the account I received this week on two new cases from Germany and the Netherlands. On March 14, 2018, Reuters reported that Switzerland was investigating whether two Turkish diplomats planned to drug and kidnap a Swiss-Turkish businessman. The Swiss Tages-Anzeiger daily said one of the two diplomats involved in the plot to snatch the Swiss-based businessman, who is linked to the Gülen movement, remained at their job in Bern while the other had since returned to Turkey.
"The Office of the Attorney General can confirm that in this context a criminal case is being conducted on suspicion of political intelligence gathering … and prohibited acts for a foreign state," the office said in an emailed statement. The investigation began in March 2017, it added. Swiss intelligence got wind of the kidnapping plot back in 2016 while it was being hatched, Tages-Anzeiger reported, adding that the intended victim remains under police protection.
Two days later when a Kazak journalist asked Turkish Foreign Minister Mevlüt Çavuşoğlu about the report during a press conference with Iranian Foreign Minister Mohammad Javad Zarif and Russian Foreign Minister Sergei Lavrov in the Kazakh capital of Astana, the Turkish minister lashed out at the reporter and refused to answer the question. He went as far as accusing the reporter of being linked to a terrorist group during the presser, which was broadcast live for the whole world to see. He seemed quite rattled by the question and bothered by the exposure of a secret plan to kidnap a critic from Switzerland that involved the Turkish Embassy.
I think the Swiss and German criminal investigations, hopefully followed by successful prosecutions and convictions, remain one of the most effective methods that can be employed against Erdoğan's rogue regime. His clandestine dealings must be exposed, and his associates and operatives must be held accountable for breaking the laws of the host countries. If there is no accountability, Erdoğan and his thugs will be further emboldened, and impunity will claim more innocent lives on European soil where Turkish intelligence has been hunting under the cover of large diaspora groups. Unfortunately, some European countries appear to have difficulty in grasping the level and intensity of this threat that poses a direct and clear risk to their own national security in the first place.Source
German ambassador: Berlin does not recognize Gülen movement as 'terrorist' group
10 April 2018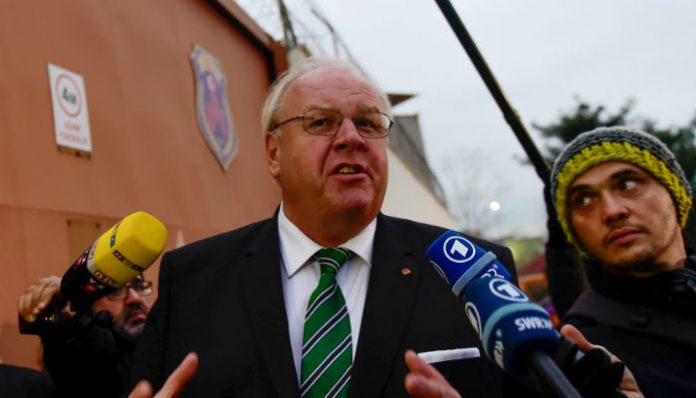 German Ambassador to Turkey Martin Erdmann has said his country's judiciary does not recognize the Gülen movement as a terrorist organization and that Turkey should present credible evidence of criminal activity to Germany for the extradition of Gülen-linked individuals.
Speaking to CNN Türk's Hakan Çelik for an interview over the weekend, Erdmann said Germany recognizes the terrorist threats against Turkey but that there is a problem between Turkey and Germany regarding how they perceive the Gülen movement.
The Turkish government, which accuses the Gülen movement of masterminding a failed coup attempt on July 15, 2016, refers to the group as a terrorist organization. The movement, inspired by the views of Turkish-Islamic scholar Fethullah Gülen, strongly denies any involvement in the coup attempt.
Turkey has been seeking the extradition of Gülen-linked figures from Germany as many people from the movement have sought asylum there to escape political  persecution in Turkey.
Erdmann said the German judiciary can take action only if Turkey presents documents and information showing a particular Gülen-linked person's involvement in criminal activity.
When Çelik asked Erdmann why he refers to the group as the Gülen movement and not as FETÖ, a derogatory term coined by the Turkish government to refer to the Gülen movement as a terror organization, Erdmann said it is impossible for him to refer to the group as such because the German judiciary does not recognize it as a terror group.
Erdmann said he can only use expressions that are valid from the perspective of the German judiciary. He said the Gülen movement is very active in social and cultural areas in Germany and runs schools there. Source