The new Turkey
Operation Olive Branch in Syria May 2018
Last update: 23-May-2018 11:38
Turkish army finds new PKK/PYD munition depot in Afrin
23 May 2018
The Turkish army has found a new ammunition depot used by PKK/PYD terror group during the ongoing Operation Olive Branch in Syria's Afrin region, the military said Wednesday. In a statement, the Turkish General Staff said Turkish Armed Forces units have been making efforts to search and destroy improvised explosives and mines planted by the terrorists.
As part of its efforts, the army found a new ammunition depot in the region. Turkish military shared photos of the depot and ammunition on social media. The army was also continuing to support aid efforts carried out by Turkey's Disaster and Emergency Management Authority (AFAD) and Turkish Red Crescent also known as "Kizilay" in the region.
Thanks to the support of Turkish soldiers, the military statement said, AFAD has distributed aid among 6,000 people in 52 residential areas in Afrin over the past week. Turkey on Jan. 20 launched Operation Olive Branch to remove YPG/P Source
21 May 2018 - Video: PYD militiamen (YPG) open fire at the بينه checkpoint near Shiroa شيراوا Aleppo, blocking thousands of Kurds from returning to their homes in Afrin
Video: PYD militiamen (YPG) open fire at the بينه checkpoint near Shiroa شيراوا Aleppo, blocking thousands of Kurds from returning to their homes in Efrin pic.twitter.com/p9WbR0YXSN

— Elizabeth Tsurkov (@Elizrael) May 21, 2018
16 May 2018 - Afrin won't be returned to Syrian regime, Turkey says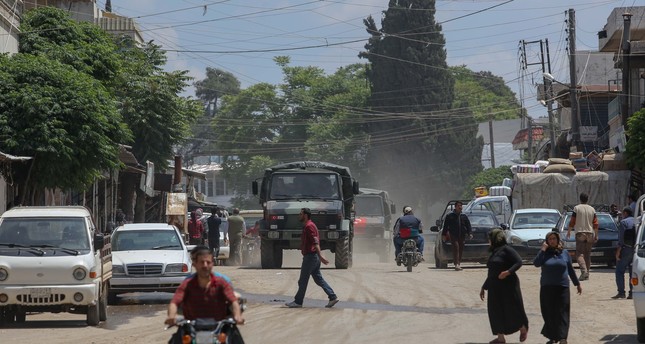 It is completely inconceivable to return Afrin back to the control of the Syrian regime, Deputy Prime Minister Recep Akdağ said yesterday.
Speaking in an interview with German Die Welt yesterday, Minister Akdağ said that Turkey has two aims in Syria: security for Turkey, its borders as well as the Syrian people and a democratic environment in Syria with free elections and sustainable development.
"A free and democratic Syria can only be built without [Bashar] Assad. He has killed many of his fellow citizens and brought much suffering to his country," Akdağ said.
He underlined that Turkey does not want to settle in Afrin for the long term and its only goal is to defend Turkey's security in the fight against Kurdish terrorist groups like the PKK and its Syrian wing the People's Protection Units (YPG), and to return the area to the Syrian people as soon as possible.
"We want to give Afrin back to the local population, who should be there to decide for themselves. A local Afrin council has been set up, which is a decision-making body with local representatives. Therein also Kurds sit," he added, while indicating that Turkey has no problem whatsoever with the Kurdish, Arab and Turkish populations living in Afrin together.
He was talking about the recently established local council of 30 members in the Afrin Liberation Congress with the participation of over 100 people. The congress decided to meet regularly and will be monitored by nongovernmental organizations.
The council also decided to request the disarmament of the public and to form a security force that is not aligned with any party.
The most important criterion that will help secure the future of Afrin is that anyone who has had affiliation with the PKK and YPG will not be allowed to take part in the administration of the province.
Due to growing threats in the region, Turkey launched Operation Olive Branch in late January to clear the YPG and Daesh terrorist groups from Afrin.
The operation is being carried out under the framework of Turkey's rights based on international law, U.N. Security Council resolutions, its self-defense rights under the U.N. charter and respect for Syria's territorial integrity, according to the Turkish military.
Although it was announced on March 18 that Afrin was cleared of YPG terrorists, the operation is carrying on as the armed forces continue to clear mines and other explosives planted by the terrorist organization before they fled villages in rural parts of the region as well as the town center.
Meanwhile, Foreign Minister Mevlüt Çavuşoğlu and U.S. Secretary of State Mike Pompeo will meet on June 4 in Washington D.C., a diplomatic source said yesterday.
The two top diplomats had planned to meet in May but their schedules could not match up, said the source on condition of anonymity due to restrictions on talking to the media.
Matters pertaining to bilateral ties, regional issues, including Syria and recent developments in the Middle East, combating terrorism, and terror groups like the PKK and the Gülenist Terror Group (FETÖ) will be discussed during the meeting, the source added.
On April 27, Çavuşoglu and Pompeo held a bilateral meeting during the NATO foreign ministers summit in Brussels.
Turkey and the U.S. have established working groups to discuss the stabilization of Manbij, Syria and to prevent any undesirable clashes.
Both nations have been trying to iron out a number of issues, principally the issue of terrorist PKK and its Syrian affiliate the People's Protection Units (YPG) which the U.S. supports as a "reliable ally" in the fight against Daesh.
Chief of General Staff Hulusi Akar also met with his U.S. counterpart General Joseph Dunford during the NATO Military Committee chiefs of defense meeting in Brussels yesterday. The two discussed bilateral relations as well as the situation in Syria and the Middle East. Source
Religious minorities in Afrin forced to convert to Islam – U.S. think-tank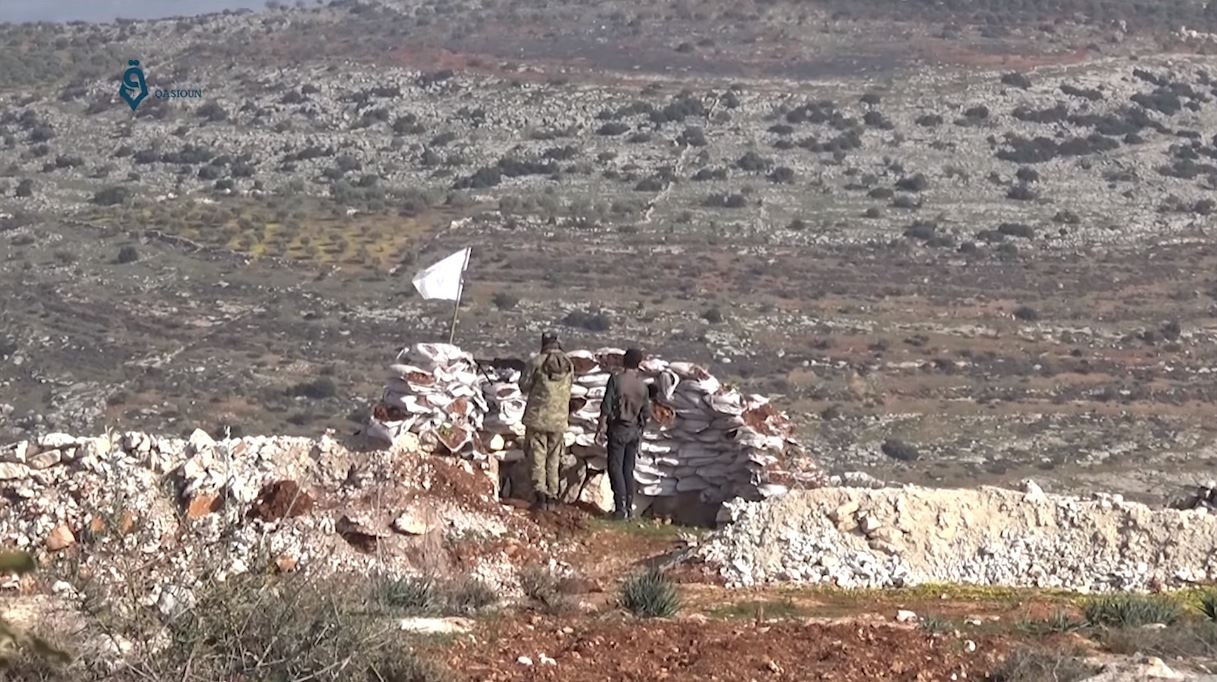 Rebel groups in Syria's Afrin region are forcing religious minorities to convert to Islam according to an article published on Washington based think-tank Gatestone Institute's website by Syrian-Kurdish journalist Sirwan Kanjo.
Afrin, located in Syria's north-west has been under the control of the Turkish Army and their Free Syrian Army (FSA) allies since mid-March, following an invasion of the region that began in January.
Christians, Yazidis and Alawites minorities have been forcibly converted to Islam, Yazidi Temples destroyed and women forced to adhere to strict Muslim dress codes since the takeover, Kanjo says. At the same time, Turkey has embarked on a campaign to displaceKurds and religious minorities from the region and replace them with Sunni Turkmen and Arab families.
Kanjo also suggests that the Turkish government and its jihadi allies in the Free Syrian Army (FSA) are discussing formalizing the implementation of Islamic sharia law in Afrin.  Source
4,448 terrorists 'neutralized' in Turkey's Afrin op
The number of "neutralized" terrorists in Turkey's operation in northwestern Afrin, Syria has risen to 4,448, while eight terrorists were also neutralized in operations over the past week in northern Iraq and southeastern Turkey, the Turkish army said on Friday.
In a written statement, the Turkish General Staff announced the latest number of neutralized terrorists since the Jan. 20 start of Operation Olive Branch.
Turkish authorities often use the word "neutralized" in their statements to imply that the terrorists in question either surrendered or were killed or captured. Source
Turkish charity sends 20 trucks of aid to Syria
A Turkish aid agency on Monday sent 20 truckloads of humanitarian aid to areas of Syria cleared of terrorists by Turkey's Euphrates Shield and Olive Branch operations.
Yakup Alaca, an official at the Istanbul-based Humanitarian Relief Foundation's (IHH) southern Kilis office, told Anadolu Agency that the aid was collected with the support of philanthropists and it will be distributed in safe areas cleared of terror in Syria.
Alaca said 15 truckloads will be sent to Afrin in northwestern Syria and five trucks to nearby Idlib.
"Our trucks are loaded with a lot of materials like flour, eggplant, potatoes, and clothes," Alaca added.
Turkey launched Operation Olive Branch on Jan. 20 this year to clear YPG/PKK and Daesh terrorists from Afrin, northwestern Syria amid growing threats from the region.
On March 18, Turkish-backed troops liberated Afrin's town center, which had been a major hideout for YPG/PKK terrorists since 2012. Source
Turkey slams 'unfounded' statement by US on Afrin
The Foreign Ministry on Saturday denied reports that citizens of Afrin were allegedly not being allowed back in their homes.
"The U.S. State Department spokeswoman has made unfortunate statements based on unconfirmed assumptions under the influence of PYD/YPG terrorist organization's smear campaign in a news conference on May 3," Foreign Ministry spokesman Hami Aksoy said in a statement.
U.S. State Department's Heather Nauert claimed the citizens of Afrin "are not being allowed back in their homes and communities"; however, sources on the ground dismissed the claim and said the return of locals to their homes was continuing in areas that had been cleared of mines and improvised explosives.
"First of all, it is the PYD/YPG that prevents local people from returning to Afrin," Aksoy said.
The PYD/YPG is trying to produce new material in its smear campaign against Turkey, while the fact is explosives and mines planted by the terror group are a threat to the citizens and preventing them from going back home, he said.
"Turkey continues its efforts to normalize the situation in Afrin and to facilitate the safe return of local people," Aksoy added.
"The humanitarian situation in Afrin being [described as] a 'deep concern' under the current circumstances is completely unfounded. The actual source of concern in northern Syria is the ongoing cooperation between countries we deem as our allies and PKK/PYD/YPG terrorists."
Turkey launched Operation Olive Branch on Jan. 20 this year to clear the YPG/PKK and Daesh terrorist groups from Afrin, amid growing threats from the region.
The operation is being carried out under the framework of Turkey's rights based on international law, UN Security Council resolutions, its self-defense rights under the UN charter, and respect for Syria's territorial integrity, according to the Turkish military.
On March 18, Turkish troops and Free Syrian Army members liberated the town of Afrin, on the 58th day of the operation. Source
4,406 terrorists 'neutralized' during Afrin operation
President Erdogan gives latest figures of neutralized terrorists in Turkey's ongoing Operation Olive Branch

At least 4,406 terrorists have been "neutralized" since the launch of Operation Olive Branch in Syria, President Recep Tayyip Erdogan said on Saturday.
Speaking during an ordinary congress of his ruling Justice and Development (AK) Party's women branch in central Kayseri province, Erdogan said the military operations would continue against all terror groups.
Turkish authorities often use the word "neutralized" in their statements to imply that the terrorists in question either surrendered or were killed or captured. Source
Syrian Kurdish forces threaten families of Turkey's allies in Afrin
4 May 2018

The majority-Kurdish People's Protection Units (YPG) has announced the assassination of a Free Syrian Army (FSA) employee and a shift to targeting those resettled in Afrin by the Turkish-led coalition.
The YPG controlled Afrin, in northwest Syria, until the Turkish military operation took over the district in March.
Turkish forces, alongside their FSA allies, said it had killed more than 4,000 YPG and Islamic State (ISIS) fighters during the operation.
"The terrorist named Jamal al-Zakhlool, who was responsible for organising the placement of terrorists and their families brought to Afrin from various places in Syria, and who had been being followed by our forces, was killed in the organised action," the YPG statement said.
"Yesterday our forces have carried out an attack against Al-Zakhlool's vehicle in the area between Kurzalah and Basutah villages which resulted in the death of Al-Zakhlool and all of the terrorists with him," it said. "Gangs, who wanted to intervene after the operation, were also targeted by our forces, three more terrorists were killed and two military vehicles were destroyed as a result of the successful actions."
However, their guerrilla tactics would not merely be deployed against the FSA, but also against Syrians resettled in Afrin by the Turkish government in what the YPG consider to be a campaign to change the demographics of the region by ethnic cleansing.
"Recalling the earlier statements we issued regarding the attempts by Turkey and its terrorists to demographically change the region by settling terrorists and their families in the city after the people of Afrin have been displaced, we once again stress that settling of these families in Afrin is illegitimate in terms of fundamental human rights and is a clear violation of international law," the statement said.
"We reiterate that these terrorists and their families are the main targets of our forces. Our forces will target all the elements in the Afrin Canton that are in contact or cooperation with the Turkish invasion state." Source
4,376 terrorists 'neutralized' in Turkey's Afrin op
379 terrorists killed in northern Iraq; 297 in Cudi, Gabar and Tendurek, says President Recep Tayyip Erdogan

At least 4,376 terrorists have been "neutralized" since the launch of Operation Olive Branch in Syria, Turkish President Recep Tayyip Erdogan said on Friday.
"Number of terrorists that were neutralized in Afrin was 4,376. In northern Iraq 379, while 297 in [Turkey's] Cudi, Gabar and Tendurek," Erdogan said during the opening ceremony of Istanbul's historic Spice Bazaar after restoration works. Source
Turkish soldier martyred in Syria's Afrin
A Turkish soldier was martyred in Syria's northwestern Afrin region on Thursday during the military's sweep and clear activities, a statement said.
In the statement, the Turkish General Staff said the soldier was martyred in Afrin region when an improvised explosive detonated during the military's sweep and clear activities. Source
Infighting between Turkish-backed Ahrar Sharqiyah and
Turkish-backed Ahrar Sham in Jindires. Afrin
U.S. concerned over 140,000 displaced by Turkey's Syria operation
The United States said some 140,000 people had been displaced by the Turkish-led cross-border offensive to seize Syria's district of Afrin from Syrian Kurdish forces and said Washington had grave concerns about the resulting humanitarian situation.
Turkish troops backed by their Syrian allies seized Afrin in March after a two-month operation against Syrian Kurdish forces that Ankara says are linked to Kurdish militants fighting inside Turkey. Thousands of Afrin residents, as well as those who had previously sought shelter there from fighting elsewhere in Syria, fled Afrin in the face of the Turkish advance.
"One hundred and forty thousand people have been displaced from Afrin, and ... as far as we can tell, they are not being allowed back in to their homes and communities," U.S. State Department Spokeswoman Heather Nauert told a news briefing.
"We have expressed grave concern about the humanitarian situation in Afrin over recent weeks and months. That remains a concern of ours today," she said.
It was the first time a U.S. official had publicly pointed the finger at Turkey for preventing people from going back to their homes.
"We call on all relevant actors operating in the northwest – that includes Turkey, that includes Russia, that also includes Syria – to provide access for international humanitarian aid organizations and to allow for people to come home," Nauert said.
Tensions between NATO allies Turkey and the United States have risen over a number of issues in recent months, particularly over U.S. backing for the Syrian Kurdish group that Turkish forces drove out of Afrin, but also Ankara's shift towards Russia and spats over the arrest of U.S. citizens and consular staff in Turkey.
Nauert was asked whether the administration supported a bill proposed in the Senate to block the sale of U.S. F-35 advanced fighter jets to Turkey due to Turkey's worsening human rights conditions and purchase of Russian-made S-400 air defence missiles. She said the administration does not comment on legislation under discussion, "but I can tell you that we have had serious concerns about Turkey's potential acquisition of the S-400 system".
Turkish Foreign Minister Mevlüt Çavuşoğlu, last week following his first meeting with the new Secretary of State Mike Pompeo in Brussels, said the purchase of the S-400s was a done deal, but said Turkey was open to talks with the United States.
Nauert said: "Under the NATO agreement, which of course, Turkey is a NATO member, they are only supposed to buy, weapons and other material that are interoperable with other NATO partners. We don't see that as being interoperable. We obviously, though, have a robust defence trade relationship with the government of Turkey, and we will continue to raise our concerns with them on any kind of pending sales or anything of that nature."
Nauert began her briefing on Thursday by reading a statement to commemorate World Press Freedom Day. While recognising the crucial role of the press around the globe, Nauert mentioned Turkey, along with Cuba, Burma, Egypt and China as countries where journalists have been detained for their reporting.
"There are more journalists jailed in Turkey than in any other country around the world. That is a tremendous concern. We believe that more voices rather than fewer voices being heard helps advance a democratic society and helps give people voice to their concerns," she said later in response to a question.
"We support the goal of improved media freedom in Turkey; we've discussed that a lot here at the State Department. We raise the issue – I want to tell you – directly with the Turkish government on many occasions. We continue to highlight that. We also do it not only face to face with our counterparts but also through various multilateral institutions. So thank you for highlighting that, and we'll continue to raise our concerns with press freedom in Turkey and elsewhere," she said.
"In Turkey, for example, some of our – some of your colleagues here, if they were to head home to Turkey, they would be arrested. Why? In part, because of the job that they are doing each and every day." Source
'By what law?' Kurds locked out of Afrin as Ghouta refugees take their place
Locals in northwest Syria say empty Kurdish homes are being seized by Turkish-backed fighters and given to displaced Arab families.

Huddled aboard a caravan of white buses, Khalid al-Hassan and his family emerged from years of siege and bombardment in the east Damascus suburbs in March and travelled north. They were just a few among thousands of shell-shocked evacuees who did the same under a surrender agreement with the Syrian government.
Hassan and the other passengers in his convoy, coming from Eastern Ghouta's central sector, arrived in rebel-held Idlib city on 25 March. There, they found a city under bombardment and already bursting at the seams with displaced civilians.
So, Hassan picked up his family one week after arriving in Idlib and continued north to relatively calm Afrin – where he said a hero's welcome awaited.
Rows of vacant houses sat waiting to be distributed, free of charge, to displaced civilians escaping the devastation of Ghouta, said 29-year-old Hassan. A member of a local group affiliated with the Free Syrian Army (FSA) told him that one of the houses was now his, if he only chose to take it.
However, the alleged offer was not an innocent gesture of charity, and these homes were not abandoned voluntarily. They were the spoils of war, the property of Kurds who were displaced from Afrin in recent months by widespread bombing and ground fighting during Turkish-backed Operation Olive Branch.

"We are displaced from our homes, and are coming as guests to this region," he told Syria Direct. "We are not accepting these houses for free without the permission of their owners."
However, civilian and military sources in Afrin say that "dozens" of other Eastern Ghouta families, with few other options, have moved into the vacant homes.
The Syrian government's seizure of Eastern Ghouta in mid-April sent thousands of newly homeless residents to the opposition-held north in a series of evacuations.
There, some of the displaced have been resettled in the empty houses of Kurdish residents who fled Afrin in recent months before advancing Turkish and FSA forces. Several witnesses in Afrin, as well as displaced Kurdish homeowners, told Syria Direct in recent days that private residences are being seized and given away by Turkish-backed militias.
One Kurdish FSA commander in Afrin, speaking on condition of anonymity, confirmed the accounts of home seizures and redistribution to Arab families this month.
"We, the Kurdish component [in the FSA], are trying to work against this with all our energy," the commander told Syria Direct. "But we are in the minority."
Turkey launched its Operation Olive Branch in January, in coordination with some 25,000 FSA-affiliated rebels, with the stated aim of "eliminating terrorists" in Afrin. Prior to the operation, Afrin was largely governed by the Kurdish Democratic Union Party (PYD) and its military wing the People's Protection Units (YPG), which is a member of the US-backed Syrian Democratic Forces (SDF).
Ankara considers the PYD to be an offshoot of the Kurdistan Workers' Party (PKK), which has waged an armed insurgency inside Turkey for decades.
Turkish-backed forces captured most of Afrin from the YPG in mid-March, following months of clashes, air strikes and artillery fire that caused hundreds of civilian deaths, destroyed villages and shattered much of the area's infrastructure.
By what law?'
More than 137,000 Afrin residents remain displaced outside their cities and villages as a result of the Turkish military campaign, leaving entire neighbourhoods vacant and thousands of houses unprotected from looting and illegal seizures, according to Sara Kiyyali, Syrian researcher at Human Rights Watch.
"A lot of those houses are empty right now," she told Syria Direct this month. "They were primarily Kurdish residents... [and many] are uncomfortable returning to live under Turkish control."
Muhammad Balou, a PYD supporter who fled Afrin during the Turkish-backed campaign and is now living in Erbil, Iraqi Kurdistan, is one of those residents. He says his family back in Afrin regularly updates him about the fate of his apartment there.
Last week, Balou received word that the lock on his front door was broken and a family from Eastern Ghouta moved into the residence he had spent a lifetime saving for.
"I worked many years to buy my apartment in Afrin, and even took out a loan," he told Syria Direct. "Now people have entered and begun living there. By what law, I don't know."
After losing his home to an Arab family from Eastern Ghouta, Balou says he does not know if or when he may be able to return to Afrin.
"My decision to get out of my city and not to return to it was the right one," he says. "I am known for my opposition to Operation Olive Branch and to the Turks."
When Turkish-backed Syrian forces seized Afrin city in mid-March, the chaos was marked by ominous episodes of ethnic symbolism, as fighters tore down a statue of the legendary Kurdish hero Kawa and raised the Turkish flag over the battered skyline. Source
Turkish groups set up tents for refugees from eastern Ghouta in Afrin
In northwestern Syria's Afrin, Turkish aid agencies have set up 200 shelters for refugees from eastern Ghouta. Here they will be provided with food and medical services.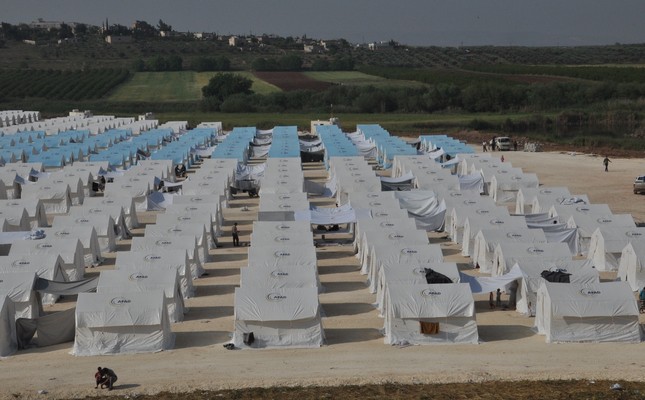 The Turkish Disaster and Emergency Management Authority (AFAD), Red Crescent (Kızılay) and another Turkish aid group have set up 200 tent shelters in the countryside of Afrin, northwestern Syria, said AFAD's head on Monday. Mehmet Güllüoğlu told Anadolu Agency (AA) that AFAD, in cooperation with the Turkish Red Crescent and Nil Education and Aid Association, set up the tents for refugees from Eastern Ghouta, a city besieged for years by the Bashar Assad regime.
Güllüoğlu said that there are nearly 650 families temporarily living around Afrin's Muhammediyye district, adding that over 20,000 refugees from Eastern Ghouta have been evacuated since March to areas liberated by Turkey's Operation Euphrates Shield. Nearly 1,080,000 Syrians are currently living in the Euphrates Shield area, and 193,723 of them are in camps, Mehmet Güllüoğlu had said in April. Turkey launched Operation Euphrates Shield on Aug. 24, 2016, to clear Daesh terrorists from the northern Syrian towns of Jarablous, al-Rai, Dabiq and al-Bab. The operation had ended in March 2017, with about a 2,000 kilometer-square area cleared from the terrorists.
Home to some 400,000 residents, Eastern Ghouta has remained under a crippling regime siege for the last five years, which has prevented the delivery of much-needed humanitarian supplies.
"We are working to return Afrin residents to Afrin, Azaz to Azaz, and Al-Bab to Al-Bab, but since the war is ongoing, going back is difficult, we're doing our best," he said. Güllüoğlu also said that despite the efforts and hard work to reach out to those in need, women, the elderly and children's situations are particularly severe.
Previously held by the PKK terrorist organization's Syrian affiliate, the People's Protection Units (YPG), Afrin was recently liberated by Turkish military and the Free Syrian Army (FSA) in Operation Olive Branch. The operation was launched on Jan. 20 and ended on March 18. Since then, efforts have been exerted to bring life back to normal in the province, from clearing the planted explosives by the terrorists to rebuilding the infrastructure in the province.
The aid groups also distributed 5 tons of fruits and vegetables with over 1,000 packets of chocolates and 710 packets of biscuits and cakes to orphans living in the area.
Meanwhile, the İHH Humanitarian Relief Foundation, a non-profit NGO from Turkey, has also stretched its helping hand to those evacuated from eastern Ghotua to the rural areas of Idlib. IHH has set up about 500 tents in a village in rural Idlib, to address the needs, including medical needs, of Syrian's evacuated from eastern Ghouta.
On Feb. 24, the United Nations Security Council (UNSC) unanimously adopted Resolution 2401, which called for a cease-fire in Syria, especially in Eastern Ghouta, to allow the delivery of humanitarian aid.
Despite the resolution, however, the regime and its allies in early March launched a major ground offensive, backed by Russian forces, aimed at capturing opposition-held parts of the district.
Since Feb. 19, nearly 1,500 people have been killed in attacks by the regime and its allies in Eastern Ghouta, according to local civil defense sources.
AFAD and the Red Crescent had previously set up camp for 3,000 people around the Turkey-Syria border for people fleeing airstrikes in the eastern and southern countryside of Idlib by Assad regime forces.
Syria has been locked in a vicious civil war since early 2011, when the Bashar Assad regime cracked down on pro-democracy protests, which erupted as part of the Arab Spring uprisings, with unexpected ferocity. Since then, more than a quarter of a million people have been killed and more than 10 million displaced across the war-battered country, according to United Nations figures. Source
FSA found a Ypg cell in Afrin's Kafr Mez village.Operation is ongoing.
Turkish-backed Free Syrian Army factions arrested independent Kurdish journalist Ahmad Shafia Bilal in Afrin. Ahmad was previously arrested by both the Assad government and YPG for covering their abuses.
https://syria.liveuamap.com/en
** The term "neutralized" in reference to terrorists captured dead or alive, or those who surrender during the operations.
*** Not verified